Police Suspect Foul Play After Naked 3-Year Old Girl Found Dead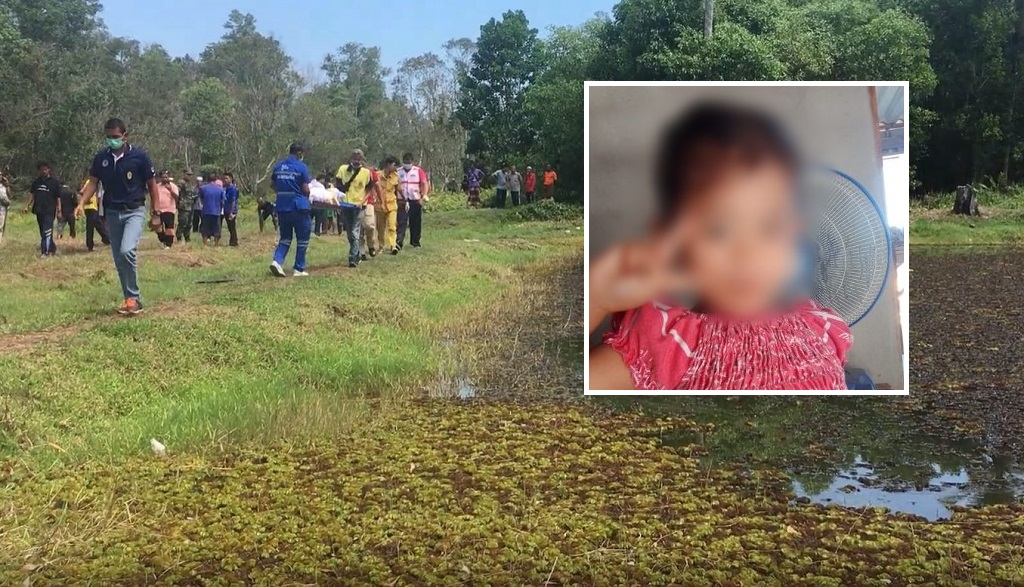 Police report a three-year-old girl has been discovered dead and naked not far from her house in southern Thailand, two days after she went missing. A local resident tending for his livestock noticed the naked body of 3-year-old Norasabeena lying near a pond.
The toddler went missing from her house on Sunday evening, where she was playing as her father sold snacks. Her 30-year-old father, Mr. Amran Naekama, stated that a customer arrived in a car to purchase snacks for 60 baht.
The consumer paid with a 1,000-baht banknote and had insufficient change. He claimed to have gone to a nearby shop to exchange the bill for smaller ones.
When he returned, the customer had already gone. His initial thought was that the man had not waited for his change.
He realized his daughter was missing minutes later and reported her absence to local authorities. The death is being investigated by police, who are awaiting an autopsy result from the local hospital in Narathiwat.
Police protect child rapist from lynching
In June 2022, Police reported that local villagers who attended a re-enactment of the incident in Khao Yoi district in Thailand's central province of Phetchaburi on Monday 'tried lynching' a man who raped and murdered two children in 2008.
Chert Srijoon, 53, has been on the run for 14 years for raping and murdering 13-year-old June and 16-year-old Naen in 2008.
Chert admitted to raping and strangling June before disposing of her remains in a marsh. Then, according to Chert, he raped and strangled Naen and discarded her body in the woods on the side of the road.
A're-enactment' of a crime is a typical aspect of criminal investigations in Thailand, particularly if a suspect has already pleaded guilty to the crime. The police, suspect, and members of the public will all meet at the crime scene, and the suspect will explain what happened and where it happened.
While contentious, re-enactments are intended to provide more insight into the specifics of a crime, demonstrate the police's investigative talents, and publicly disgrace the perpetrator.
Chert's re-enactment was cut short when members of the public stormed over police barriers and attacked him. Chert was placed in a van by police to get him away from the irate people, who assaulted the van and prevented it from leaving the area.
Wanchai, Naen's father, attended the re-enactment, holding a photo of his dead daughter. June's parents also came and presented the cops a gift basket for finally finding her daughter's killer.
Chert stated he spent 14 years on the run, staying in Bangkok's Klong Toei neighbourhood, Lopburi, and ultimately Chanthaburi, where he was apprehended. Chert confessed to the crimes at Khao Yoi Police Station in Phetchaburi province after being apprehended.
The suspect said he avoided arrest by working odd jobs that did not require him to submit his national identification number.
Chert's offences have yet to be sentenced by the court.