Police Officer Arrested and Sacked Over Cyanide Killings in Thailand
A police lieutenant colonel who is the ex-husband of accused serial cyanide killer in Thailand has been sacked, arrested, and charged with various offences. He's accused with receiving stolen goods, faking official documents jointly and utilizing forged official documents.
Pol Lt Col Withoon Rangsiwuthaporn, deputy superintendent of Ratchaburi province, arrested yesterday. According to deputy national leader Pol Gen Surachate Hakparn, Thailand's national police chief has also expelled Pol Lt Col Withoon from the police force.
His dismissal and charges come after investigators learned that Pol Lt Col Withoon, 39, had picked up his former wife, 36-year-old Sararat "Aem" Rangsiwuthaporn, in Udon Thani following the murder of her partner Sutthisak "Dae" Phoonkhwan.
According to Pol Gen Surachate, the couple then drove Sutthisak's white Chevrolet Captiva from the northeastern province to Nakhon Pathom and pledged it as loan collateral.
Sutthisak, a Ratchaburi native, died on March 12 in Udon Thani, after making merit with Ms Sararat at a local temple and dining with her at a restaurant, he passed out at a petrol station in Nong Han district.

Police personnel killed by cyanide poisoning
He was transported to Nong Han Hospital by rescuers. He was treated and eventually released, however he died later that day. After divorcing her spouse, Ms Sararat began dating Sutthisak. She was detained last month while four months pregnant.
Ms. Sararat remained to live in her ex-husband's home notwithstanding the divorce. Pol Lt Col Withoon previously stated that they split due to financial concerns.
Sutthisak is believed to be one of 15 victims of Ms Sararat, poisoned with cyanide. According to the Bangkok Post, two policewomen, one a major and the other a captain, were killed. Fourteen arrest warrants have already been issued for Ms Sararat.
The suspected serial murders began in 2020 and continued until last month, when the latest victim, Siriporn Khwanwong of Kanchanaburi province, died on April 14 while making merit with Ms. Sararat in Ratchaburi's Ban Pong area.
Police suspected Ms. Sararat of putting cyanide in Siriporn's meals after finding cyanide in her body. The suspect fled the scene, taking Siriporn's car and valuables with him.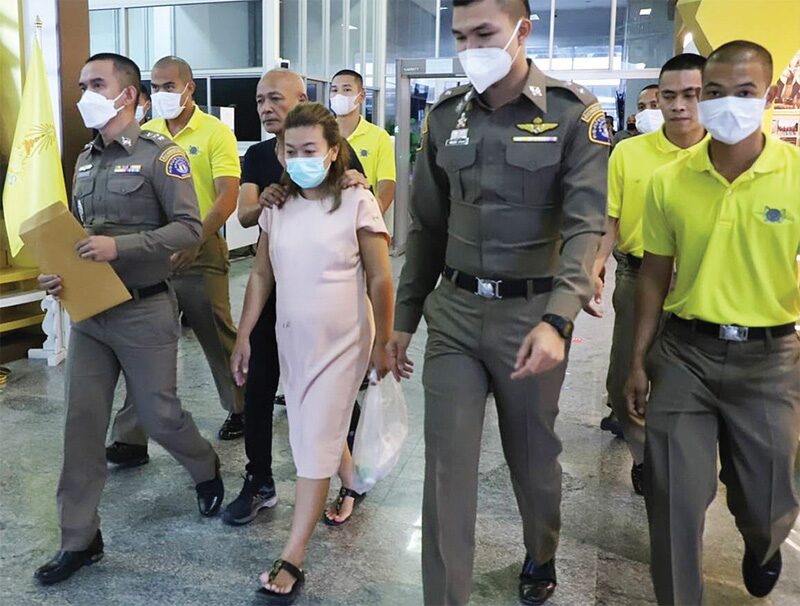 Victims killed for their assets
Ms. Sararat, according to Pol Gen Surachate, desired her victims' assets because she had amassed massive debts through credit card spending, informal lenders, and internet gambling. Police are still investigating her debts and her ex-husband's financial situation.
Pol Lt Col Withoon previously told investigators that he occasionally gave money to his ex-wife to give out. When she made profits, she allegedly transferred the funds back to him, but the amounts were not large.
Investigators are also continuing to analyse evidence seized during a search of Pol Lt Col Withoon's two-story police residence near the police flats in Kanchanaburi on April 26, the same day his ex-wife was arrested.
Officers were told at the time that Pol Lt Col Withoon used to stay in the house while working in Kanchanaburi before going to Ratchaburi province. Forensic officials recovered nine items, including Ms Sararat's garments and a container containing a black substance discovered at a waste burning site about five meters from the residence.
During the search, Pol Lt Col Withoon reportedly expressed disbelief after learning what his wife was accused of, and stated that he was willing to cooperate fully with investigators.
On the same day, Provincial Police, local police, and forensic officials raided a townhouse in Nakhon Pathom's Muang area after finding it belonged to Ms Sararat.
Her two children from her marriage to Pol Lt Col Withoon, a 13-year-old daughter and a 10-year-old boy, were inside the Monthathip housing estate. Inside the house, forensic officers collected evidence, as well as fingerprints and DNA samples from a Honda car and a motorbike.