PM2.5 Air Pollution at Toxic Levels in Chiang Rai, Thailand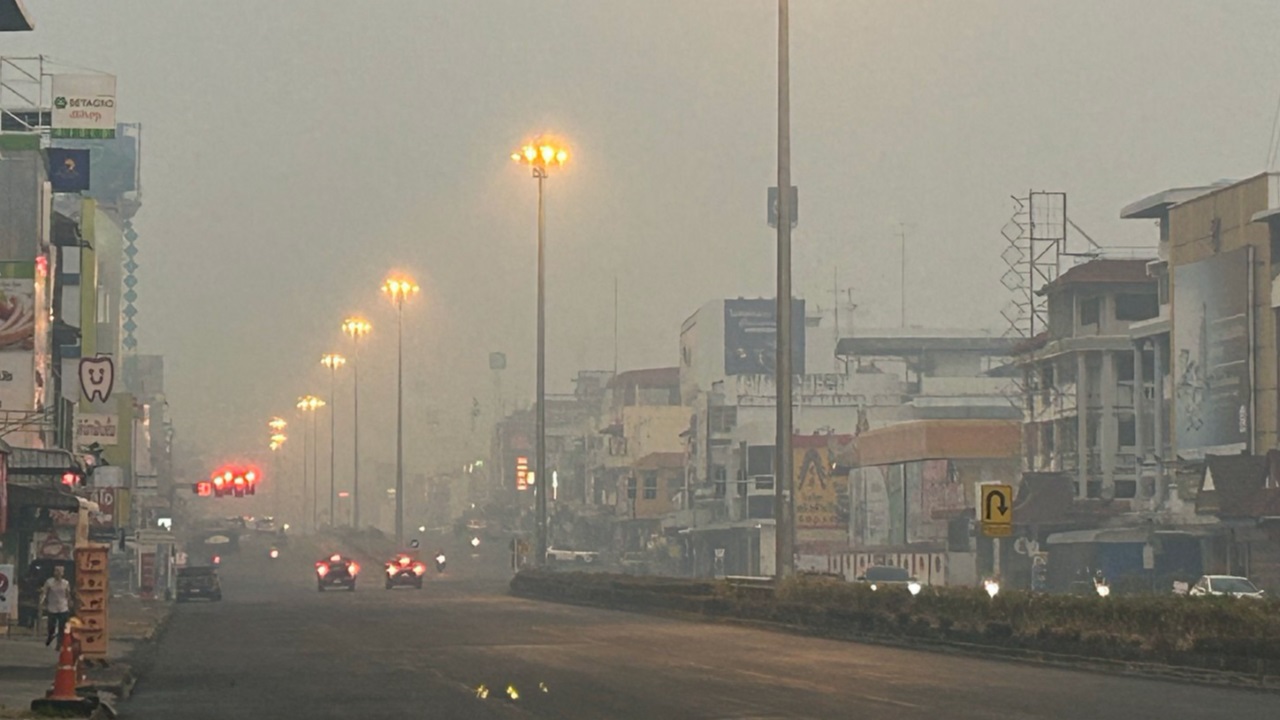 Northern provinces in Thailand, especially Chiang Rai and Chiang Mai, have been engulfed in dangerous levels of PM2.5 dust pollution from wildfires and agricultural burning in Myanmar and Laos.
Mr. Suwannachai Wattanayingcharoenchai, director-general of the Health Department, stated that PM2.5 levels exceeded 91 microgrammes per cubic metre (g/m3) of air in eight northern provinces: Chiang Mai, Chiang Rai, Lamphun, Lampang, Mae Hong Son, Nan, Phayao, and Phrae in 24 hours.
As of late yesterday morning, toxic dust was also affecting the three northeastern provinces of Bung Kan, Nakhon Phanom, and Nong Khai, he said.
In Thailand, the safe limit for PM2.5 is 50g/m3 of air in 24 hours.
Dr Suwannachai reported that the PM2.5 level in tambon Wiang Pang Kham of Mae Sai district in Chiang Rai's northernmost province had reached 480g/m3 of air in 24 hours as of 11 a.m. yesterday.
The level was nine times higher than the local safe level and 32 times higher than the World Health Organization standard. According to the WHO, the safe level of exposure for 24 hours is 37g/m3 of air, or 15g/m3 annually.
At 10.30 a.m., IQAir, an air pollution monitoring website, reported that Chiang Mai had the world's worst air pollution. The PM2.5 level in the northern province was 33.4 times higher than the WHO's safe level.
Dr. Suwannachai predicted that air pollution in the North and Northeast, particularly in border provinces, would continue this week due to field burning in Thailand and neighbouring countries, as well as stagnant air.
According to him, high levels of PM2.5 would cause eye and skin irritation, breathing difficulties, and chest pain. Breathing difficulties may be severe in people suffering from heart and respiratory illnesses, he adds.
"Long-term and excessive PM2.5 exposure will eventually cause internal inflammation, lung cell damage, cardiovascular disease, and cancer," Dr. Suwannachai said.
According to Trasak Srithipan, an adviser to the Chiang Rai Chamber of Commerce, hot spots in neighbouring countries are one of the causes of air pollution in Mae Sai. He believes the issue should be addressed at the regional level.
A brush fire that started in Laos recently destroyed a viewpoint in Chiang Rai's Phu Chi Fa national park, he said.
Meanwhile, the Geo-Informatics and Space Technology Development Agency reported yesterday that there were 12,581 hotspots in Myanmar, 4,376 in Thailand, 8,535 in Laos, 744 in Cambodia, 720 in Vietnam, and 31 in Malaysia on Saturday alone, based on Suomi NPP satellite images.
More than half of Thailand's hotspots (3,515) are in protected forests, 364 in farmlands, and 196 in communities.
Doctors have warned that PM2.5 dust pollution can exacerbate the severity of asthma symptoms.
Dr. Surachai Chokkhanchidchai, chairman of the health service system development committee, told the Thai Asthma Council and Association's general meeting on Friday that PM2.5 dust is to blame for the rise in asthma patients.
In response to the air pollution problem, the Public Health Ministry also emphasized the importance of preventive healthcare and self-care, he said.
According to Dr. Orapan Poachanukoon, president of the Thai Asthma Council and Association, asthma cases have tripled in the last two decades, particularly among children, due to daily exposure to dangerous levels of particulate matter smaller than 2.5 microns, or PM2.5.
Any increase in PM2.5 concentration of 10 micrograms per cubic metre (g/m3) increases the odds of an individual suffering from asthma symptoms by one-fifth, she says, adding that genetic disorders are no longer the primary predictor of the disease.
Dr. Orapan advised avoiding or controlling bribery-related activities.