Food Delivery Drivers in Thailand Seeing Their Incomes Plummet
Food delivery drivers in Thailand, one of Southeast Asia's most competitive markets for "super apps" like Grab, are seeing their incomes plummet as platforms cut expenses amid harsh business conditions.
Grab Holdings, which controlled approximately 44 percent of the Thai market as of 2021, went public in New York in 2021 after a $39.6 billion merger with a blank cheque company.
However, despite being Southeast Asia's most valuable digital unicorn, the Singapore-based start-up has struggled to cut losses and has yet to earn a profit.
Grab laid off over 1,000 employees in June, the most since 2020, when the company let off 360 employees. CEO Anthony Tan called the layoffs as a "painful but necessary step" to ensure the company's future competitiveness.
Piti, a 26-year-old Bangkok resident, had little issue earning a living as a Grab delivery driver during the peak of the COVID-19 outbreak. Piti's wages have plummeted after two years of carrying food to homes and workplaces, and he is considering changing occupations.
He claims that in recent months, he has received a beginning rate of 38 baht ($1.07) each food order, down from 40 baht ($1.12) previously. Worse, he is getting considerably fewer gigs as the number of cars on the road has increased dramatically.
"I used to earn around 2,000 baht [$57] per day, but now I only earn 900 baht [$25] on some days," Piti, who requested anonymity to prevent reprisal, told Al Jazeera.
Piti intends to transition to using Grab's ride-hailing service, which he claims pays a more attractive rate of 35 baht ($0.98) per kilometre.
Other meal delivery platforms have encountered similar challenges.
According to analytics firm Creden Data, Line Man, a delivery app developed by the Thai arm of Japan's Line Corp., posted a loss of 2.7 billion baht ($75.9 million) last year, down 14 percent from 2021, despite boosting revenue 88 percent to 7.8 billion baht ($219 million).
According to the Kasikorn Research Centre, a Bangkok-based think tank, the market value of Thailand's food delivery company would fall by 11.3 percent this year compared to 2022 as the volume of food orders drops following the epidemic.
Food delivery drivers for a variety of platforms who talked to Al Jazeera said they had received no explanation for the decrease in their pay.
Pon, a driver for multiple platforms including Robinhood, stated that his base salary per order has been decreased from 43 baht ($1.21) to 39 baht ($1.10). "I have spoken to friends on many platforms, and we have faced the same situation," Pon, who requested anonymity, told Al Jazeera.
Pon, like many other drivers, switches between apps, sometimes even on the same day. Platforms like Grab, Foodpanda, Robinhood, and Line Man Wongnai all have similar pay structures: drivers are paid per delivery order and are compensated more for longer distances.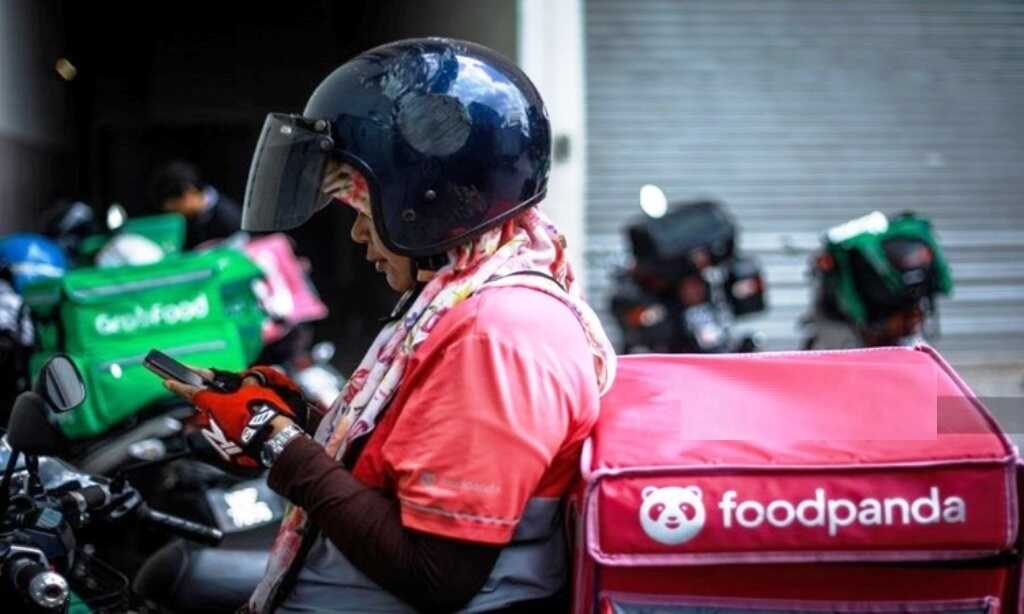 In some circumstances, incentives are presented to drivers in order to motivate them to fulfill revenue targets. With no defined wage, the more hours a driver works, the more money he or she earns.
"Rates are high during 11am-2pm and 5pm-7pm, especially when it's raining because that's when orders are at their highest," Natee, a 39-year-old Foodpanda driver who requested anonymity, told Al Jazeera.
Natee, like other drivers, has seen his Foodpanda rates fall after quitting his manufacturing job after his boss failed to pay him overtime.
He supplements his income by delivering customers using Bolt, a ride-hailing app that will be available in Thailand in 2020.
"Many drivers have diversified their income streams by simultaneously working for multiple ride-hailing platforms," Hilman Palaon, a digital economy expert at the Lowy Institute's Indo-Pacific Development Centre in Australia, told Al Jazeera.
"This multifaceted engagement allows them to switch between platforms based on prevailing demand and pricing conditions."
According to James Guild, an adjunct fellow at Singapore's S Rajaratnam School of International Studies (RSIS), it's not surprise that platforms will provide drivers a lesser revenue split than in the beginning.
"Their priority is now profitability, so we should expect less generous incentive schemes and revenue splits, as well as higher fees," Guild told Al Jazeera.
"Grab needs to make some changes to its business model because it has been extremely unprofitable." The question is who and where will shoulder the costs of these changes."
Line Man Wongnai, a delivery arm of Thailand's popular messaging service Line, said drivers' fees typically change based to user demand in each area, the local economy, the level of competition, and the weather.
"Our latest adjustment in March did both rise and drop in different areas," Isriya Paireepairit, vice president of public affairs at Line Man Wongnai, told Al Jazeera.
"In the central Bangkok area, where demand is very high, we raised the compensation." The company refuses to comment on the wage cut.
Worachat Luxkanalode, managing director of Grab Thailand, stated in June that the platform grew once the country reopened following the pandemic.
He stated that meal delivery orders had remained high, aided in part by remote working, but that the platform was aiming to increase value per order by partnering with more restaurants and adding additional user promotions. Luxkanalode confessed that the meal delivery service was a loss-making venture.
"[For example], with every order of 100 baht [$2.81], Grab receives a 20 baht [$0.56] commission from the restaurant and pays the driver 40 baht, which means we instantly lose 20 baht," he explained.
Platforms have sought to diversify their revenue streams in order to address profitability concerns.
Line Man Wongnai intends to profit on Line's 50 million users by integrating services such as Line Chat, Line Pay, and Line Shopping.
Luxkanalode, Grab's CEO, stated at an event in July of last year that the company intended to expand its financial offerings, including low-interest loans for its drivers and food merchants.
Grab Thailand already provides hotel booking, digital wallet services, and bespoke delivery services such as laundry or grocery.
"We are, however, entering an interesting transition period as they shift from growth to profits," RSIS' Guild said.
"It turns out that making money in ride-hailing and delivery is difficult, so these apps are now looking to leverage their large customer bases into financial services customers, which is a more profitable line of business in general."
After a good start, Guild believes the gig economy's future is uncertain.
"It has definitely had a positive impact by lowering transaction costs and more efficiently matching buyers and sellers," he said.
"It has enabled small businesses to enter markets that were previously unavailable to them." A few years ago, hardworking drivers in Indonesia were earning considerably above the minimum wage. They were receiving highly lucrative incentives at the time because the goal was to onboard additional drivers. Those days appear to be over."