Ferry to Koh Samui Island Sinks in Southern Thailand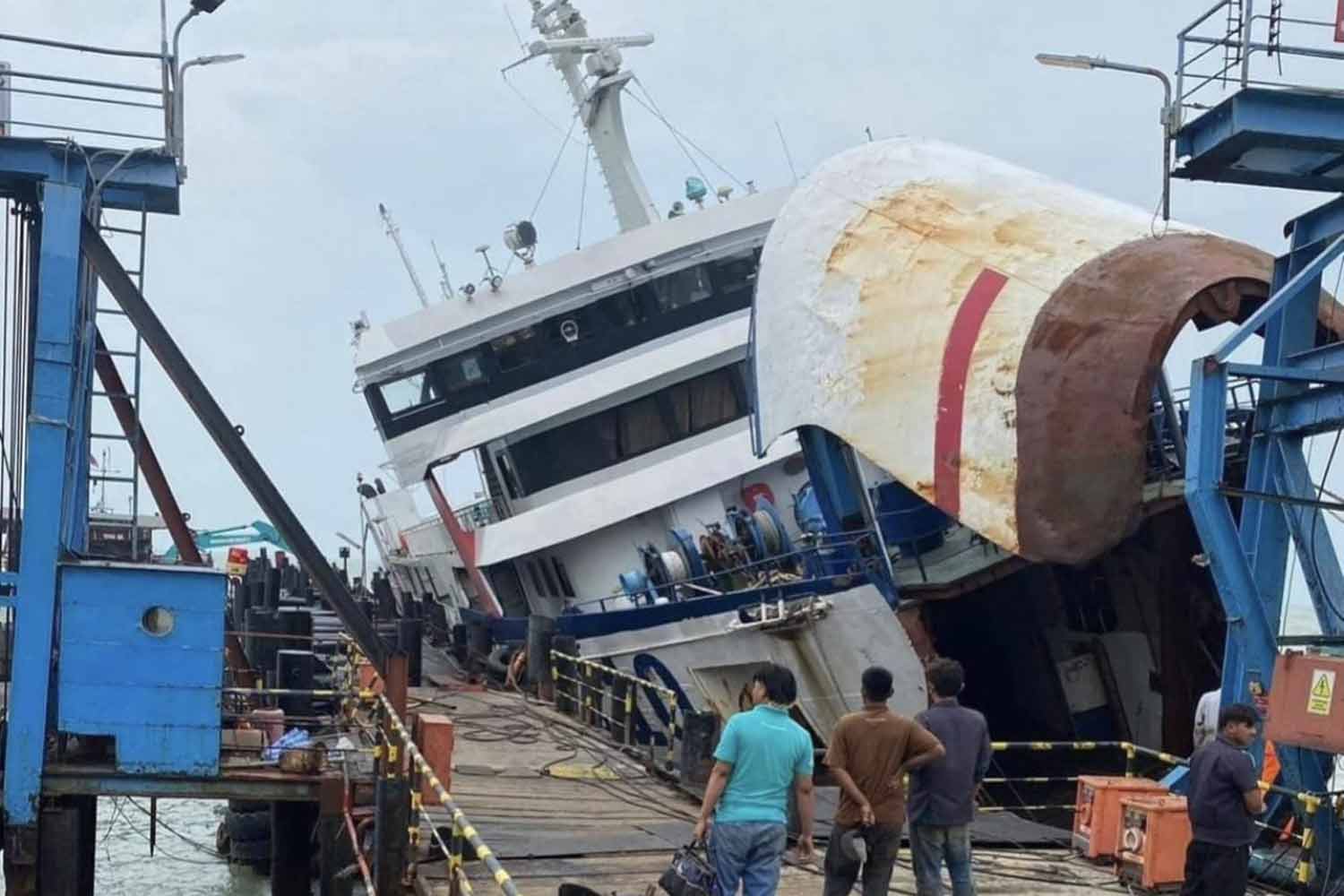 Port authorities in southern Thailand's Surat Thani province a passenger ferry sank at Don Sak port after passengers and cars had exited the ferry, no one was injured.
The R10 ferry of Raja Ferry Co sank at a the pier in mainland Don Sak district around 10 a.m. on Sunday, according to Mr. Sutthipong Julcharoen, permanent secretary of the Interior Ministry.
Strong waves pushed the ferry into the concrete pier, causing it to tilt and drop to the seabed, which was around four meters deep.
Mr.Sutthipong stated that no one was injured because all passengers had already exited the vessel. He stated that he had directed officials in southern provinces bordering the Gulf of Thailand to keep all boats ashore during strong waves for the sake of public safety.
Because other piers remained open, the port continued to operate.
Ferry to Koh Samui Thailand
Koh Samui is a popular tourist destination in Thailand, known for its beautiful beaches and vibrant nightlife. To reach Koh Samui by ferry, you would typically depart from one of the nearby ports on the mainland or from neighboring islands such as Koh Phangan or Koh Tao. Here is some general information about Koh Samui ferries:
Departure Points: Ferries to Koh Samui typically depart from several ports on the mainland, including Surat Thani, Don Sak, and Chumphon. From neighboring islands such as Koh Phangan or Koh Tao, you can also catch ferries to Koh Samui.
Ferry Operators: There are several ferry operators that operate routes to Koh Samui, including Raja Ferry, Seatran Ferry, and Lomprayah High Speed Ferries, among others. These operators offer various types of ferries, including standard ferries and high-speed catamarans, with different schedules and prices.
Ferry Schedule: Ferry schedules may vary depending on the time of year, weather conditions, and ferry operator. Generally, there are multiple departures throughout the day, with more frequent schedules during peak tourist seasons. It's recommended to check the ferry schedule in advance, and to arrive at the departure point at least 30 minutes before the scheduled departure time.
Ferry Duration: The duration of the ferry trip to Koh Samui depends on the departure point and type of ferry. On average, it takes about 1.5 to 3 hours to reach Koh Samui from the mainland, and about 30 minutes to 2 hours from neighboring islands, depending on the ferry operator and route.
Ticket Prices: Ferry ticket prices vary depending on the ferry operator, type of ferry, and route. Prices may also be higher during peak tourist seasons. It's recommended to check with the ferry operator or book tickets in advance to secure the best prices.
Facilities on board: Ferry facilities may vary depending on the type of ferry and ferry operator. Generally, ferries to Koh Samui are equipped with seating areas, restrooms, and sometimes food and beverage options. Some high-speed catamarans may also have air conditioning and Wi-Fi on board.
Weather Considerations: Ferry operations can be affected by weather conditions, particularly during the monsoon season in Thailand, which typically occurs from November to April. It's recommended to check weather conditions and ferry status before your trip, and to be prepared for possible delays or cancellations due to weather.
Safety: It's important to prioritize safety when taking a ferry to Koh Samui. Follow all safety instructions provided by the ferry operator, wear life jackets if provided, and be aware of emergency procedures. It's also advisable to keep your belongings secure and not leave them unattended during the ferry journey.
In summary, taking a ferry to Koh Samui is a popular and convenient way to reach this tropical paradise. However, it's important to plan ahead, check schedules and prices, and prioritize safety for a smooth and enjoyable ferry journey.