Extreme PM2.5 Air Pollution in Northern Thailand Hinders Tourism
The extreme air pollution has not only caused a health risk to people of northern Thailand, but it has also harmed the country's tourism industry. Concerned parties have encouraged the government to devise long-term solutions to the problem, including pushing for the approval of a "clean air" bill, which is currently being debated in parliament.
The choking PM2.5 pollution in northern Thailand, especially Chiang Mai and Chiang Rai, has fueled locals' hopes that the administration formed after the May 14 general election will address the problem, which is mostly caused by slash-and-burn agriculture and man-made forest fires.
According to the Geo-Informatics and Space Technology Development Agency (Gistda), Suomi NPP satellite images, northern Thailand's neighbour, Myanmar, had the most hotspots with 275,000 from January to this month, followed by Laos with 220,000, Northern Thailand with 154,000, and Cambodia with 100,700.
Chiang Mai had the largest number (12,000) in northern Thailand over the four-month period, with more than 150,000 Rai of land damaged by wildfires. While Chiang Rai has had the most flames in the last 20 years.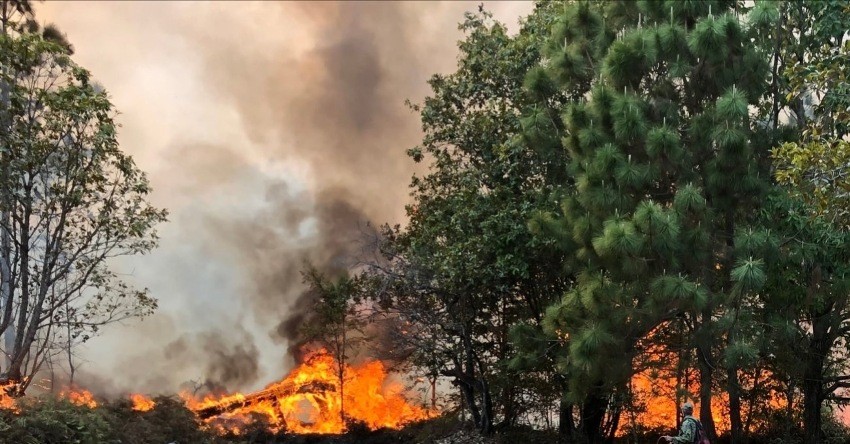 Wildfires in northern Thailand
Approximately 6,900 wildfires were discovered in forest reserves, while 4,500 were discovered in national forest park regions, causing PM2.5 levels to surpass statutory safety thresholds for more than 70 days and an air quality index (AQI) level to worsen for extended periods in Chiang Mai and Chiang Rai.
From March until recently, PM2.5 levels and rising AQI in the northern province were among the worst in the world. On certain days, PM2.5 levels approached 800-900 microgrammes per cubic metre (g/m3), above the World Health Organization's recommended guideline of 50 g/m3.
This prompted officials to advise inhabitants to work from home in order to minimize the effects of growing air pollution and to increase assistance to areas affected by the haze issue.
The extreme hazardous air pollution, according to La-iad Bungsrithong, consultant to the Thai Hotels Association's branch in northern Thailand, is also impacting the local economy, particularly the hotel business.
During Songkran, activities and promotional efforts were launched to bring tourists to Chiang Mai and Chiang Rai, but the hazy pollution discouraged many, she added.
It was expected that 65% of Chiang Mai's more than 50,000 hotel rooms would be booked, but just 40% were, according to her.

Hotel Cancellations due to air pollution
She also stated that lodging reservations were generally cancelled by Thai tourists owing to the PM2.5 issue, since they preferred to travel to beach destinations. According to her, several visitors to Chiang Mai only stayed for a few days.
"The month of April is the low season for tourism in Chiang Mai and Chiang Rai." Songkran is the only major festival that may draw tourists. However, the PM2.5 issue is a hurdle, causing Chiang Mai to lose revenue," she explained.
"Several hotels and other types of lodging in Chiang Mai have installed air purifiers to protect customers from the impact of PM2.5, which increases their operating costs," she said.
"PM2.5 toxic air pollution is a major national problem that necessitates collaboration from all agencies involved." People are also demanding for the clean air law to be passed quickly in order to solve the problem," she said.
Mr. Phunat Thanalaopanich, head of the Thai Hotels Association's Chapter in Northern Thailand, stated that the government and business operators collaborated to organise activities and promotions to attract tourists during Songkran this year in Chiang Mai and Chiang Rai.
Songkran celebrations had previously been halted across the country owing to Covid-19.
"Everyone expected more tourist arrivals this year because a wide range of activities were planned following Covid." However, due to air pollution, the number of tourists plummeted by 30%," he said. According to him, the haze pollution is so severe that it is now affecting tourist and hotel businesses.

Attracting Tourists
Meanwhile, Ms. Suladda Sarutilavan, director of the Tourism Authority of Northern Thailand's Chiang Mai office, stated that government agencies and the private sector collaborated to promote local tourism ahead of the low season.
However, just 41,254 tourists arrived at Chiang Mai airport between April 13 and 16. She stated that 30,918 were domestic travellers and the rest were overseas arrivals.
The number of Chinese visitors was 2,838, followed by 2,578 Thais, 1,084 South Koreans, 632 Taiwanese, and 518 Americans. Northern Thailand suffers from severe air pollution, particularly in urban areas. Vehicle emissions, industrial operations, and agricultural waste burning are the primary sources of air pollution in the region.
In Chiang Mai, the largest city in northern Thailand, air pollution levels often exceed World Health Organisation (WHO) acceptable norms. Pollution can have serious consequences for public health, such as respiratory difficulties, heart disease, and cancer.
Government controls on emissions and initiatives to promote the use of cleaner technologies in industry and transportation are among the measures being taken to combat air pollution in northern Thailand. Furthermore, public awareness programmes and community-led initiatives to prevent agricultural waste burning have been implemented.
However, the problem remains serious, and continuous efforts are required to address the underlying causes of air pollution and reduce its effects on public health and the environment.
The haze problem in northern Thailand is a reoccurring concern, especially during the dry season, which lasts from February to April. Agricultural burning, forest fires, and industrial pollutants are the primary causes of the haze.
Farmers in the region frequently use fire to clear their fields after harvesting crops, adding to the smog. Furthermore, both natural and man-made forest fires contribute to the situation. Industrial pollution from nearby manufacturers and power plants can also worsen the haze.
The haze can have serious consequences for public health, such as respiratory difficulties and eye irritation. It can also harm the ecosystem by destroying forests and wildlife habitats.
Government restrictions and measures to encourage farmers to adopt more sustainable farming practices are among the efforts being made to combat the haze problem. However, the issue remains a substantial concern, and continuous efforts are required to address the problem's core causes and alleviate its consequences.