Canada's Trudeau Slammed for Manslpaining to Italian PM at G7 Summit
Canadian Prime Minister Justin Trudeau and his Italian counterpart Giorgia Meloni took public potshots at each other as the two world leaders attended the G7 summit in Japan.
Justin Trudeau slammed Giorgia Meloni and Italy just before closed-door meetings, saying, "Canada is concerned about some of the positioning that Italy is taking in terms of LGBT rights, but I look forward to talking with you."
Giorgia Meloni, who was outraged, accused the Canadian prime minister of being a "victim of fake news," claiming his statements were "a little rash."
Trudeau a self proclaimed feminist was quickly slammed on social media for trying to mansplain democracy to Meloni.
Rita Panahi of Sky News Australia chimed in, stating Meloni's grin while being chastised "really sums up what all of us think of the repugnant, incompetent Trudeau." Panahi slammed Trudeau, stating, 'Let's zoom in on her face as Trudeau decided to mansplain democracy to her.'
After the altercation the Milan-based Libero daily splashed an image of the Grit prime minister in blackface on the front page, with the caption, translated from Italian, saying, "This buffoon wants to teach us lessons."
According to the Toronto Sun, "when are we Canadians going to stop allowing our buffoon of a prime minister to represent us on the international stage?"
Justin Trudeau, who is at best an intellectual lightweight at home, transforms into a buffoon when he travels abroad.
When Justin Trudeau flew to South Korea with a delegation of Canadian ministers to honour the 60th anniversary of diplomatic ties between the two countries, he struck a manner legs' pose with a Korean politician ahead to the G7 conference in Hiroshima.
Following the meeting, Conservative Canadian news outlet True North said that "some Canadians are accusing Trudeau of embarrassing Canada while abroad once again."
Time Magazine published an article in 2022 depicting Justin Trudeau in blackface when he was 29 years old at the school where he was, perhaps appropriately, a drama instructor, as well as another occasion in which he sang the Banana Boat song in blackface. The story caused predicted alarm at home, as well as disbelief and contempt overseas.
The New York Times featured the black face article above the fold on the top page and as the third-ranked story for hours Wednesday on what is possibly the world's most read news website.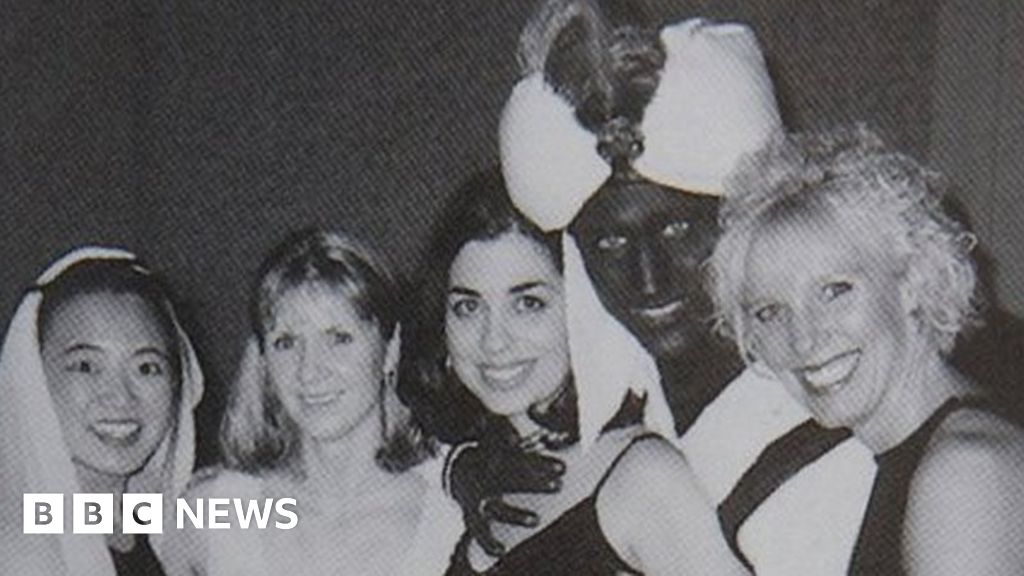 The BBC, which competes with the New York Times for the top news web spot, highlighted Trudeau's numerous gaffes on its main page.
It was also instantly highlighted that Trudeau's stupid theatrics would very certainly cost Canada dearly the next time it attempted to claim moral superiority over North Korea, Iran, Russia, China, and the United States.
Even The Hill, a Washington political insider's publication that rarely covers Canada, has made a big issue out of Trudeau's racist makeup gaffes.
Trudeau's international standing has plummeted after a burst of positive media coverage in his first two years in office, including appearing on the cover of Marvel Comics as a superhero in Maple Leaf regalia, receiving high praise from the respected New York Times foreign affairs columnist, Nicholas Kristof, and garnering even more praise from Rolling Stone magazine.
There was, of course, Trudeau's cringe-worthy song and dance act in India in February 2018, where he used his wife, Sophie, and his children as props and, for some reason, felt the need to bring along an Indian chef from Vancouver to feed his hosts.
The Modi government was considerably more furious with Team Trudeau for twice inviting a convicted Sikh terrorist to public engagements with the Canadian prime minister in India, as well as his tolerance of what Delhi termed pro-Khalistan Sikhs in his entourage.
Justin Trudeau was filmed singing by a piano in a London hotel during Queen Elizabeth II's burial. The prime minister can be seen singing Bohemian Rhapsody by Queen in a video uploaded on social media.
Critics accused the Prime Minister of lacking respect, but others defended him.
The video has been widely circulated on social media, but while a representative for the prime minister acknowledged its authenticity, it is unclear who shot it.
Mr Trudeau may be seen in a T-shirt, resting on a piano as Gregory Charles, a Quebec musician and Order of Canada recipient, performs Bohemian Rhapsody.
Some Canadian commentators and members of the public have criticised the film.
"Embarrassing doesn't even begin to cover it," commented Globe and Mail columnist Andrew Coyne on Twitter.
"He's the Prime Minister, speaking in public on the eve of the Queen's funeral." "And this is how he acts?"
Former Canadian ambassador to Israel Vivian Bercovici stated, "He is the Canadian prime minister representing Canada during the Queen's week of mourning." Our nation's leader. It's not about Justin. But he needs to mature."
China Ridicules Canadian Prime Minister Justin Trudeau as Diplomatic Ties Intensify