Sobbing Relatives of Nepal Earthquake Victims Bury The Dead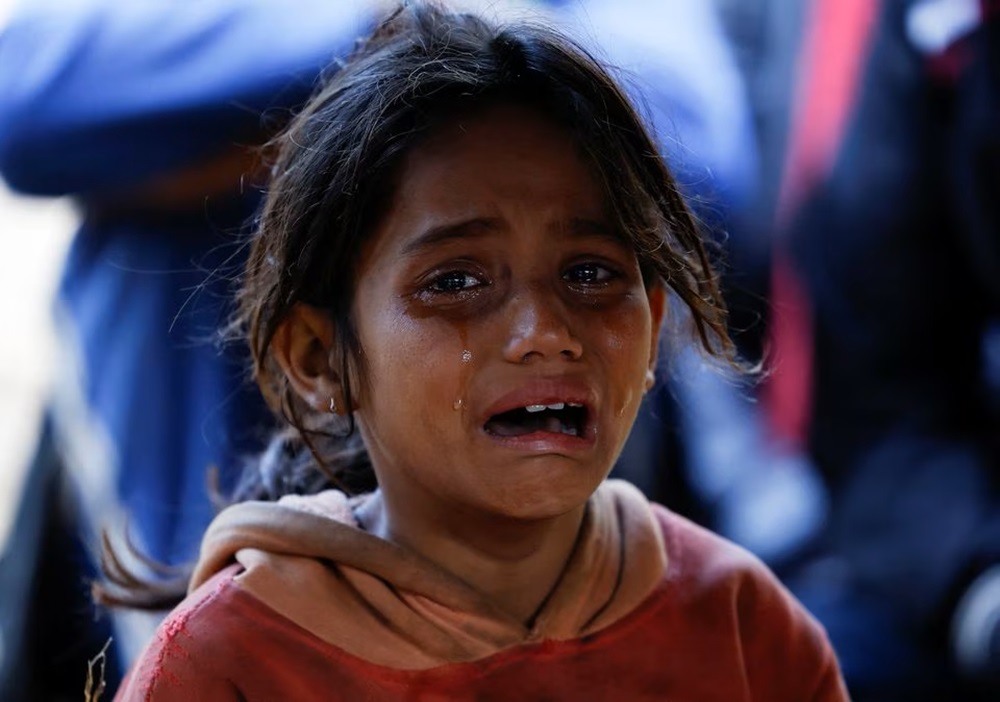 Sobbing relatives of victims from Nepal's worst earthquake in eight years cremated their loved ones on Sunday as rescuers looked for people who could still be trapped in the rubble of collapsed buildings.
The wails of eight-year-old Prem Kala Kami echoed across her Nepali village on Sunday, as the shroud-wrapped bodies of her parents and two of her brothers lay beside her awaiting cremation.
The remote village of Chiuri was one of the worst-hit places when a 5.6-magnitude earthquake struck western Nepal late Friday. It has only about 40 houses, all of them now reduced to rubble or heavily damaged, and 13 of its residents died.
Surrounding about 10 bodies shrouded in white cloth in a tarpaulin tent, relatives prepared garlands of marigolds for the Hindu cremation rites held on the banks of the Bheri River.
Earlier, Baljit Mahar, 32, sat cross-legged by the body of his seven-year-old son, one of 157 people killed in the late Friday quake in the west of the Himalayan nation, according to the authorities' latest count, along with about 250 injured.
"We could not save him, while all the other six members of the family were able to rush out as soon as the earthquake jolted us from our sleep," Mahar told Reuters in the remote village of Chiuri in the hilly Jajarkot district.
He pulled the body from the crumbled facade of their single-storey mud and stone house.
The quake had a magnitude 6.4, Nepal's National Seismological Centre said, while the U.S. Geological Survey measured it at 5.6.
It was the country's deadliest since 2015, when about 9,000 people were killed by two quakes that reduced whole towns and centuries-old temples to rubble and destroyed more than a million houses, at a cost of $6 billion to the $40 billion economy.
Since Friday's quake, thousands of buildings in Jajarkot and neighbouring Rukum West district have collapsed or developed cracks making them uninhabitable.
"All my belongings and clothes are under the debris," Mahar said. "I have been left without anything."
Nepal Police spokesperson Kuber Kadayat said authorities would keep looking for survivors, then quickly address relief and rehabilitation for affected families. The government treats the injured free of charge.
In Kathmandu, the government said it would make immediate arrangements for shelter, food and safety for displaced families, and provide $1,500 to the families of each of those killed as immediate relief.
Some survivors in Chiuri, who belong to the "untouchable" Dalit community according to Nepal's Hindu customs, said no government representative had yet visited or offered help.
Survivors said they heard the loud noises of collapsing buildings soon after the quake struck.
"There was a big plume of dust and we could not even breathe easily or see anything," said Shanta Bahadur B.K., who was watching over the bodies of six family members as his mother was being treated for injuries at a hospital in the nearest city, Nepalgunj.
"I am shocked to lose almost all my family members," said the 41-year-old, who farms millet and corn. "It is an unbearable pain, but I must face and bear it. What to do?"
In Khalanga, the capital of Jajarkot district, survivors slept in the streets near damaged houses, wrapped in blankets to beat the cold.
"There was one funeral pyre for each body that was cremated according to our culture and tradition," said survivor B.K.