How to Transform Your Bedroom with a Stylish Bedroom Furniture Set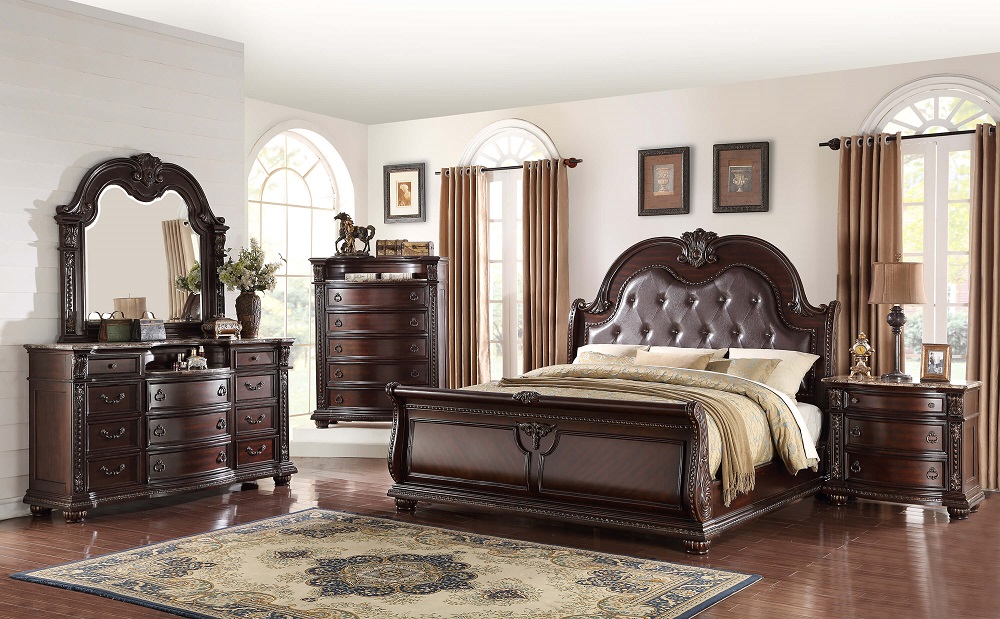 Creating a comfortable and inviting bedroom is essential for a good night's sleep and a peaceful retreat. One of the critical elements in achieving this is selecting the right bedroom furniture set. Bedroom furniture set not only enhances the aesthetics of the room but also provides functionality and organization. In this article, we will explore different pieces of bedroom furniture, including bedside cabinets, mattresses, bunk beds, and dressing tables and chairs, and discuss their importance in creating a cohesive and harmonious bedroom environment.
Understanding Bedroom Furniture Sets
A bedroom furniture set typically includes a combination of essential pieces designed to complement each other. These sets often consist of a bed, bedside cabinets, a mattress, and extra elements like dressers and chairs. By opting for a piece of bedroom furniture set, you can ensure a cohesive look and feel throughout your bedroom.

The Versatility of Bedside Cabinets
Bedside cabinets, also known as nightstands or bedside tables, are small cabinets or tables placed beside the bed. These versatile pieces of furniture offer a convenient surface to place a lamp, alarm clock, or books within arm's reach. They often feature drawers or shelves for storage, allowing you to keep essentials organized and close at hand.
To make the most of a bedside cabinet in your bedroom decor, consider both its functionality and appearance. Choose a cabinet size and height that matches your bed, making it easy to reach items while sitting or lying down. You can also select a bedside cabinet that complements the design theme of your bedroom. For a rustic ambiance, opt for a cabinet with a distressed finish or natural wood texture. If you prefer a modern style, choose a cabinet with clean lines and a glossy finish. You can personalize the top surface of the cabinet with a decorative lamp, potted plant, or small tray to add your own touch.
The Role and Benefits of Mattresses
A high-quality mattress is a crucial component of a comfortable and restful sleep experience. Mattresses provide support and cushioning to your body, promoting proper spinal alignment, and relieving pressure points. They come in various types, including memory foam, innerspring, latex, and hybrid mattresses. It is important to choose a mattress that suits your sleeping preferences and offers adequate support for a good night's sleep.
Investing in a high-quality mattress can greatly improve how you feel when you wake up. It provides important support for your back, neck, spine, and legs. By keeping your body properly aligned during sleep, it helps relieve pressure points and promotes a healthy spine. This reduces the chances of experiencing aches, pains, and stiffness that can affect your day. A good mattress is a wise investment that, with proper care, can last for many years, ensuring you have peaceful nights and feel refreshed in the mornings.
Exploring the Advantages of Bunk Beds
Bunk beds are an excellent choice for shared bedrooms or spaces with limited floor area. They consist of two or more beds stacked vertically, allowing multiple people to sleep in the same space. Bunk beds are often equipped with built-in ladders or stairs for easy access to the upper bunk. They are particularly popular in children's bedrooms, as they offer a fun and space-saving solution.
Creating a Glamorous Vanity Area
To create a glamorous vanity area with your dressing table, consider incorporating decorative elements and functional accessories. Start by selecting a stylish mirror that complements the table's design and size. Mirrors not only serve a practical purpose but also add depth and luminosity to the space. Additionally, you can add ambient lighting, such as elegant vanity lights or a table lamp, to ensure proper illumination for grooming and makeup application.
The Allure of Dressing Tables and Chairs
A dressing table, also known as a vanity table, is a stylish and functional addition to any bedroom. It typically features a mirror, drawers or shelves for storage and a surface for grooming and applying makeup. The term "dressing table" derives from its original purpose of preparing oneself for the day. It provides a dedicated space for getting ready, allowing you to organize your beauty essentials and accessories.
Unleashing the Potential of Bedroom Furniture Sets
The goal of the bedroom furniture sets is to make a peaceful and nicely designed bedroom. To create a unified and attractive look, choose furniture that goes well together in style, colour, and usefulness. Also, keep your bedside cabinets and dressers organized so you can easily find your things and keep the room tidy and calm.
Conclusion:
At Furniture in Fashion, we pride ourselves on providing high-quality bedroom furniture sets that cater to various preferences and budgets. Our commitment to excellence ensures that you can find the perfect furniture pieces to create your dream bedroom, without compromising on quality or style.
Whether you are in search of stylish bedside cabinets, comfortable mattresses, space-saving bunk beds, or elegant dressing tables and chairs, we offer a diverse selection to meet your needs. Our affordable prices and attention to detail guarantee exceptional value for your investment. Transform your bedroom into a haven of comfort and beauty with our carefully crafted furniture sets, designed to enhance both functionality and aesthetics. Choose Furniture in Fashion for a seamless shopping experience and the assurance of outstanding quality in every piece of furniture.