What Are The Most Common Types of Motorcycle Crashes?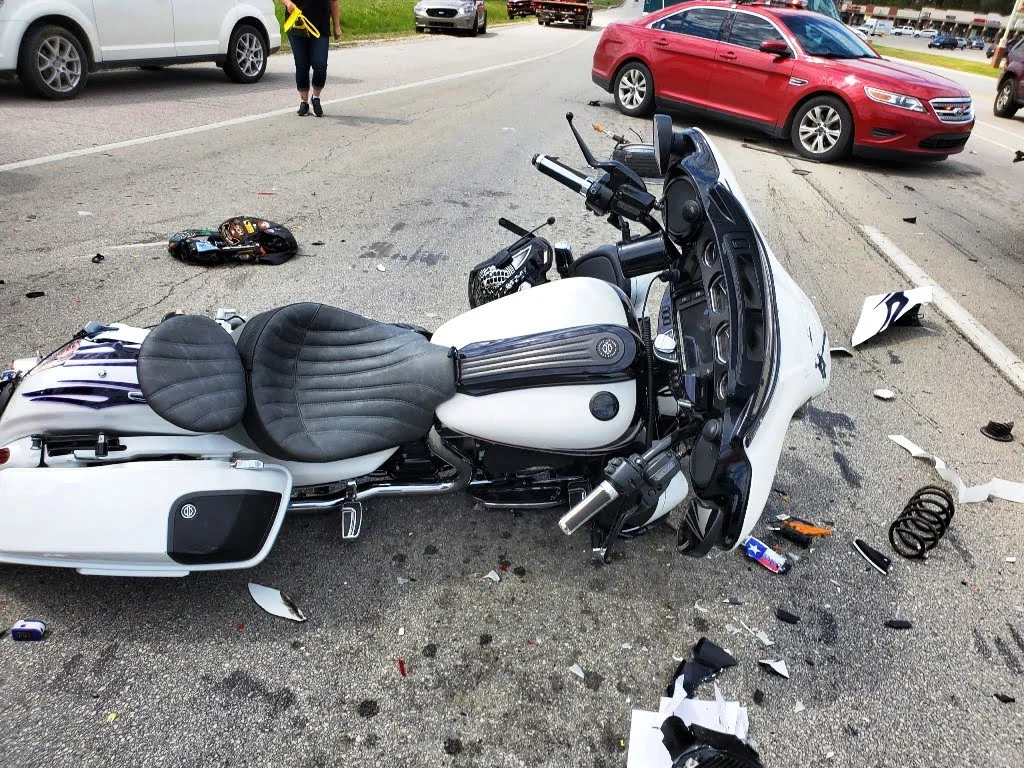 In most cases, motorcyclists aren't to blame for the accidents they're involved in. Many factors contribute to motorcycle crashes, the most common of which is the negligence of other motorists or hazardous road conditions.
A total of 4,612 motorcycle accident deaths occurred in 2011, according to the National Highway Traffic Safety Administration (NHTSA). Almost 50 percent of all fatal motorcycle collisions involved a motorcycle colliding with a vehicle. Texas had the second-highest number of motorcycle-related fatalities in the United States, with 411 deaths (426). The following is a brief description of some of the most common motorcycle accidents.
Among the most dangerous bike accidents are high-speed motorcycle crashes, sports bike wrecks, lower-speed road accidents, and motorcycle head-on collisions. Unfortunately, you can't always prevent the worst motorcycle accidents. When other drivers don't see motorcycles in their lane, they're more likely to get into an accident themselves.
But there is a way to avoid sustaining fatal injuries in motorcycle accidents. Expert motorcycle injury lawyers would suggest that you always wear a helmet whenever you ride your motorcycle.
Left-Hand Turn Accidents
A left-hand turn is the most common cause of motorcycle accidents. This is the most dangerous situation for motorcyclists, accounting for 42% of all motorcycle and car accidents. A motorcycle is most likely to be hit by a vehicle turning in its lane when it is:
Approaching an intersection and driving straight through,
Passing cars and
Attempting to overtake cars
Because of its smaller size, a turning vehicle may not be able to see the motorcycle clearly. Passing a car or other vehicle in the same lanes is also dangerous for motorcyclists. Other drivers may be surprised or unprepared for the motorcycle's unusual manoeuvre.
Motorcycle accidents are more dangerous than those involving two regular cars because of the larger size and lack of protection on motorcycles.
Lane Splitting
What is Lane Splitting?
When a motorcyclist rides in between lanes or rows of slow or stopped traffic, it's called "lane splitting."
Regardless of whether it is legal or not, lane splitting can cause traffic jams. Motorcyclists are allowed to ride through, but regular vehicles aren't allowed.
Motorists often get into accidents because they don't expect a motorcycle to pass them in traffic. When a motorcyclist is trying to make a tight turn, it is common for them to come within inches of another vehicle. A motorcyclist can lose control if a door opens or a car changes lanes suddenly.
Some motorcyclists are injured when they drive between two lanes of slow-moving or stopped traffic or when they split the lane (typically in traffic jams). Splitting lanes is a common cause of collisions for a variety of reasons, among them:
The motorcycle has a difficult time manoeuvring because the distance between vehicles is so close.
A crash is more likely when a motorcycle is near other moving vehicles.
Many other motorists are unprepared to share the road with a motorcycle when traffic is slow or stopped.
Head-On Collisions
More than half of motorcycle accident deaths are caused by collisions between a motorcycle and another vehicle. When a car hits a motorcycle head-on, 78% of the time, it's causing an accident. Motorcyclists who are involved in a head-on collision with a car are almost always killed.
How does a head-on collision occur?
A head-on collision occurs when a vehicle crosses a road's centerline or is travelling the wrong way down a street.
They are also common in construction zones, rural roads with two lanes, and highway ramps.
Suppose a motorcycle suddenly stops in a split second. In that case, the motorcycle rider will either be crushed or catapulted through the air and into a hard surface, depending on the motorcycle's speed.
This type of motorcycle accident is the deadliest of all motorcycle crashes. The car and the motorcycle are usually travelling at high speeds when they collide head-on. As a result, motorcycle riders have a much greater chance of being killed or severely injured.
Speeding
There are a variety of reasons why people buy motorcycles. One reason is that they're cheaper than buying a car, and another reason is that it's faster to travel on a motorcycle. Unfortunately, more than a third (33%) of motorcycle riders killed in crashes in 2014 were speeding.
This statistic is considerably higher than other automobiles:
Passenger car drivers make up 19% of the population.
For light-truck drivers, 15%
In the case of large-truck drivers, 7 percent
In addition to exceeding a speed limit, excessive speeding includes racing and driving too fast for the weather, pavement, and construction zones.
More motorcycle accidents occur on high-performance motorcycles, even though they make up only a small percentage of all motorcycles on the road. Lightweight and extremely fast, these motorcycles can go up to 160 mph or more. More dangerous is that most sportbike riders are under 30, which makes it even riskier.
What is a high-performance motorcycle?
A high-performance motorcycle can go faster than the average motorcycle.
It is important to note that high-performance motorcycles, or sports motorcycles, are optimized for speed, acceleration, braking, and cornering on asphalted roads.
There is a greater risk of a vehicle losing control at higher speeds, ranging from 160 mph to more than 200 mph.
Higher performance motorcycle crash fatality rates are four times higher than for standard motorcycles. To ride a high-performance motorcycle, only experienced riders should be on the road.
People also reading:
Thailand Tops the World in Motorcycle Accident Deaths
Why its So Important to Prepare For a Motorcycle Trip
Woman Gets Head Trapped in Display Box from Motorcycle Accident