Maker DAO's MKR Surges Amid Market Uptick: Can It Reach $1,500?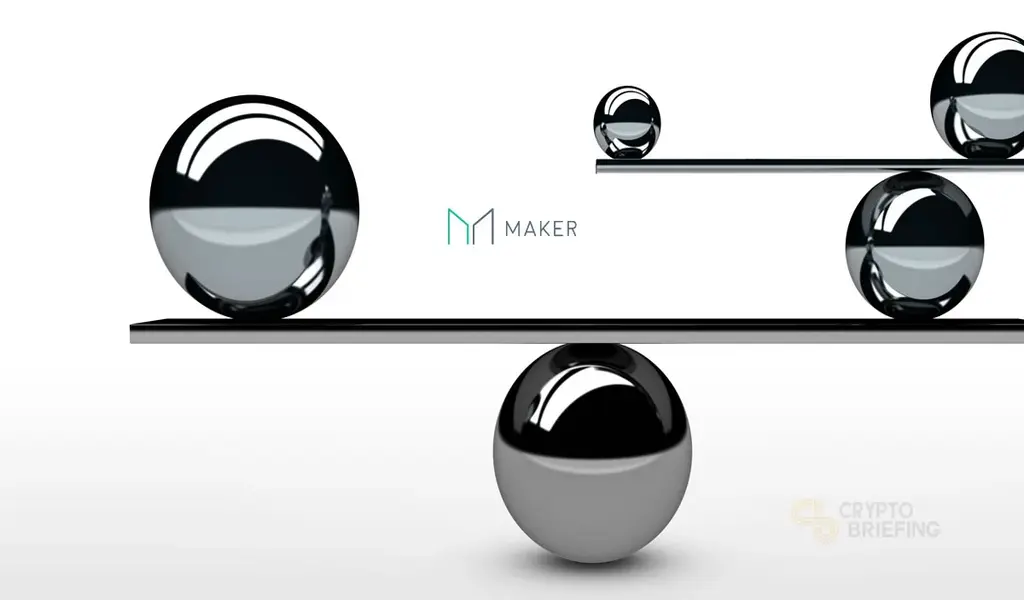 (CTN News) – In the ever-fluctuating world of cryptocurrencies, Maker DAO's MKR token has recently caught the attention of investors and traders alike.
On September 25th, MKR experienced a significant push, defying the broader market's struggles. Starting at a low of $1,265, it surged to a high of $1,343, demonstrating a remarkable 5% increase in just 24 hours.
As of now, MKR is trading at $1,335, aiming to breach the critical resistance level at $1,350. This impressive performance begs the question: Is the bullish momentum strong enough to propel MKR to the coveted $1,500 price mark?
Let's dive into the factors influencing MKR's recent surge and its potential for further growth.
MKR Stands Among Top-gaining Cryptocurrencies
MKR has made a strong statement by securing the top spot among today's top-gaining cryptocurrencies, outpacing giants like Chainlink and Bitcoin Cash by 2%.
This achievement is even more notable when considering that the overall crypto market cap experienced only a modest uptick of 0.63%, accompanied by a 4% decrease in trading volume, suggesting a decline in overall trading activity.
In stark contrast, MKR saw a staggering 47% increase in trading volume, signifying heightened interest and buying activity in the Maker market.
This notable surge in trading volume cannot be ignored, but it's crucial to understand the driving forces behind this increased demand for MKR.
The Spark Protocol Proposal Ignites Investor Sentiment
One significant factor contributing to MKR's recent surge is the excitement surrounding a new proposal: the deployment of the Spark Protocol on zkSync Era Mainnet.
This proposal outlines plans to include various assets like wETH, rETH, wstETH, and DAI as initial collaterals for borrowing on the Spark Protocol.
Additionally, if approved, the proposal sets an ambitious liquidity goal of 2 million to stimulate the growth of the Spark Protocol on zkSync.
What adds fuel to the fire is that the Maker community has already voted overwhelmingly in favor of launching Spark on Gnosis Chain, effectively making DAI, Maker DAO's stablecoin, the native gas token of Gnosis Chain.
This move provides users with the opportunity to earn increased yields when lending their DAI tokens, which has naturally boosted positive sentiment within the Maker ecosystem.
The positive sentiment generated by these developments likely translated into increased demand for MKR, the governance token of the Maker protocol, which could be a driving force behind the surge in trading activities.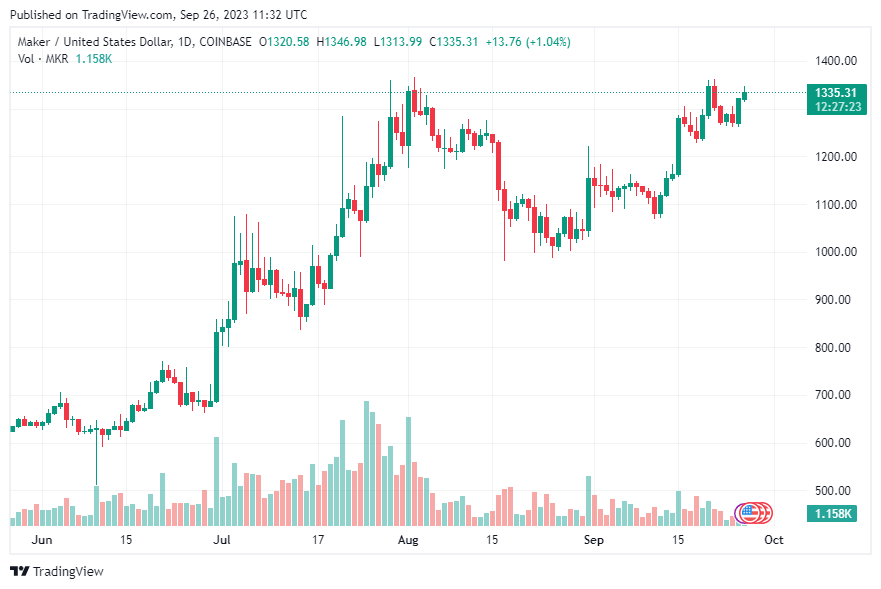 MKR Strives to Conquer the Key Resistance Level: Is $1,500 Possible?
Analyzing the daily chart, it becomes evident that MKR has formed two consecutive bullish candlesticks around the $1,300 price range. This pattern indicates a robust demand for the token and heightened buying activity in this zone.
Furthermore, this increased buying pressure successfully pushed MKR above a crucial support level of $1,086 and a critical moving average of $1,166.
However, the bulls encountered formidable resistance at the $1,354 mark. This resistance zone prompted profit-taking traders to initiate sell-offs, resulting in the formation of two bearish candlesticks at this level.
Consequently, Maker has been hovering just below $1,354 since the start of the current trading session, opening at $1,338.
Nevertheless, the Relative Strength Index (RSI) provides a glimmer of hope for MKR bulls.
The RSI, which has risen from 63 to 64.97, is approaching the overbought area.
This indicates a surge in buying strength, suggesting that more investors are entering long positions, potentially countering the selling pressure that has been resisting further upward movement.
In summary, while MKR has faced a significant resistance level at $1,354, the increased buying strength, positive sentiment surrounding the Spark Protocol proposal, and the RSI's bullish indications all point towards the possibility of a breakout above $1,354.
If the current momentum continues, Maker could make strides towards the $1,500 mark before the day's end.
As the cryptocurrency market remains highly volatile and unpredictable, it's essential for investors and traders to stay informed about the factors influencing the price movements of specific tokens like MKR.
While past performance is not indicative of future results, the recent developments surrounding Maker DAO and the promising technical indicators suggest that Maker's journey towards $1,500 is not out of reach.
However, caution should always be exercised, and thorough research conducted, before making investment decisions in the cryptocurrency space.