UBS Strategist: Bond Vigilantes Are Returning, And This Is Excellent Thing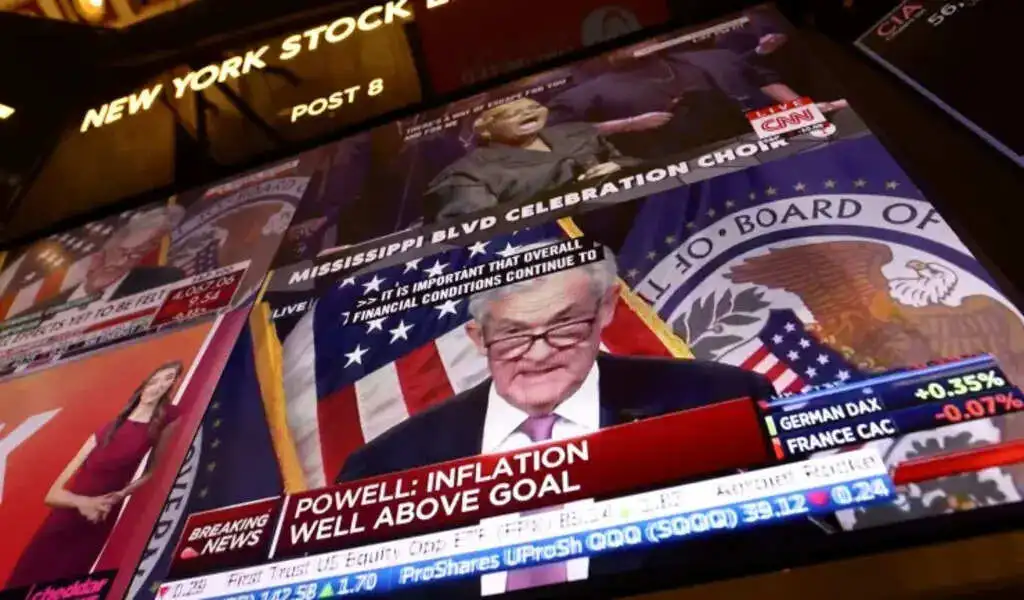 (CTN News) – UBS Asset Management's Kevin Zhao says bond vigilantes are returning amid higher iUBS Asset Management's Kevin Zhao says bond vigilantes are returning amid higher interest rates and a growing fiscal deficit as investors continue to sell.
As of Monday, the yield on the benchmark 10-year Treasury note was above 5% for the first time since 2007. Yields are inversely related to prices.
The further selling came after Federal Reserve Chairman Jerome Powell vowed to remain resolute in maintaining monetary policy tight as the central bank seeks to return inflation sustainably to its 2% target, while investors are also pricing in surprising economic resilience along with fiscal slippage.
In September, the U.S. government ended its fiscal year with a deficit of almost $1.7 trillion, adding to a massive $33.6 trillion national debt. Since the Covid-19 pandemic began in the first quarter of 2020, the country's debt has grown by more than $10 trillion, prompting a wave of fiscal stimulus.
On Friday, Zhao discussed the historic bond market sell-off that followed former British Prime Minister Liz Truss' disastrous "mini-budget" last September — which included a raft of unfunded tax cuts — as an example of bond investors reacting to what they consider irresponsible fiscal policy.
This is important for equity, house prices, fiscal policy, and UBS monetary policy, as there is no longer a free ride on bond markets anymore – so the government has to be very careful in the future. Last September, you saw that in Treasurys," Zhao said.
It was expected that the U.S. government deficit would continue to decrease as the economy slowed – it was 3.9% last year, but it is actually increasing, which is quite alarming for bond investors."
Bond vigilantes are bond market UBS investors who protest inflationary monetary or fiscal policies by selling bonds.
Markets are also assessing the possibility that interest rates could remain high for longer as the Fed tries to contain sticky inflation. The U.S. inflation rate in September was above expectations at 3.7% despite a significant decline from its June 2022 peak of 9.1% year-on-year.
Prior to pausing its hike cycle in September, the UBS Federal Reserve increased its main policy rate from 0.25-0.5% in March 2022 to 5.25-5.5% in July 2023.
Fed fund futures reflect a 98% probability that the central bank will maintain its main interest rate at the current target range of 5.25-5.5% at its next policy meeting.
Recently, several strategists stateside have made similar comments. Earlier this month, Yardeni Research President Ed Yardeni said that bond vigilantes had been "asleep for a long time" because inflation remained low from 2008 until the Covid-19 pandemic, but had now awoken to an increase in inflation following the pandemic.
During the pandemic environment we saw UBS essentially an experiment in Modern Monetary Theory, helicopter money, money raining down on people's deposits and that was accommodated by easy monetary policy — now, monetary policy has reversed course and tightened, meanwhile fiscal policy has gone the other way and been way too stimulative, and bond vigilantes are once again vigilant about fiscal policy," Yardeni said.
The message is essentially 'cut this deficit substantially or we'll raise rates to levels that will crush the economy'. What will you do then?
Since a rising 10-year yield implies a fall in demand for traditional "safe haven" Treasury bonds, investors are comfortable opting for higher-risk investments, it is widely regarded as a proxy for mortgage rates and a measure of investor sentiment regarding the strength of the economy.
SEE ALSO:
In a Volatile Week, Bitcoin Hits 2-Month Highs Above $30,000