Charles Marion Russell Artworks for Home Decoration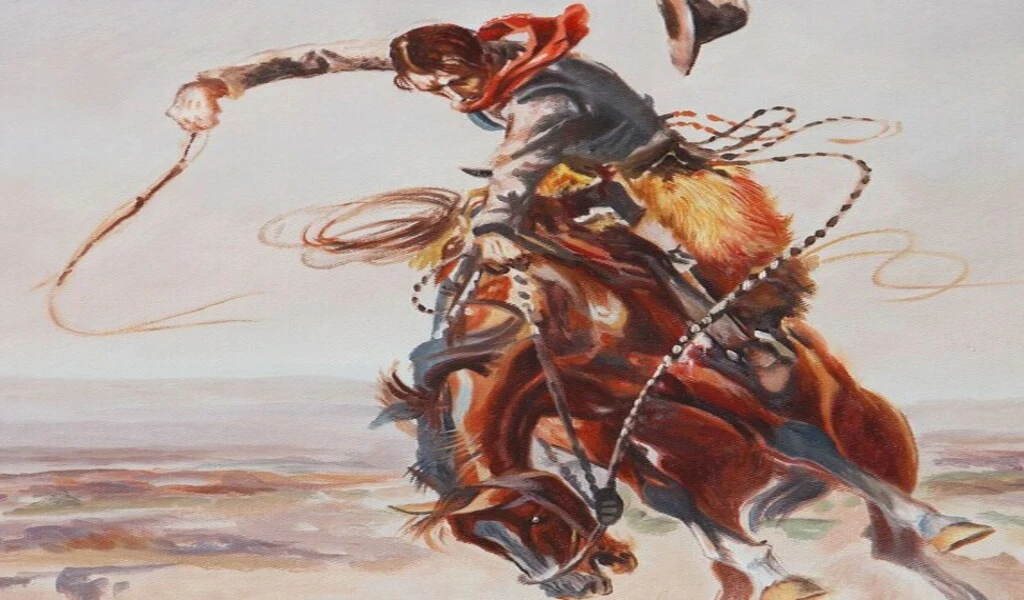 Charles Marion Russell Artworks for Home Decoration –  Most psychologists, art lovers, and interior decorators agree that art as a part of our home decoration gives meaning to our lives.
The artwork forms part of our home's decoration help us better understand our world. It also enhances our self-awareness.
The artworks of the so-called "Cowboy-painter," Charles Marion Russell, are ideal for incorporating into your home decoration.
You can use his cowboy paintings, the paintings of the Native American people of the time, or his landscapes.
In this article, we'll very briefly look at who Charles Russell was, and then we'll give tips on how you can get reproductions of the artworks to use as decoration. Finally, we'll discuss a few of his paintings to help you choose one or more of his paintings for your home.
Charles Marion Russell as Artist
Painter Charles Marion Russell (1864 – 1926) left his family home in Missouri when he was only 16 years old. He became a cowboy in Montana and resided for some years with Native Americans.
As a painter, his early career as a cowboy and immersion in Native American culture enabled him to depict the period with insight.
Throughout his career, Charles Russell tried to positively portray cowboy life and the sophisticated culture he had come to know in the American West.
Why and where to get Reproductions of Charles Russell's Paintings
As almost all of Charles Russell's works are in museums or private collections and are usually auctioned at very high bids, you will have to use good reproductions of his works for your home decoration.
However, there are reputable online art galleries where you can purchase excellent and professionally-created reproductions.
Use an online art gallery or studio that has been in business for a few years, and ensure you can get your money back if the reproduction needs to be professionally done.
Art is used as part of a home's decoration, including the possibility of creating a focal point and providing a conversation piece. Charles Russell's paintings offer you both.
To assist you in choosing a Charles Russell painting to enhance your decoration, we'll discuss a few of his works.
Indian Squaw
Charles Russell completed the oil on canvas painting "Indian Squaw," in 1901. The painting portrays the robust beauty of the Native American woman.
Usually, the term "squaw" would refer to a Native American woman who was a white man's wife. But there is no evidence that Charles Russell meant any degradation of his subject by calling the painting "Indian Squaw."
She is depicted very respectfully and is portrayed as standing over a piece of animal hide that is being tanned and treated.
This painting is ideal for home decoration. It is colorful and, at the same time, "peaceful." It can create a focal point in your room because of its beauty.
The painting can, of course, also serve as a conversation piece – especially regarding Russell's respectfulness for someone of another culture.
Indian Buck
While "Indian Squaw" depicts a traditional Native American woman, Charles Russell's "Indian Buck" portrays a typical Native American man. And just as "Indian Squaw," creates "Indian Buck," a focal point in a room in your home.
This painting is a very sympathetic portrayal of a Native American man. Charles Russell had a unique insight into Native American culture and customs because of the period he had lived with them.
In this 1901 oil on canvas, an adult Native American man wears colorful leather, fabric, and feather clothes. In his arms, he carries what seems like a rifle wrapped in a handmade leather case.
Art historians agree that Charles Russell's objective with this painting was to render homage to the Native American people.
Mandan Warrior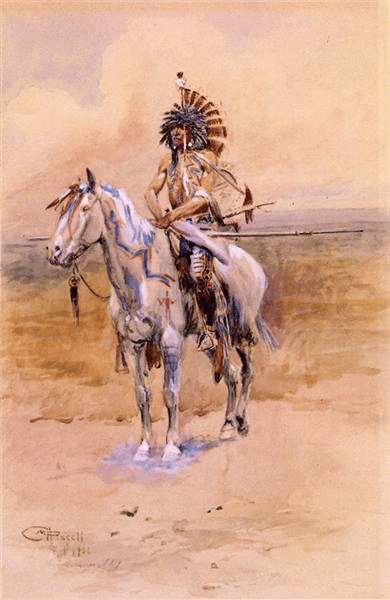 Mandan Warrior – Charles Marion Russell
This 1906 watercolor is a depiction of a warrior of the Mandan tribe. This is a beautiful painting that can be incorporated into your home décor.
"Mandan Warrior" is, just like "Indian Squaw" and "Indian Buck," not an "action" subject. It is ideal for the "quiet corner" in your home.
The painting depicts the Mandan warrior and his horse. Both are in full war regalia, including the plumes of many different birds, deerskin, and red and blue war paint.
The Attack
If you are looking for more "movement" in the painting you want to incorporate into your home decoration, "The Attack" might be a good choice.
This painting depicts a Native American attack on cowboys. Unfortunately, Charles Russell didn't indicate why the attack had been made. The painting is only telling the story of the attack itself.
Because the painting focuses on the action and not on the context in which the action is happening, the painting can be an excellent conversation piece. Everyone can contribute to the conversation by offering a reason for the attack.
Camp Cook's Troubles
Although Charles Russell is famous for his depiction of cowboys, we've shown you in this article that you can also successfully use other of his American West paintings to decorate your home.
But if you want to decorate your home with one of Charles Russell's cowboy paintings, you can choose from many of his cowboy paintings.
However, "Camp Cook's Troubles" will always be a classic, especially in your dining room!
This oil on canvas from 1912 portrays a group of horse drivers enjoying their breakfast when interrupted by a thrashing horse that runs over the camp's fire and food in an attempt to throw its rider.
Near the fire, two cowboys are trying to get out of the animal's way while others are only watching the situation in the background.
Waiting for a Chinook
You don't have to use one of Russell's paintings depicting Native American people or cowboys as decoration in your home, and you can, for instance, use "Waiting for a Chinook" as your focal point. And it is an excellent conversation piece because of its story.
During the very harsh winter in 1886/1887, Charles Russell documented the winter in several watercolors.
The foreman on the ranch where Charles Russell was working at that stage had to report to the range owner how the cattle herd had weathered the winter.
But instead of writing a letter explaining the situation, he sent the owner a postcard-sized watercolor that Russell had painted. It was a painting of a gaunt steer being watched by wolves.
After the ranch owner had shown the postcard painting to friends and business people, it was also displayed in a shop window in Helena, Montana.
Other ranch owners and art lovers saw the painting and started commissioning work from Charles Russell.
Later Russell painted a more detailed version of the scene and called it "Waiting for a Chinook." It has become one of his best-known watercolors and enhances any interior decoration.
Conclusion
Charles Russell's paintings can be used successfully in your home's decoration.
Most of them are colorful, and you can choose a painting depicting cowboys or Native American people in different situations or an authentic American West landscape.
Then, depending on your taste and preferences, you can choose a painting for a quiet corner in your home or a more "action-packed" picture for your living room to enhance your decoration.
Related CTN News:
Essentials in Custom Paint by Numbers Painting
How to Get Back to the 1980s with Your Electric Guitar String Set?
Long Lasting Metal Laser Cutting Machine