Russian President Vladimir Putin Accepts Invitation to Visit Thailand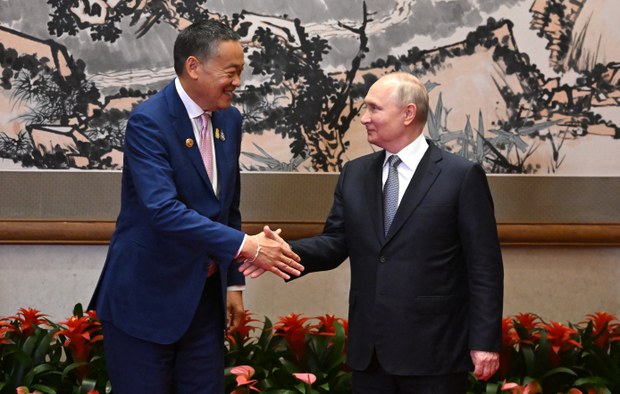 Prime Minister Srettha Thavisin said on social media that Russian President Vladimir Putin has accepted an offer to visit Thailand. This news comes just one day after Thailand announced a two-month extension of the visa-free stay period for Russian tourists.
After meeting with Putin in Beijing, Thailand's new prime minister made the statement on Tuesday, inviting the Russian leader who is wanted for international arrest for alleged war crimes related to his conduct of the war in Ukraine.
"I encouraged [Putin] to visit Thailand, and he nodded appreciatively, saying 'Thank you' in Thai. Srettha wrote on X (previously Twitter) that this demonstrates the man's "good familiarity with our country." He mentioned that Putin had travelled to Phuket, Thailand multiple times.
At the Third Belt and Road Forum, which China is hosting, the two heads of state met.
The link between Thailand and Russia, he said, goes back 125 years. Both commercial and cultural interactions have occurred. Srettha claims that over a million Russians have visited Thailand.
90-day visa exemption for Russians
On Monday, the Thai cabinet adopted a plan to extend the 30-day visa exemption for Russians visiting the country to a maximum of 90 days. The Thai prime minister argued that Putin's approval of the extension would be beneficial to his country's economy.
Putin's office made a statement that touched on the possibility of expanded trade between the two countries.
Putin stated in the statement, "I hope our joint trade commissions and economic collaborations will play a role in stimulating the economic interactions between us." "On our end, we will do everything in our power to strengthen our ties and promote the growth of both our countries and our people."
Professor Piyapong Pimpalak from Chiang Mai University's Social Research Institute commented that the Srettha government was trying to avoid alienating any powerful interests.
Professor Piyapong Pimpalak from Chiang Mai University's Social Research Institute commented that the Srettha government was trying to avoid alienating any powerful interests.
He praised Thailand for its efforts to improve its diplomatic ties with other countries by sending representatives to international conventions. Some people worry that Thailand will look like it is backing Russia's war in Ukraine, so it's important to tread carefully in certain respects.
Thailand Neutral Over Ukraine
The Southeast Asian country voted inconsistently at the United Nations in regards to the Russian invasion of Ukraine, and it has sought to maintain a neutral stance in the Russia-Ukraine war.
In October 2022, Thailand did not vote for or against a resolution urging nations to reject Moscow's annexation of Ukrainian territory.
In March 2022, it backed a resolution that called on Russia to withdraw its troops from Ukraine. A month later, when it came time to vote on whether or not to suspend Russia from the United Nations Human Rights Council, Thailand and the majority of members of the Association of Southeast Asian Nations abstained.
The International Criminal Court in The Hague issued an arrest warrant for Putin for his alleged complicity in crimes against Ukrainian children, but Thailand is not a member to the Rome Statute.
Prior to this, Putin had cancelled his trip to South Africa to attend a key global conference because the country hosting the summit had signed the statute and would be required to carry it out.
Additionally, Thailand and the United States are in a treaty-bound security partnership that dates back to 1833.
Piyapong said that the public has a mixed opinion of Prime Minister Srettha's "salesman approach" to luring foreign investment and fortifying economic connections.
"Some critics call it undignified or desperate, but others argue that it is a necessary step for Thailand to remain competitive in the global economy," he explained.
On Thursday, Srettha will meet with Chinese President Xi Jinping. To celebrate the BRI's 10-year anniversary, Beijing is organising this summit, which Xi is hosting.
He also spoke with scores of business leaders, including the CEOs of Alibaba and Huawei, two of China's most prominent tech companies.
Putin's potential visit to Thailand under Srettha's invitation was not immediately known.
Thailand's Ties with Russia
Since Thailand and Russia established diplomatic relations approximately 128 years ago, the bilateral relationship has deteriorated significantly, failing to match China's economic vitality.
In recent decades, Bangkok, nevertheless, has taken great caution not to upset Russia. During the reign of Czar Nicholas II, Siam safeguarded its territory against French and British encroachment by leveraging Russia's influence in Europe.
Such is the enduring Thai recollection of the Thailand-Russia relationship at large. The country's vote on the three resolutions of the United Nations General Assembly concerning the Ukraine crisis revealed, in all honesty, Bangkok's degree of ties with Russia.
On the contrary, diplomatic relations between China and Thailand flourished after their establishment in 1975.
Initial challenges arose from the political unrest in Thailand, prompting a migration of youthful students seeking refuge in China. After the 1980s, however, the situation improved and has since flourished.
Thais realised a few years after the commencement of China's four modernization in 1984 that the two communist powers had distinct approaches, ideologies, and behaviours. China appears more pragmatic and amenable to the formation of partnerships.
Thailand was a pioneering nation among foreign investors who placed their bets on the future development of China. The volume of Sino-Thai commerce is currently approximately one hundred times that of Thai trade with Russia.
The waning of the negative perception of the Soviet Union stemmed from its previous relations with the Indochinese states, which subsequently experienced significant transformations, whereas the renewed economic and trade relations led to a diminished association of the alleged Chinese threat with communist insurgencies.
At present, Bangkok and Beijing are coordinating an elaborate celebration to mark the 50th anniversary of their diplomatic relations in 2025.