Wildlife Officials Rescue 2 Tiger Cubs from Suspected Trafficker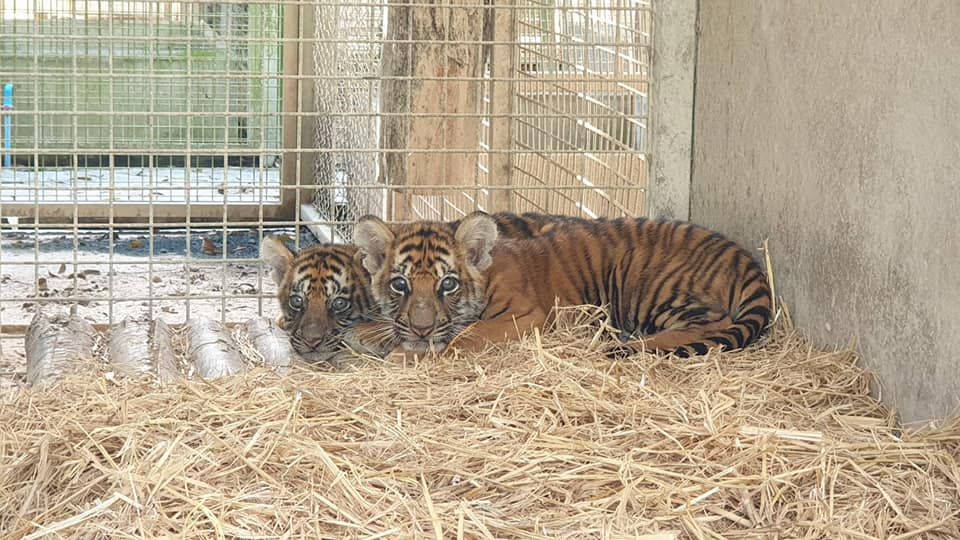 Wildlife enforcement officers have rescued two tiger cubs, six great hornbills, and two wreathed hornbills from a wildlife trafficker in Northeastern Thailand.
Wildlife officers and local police raided a house in the Non-Sung district of the north-eastern province of Nakhon Ratchasima, Thai PBS reported.
A 67-year-old man identified as "Kiang" living in the house with another man claimed to own the protected animals.
The suspected wildlife trafficker claimed to have purchased the tiger cubs for 150,000 baht each from a wildlife trader in Bangkok, the great hornbills for 6,000 baht each, and the wreathed hornbills for 8,000 baht each.
"Kiang" has been charged with illegal possession of and illegal trading in protected wildlife species, which can carry a prison sentence of up to ten years and/or a fine of up to one million baht in Thailand.
All the animals have now been shipped to the Phu Khiao Wildlife Husbandry Research Station in Chaiyaphum province.
The station chief, Sompong Boonsanong, told reporters that the two cubs looked scared when approached but were in good health and hungry when they arrived.
The baby tigers were given fresh pork and chicken meat to eat while officials waited for tigers' milk to be sent from another wildlife center.
Blood samples will be taken from the baby tigers for DNA analysis.
According to Sompong, the hornbills are also in good health.
Thailand's Illegal Tiger and Wildlife Trade
In partnership with
Wildlife Friends Foundation Thailand (WFFT)
and Education for Nature Vietnam (ENV), a report shows that live and dead tigers are sold illegally in Thailand and Laos, with body parts primarily being sold to consumers in China and Vietnam.
The Department of National Parks, Wildlife and Plant Conservation (DNP) is commended by WWF Thailand for its special law enforcement operations.
Mr. Pimpavadee Phaholyothin, CEO of WWF Thailand, applauded the DNP's proactive and continuous efforts to protect tigers, a species long threatened by poaching and trade.
Tigers in the wild face threats from habitat destruction and deforestation and the domestic and international illegal wildlife trade. This trade drives the hunting of tigers for their parts and products.
Since wild tiger populations have declined in Thailand and enforcement around protected areas has improved, it is now more difficult to obtain tigers from the wild, resulting in facilities breeding tigers to feed the black market trade in tigers and their parts and products" Mr. Pimpavadee said.
In addition to stopping the illegal wildlife trade and
protecting wild tigers
, WWF has identified tiger facilities in Southeast Asia and China. These facilities are an avenue criminals use to exploit tigers (especially white tigers) and undermine wild tiger conservation.
As zoos are driven by profit, they can exploit tigers in captivity in ways that maximize profits. Petting zoos rely on a steady stream of infant cubs, frequently inbred and unhealthy due to rapid breeding, and when they are mature enough, they are traded into the black market for live tigers and their parts.
In response, the WWF calls for the
phasing out of tiger facilities
that engage in these illegal activities, as they can stimulate the market for tiger products and complicate law enforcement efforts, thereby increasing poaching pressure on wild tigers.