Police Officer Struck by Train While Helping Man on Tracks Dies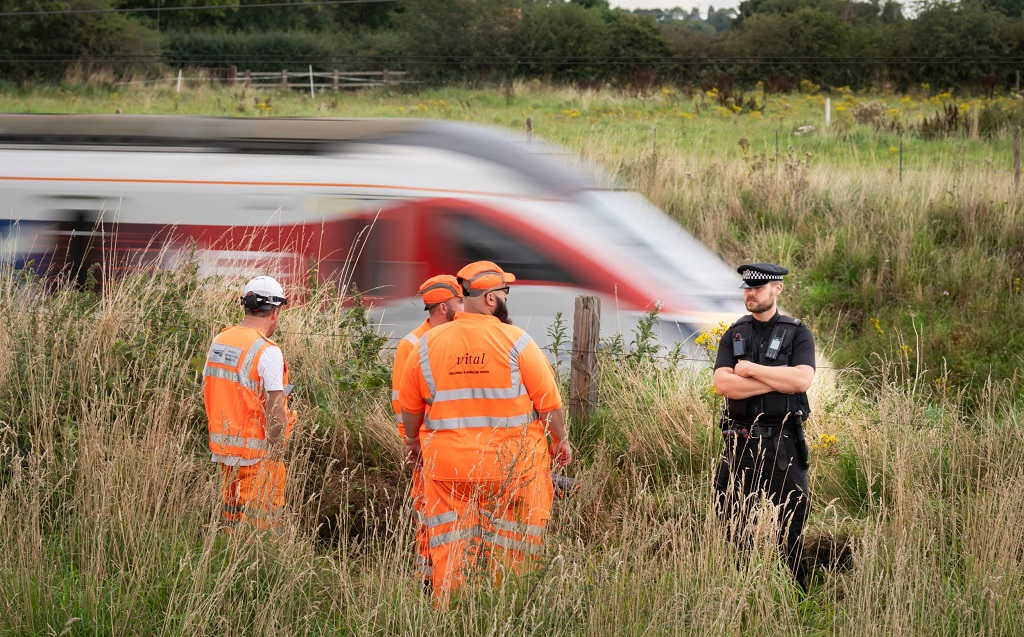 A police officer was killed when he was hit by a train as he tried to help a man on the tracks who was in trouble. Sgt. Graham Saville, a police officer who was 46 years old, died in the hospital on Tuesday. His family was by his side.
According to the BBC, around 19:00 BST on Thursday, the Nottinghamshire Police were called to a private area in Balderton, near Newark, because someone was worried about a man's safety. British Transport Police (BTP), which is in charge of the investigation, said it happened on the line near Newark Northgate stop.
Sgt. Saville was a reaction police officer for the Nottinghamshire Police who worked at the Newark Police Station. He was taken to the Queen's Medical Centre in Nottingham, where he died.
Kate Meynell, the head of police in Nottinghamshire, said, "Today is a day of grief for the whole police family. "Graham was a very well-liked and respected coworker, and his death in the line of duty has shocked us all a lot.
"Our hearts and deepest condolences go out to his family, and we will do everything we can to help them through this terrible time."
"I can't find the words to describe how sad this news is for everyone who loved and looked up to Graham.
"He went to work on Thursday to keep the people of Nottinghamshire safe, and the fact that he died trying to save another man's life shows how brave and dedicated he was as a police officer."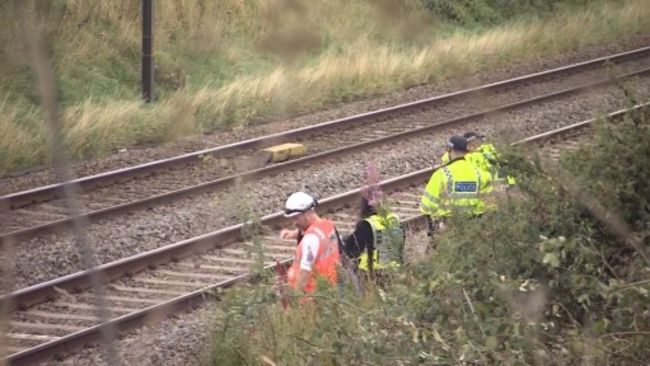 Authorities said that police officer Sgt. Graham Saville was trying to help a man who was in trouble on the train tracks.
Ms. Meynell also praised the police officers who came to the scene and helped people while they waited for an ambulance.
She said, "This was a very traumatic event for those officers, and we have a team of people here to help them."
"When a fellow officer dies on the job, it sends shockwaves and sadness through the police family, and we will all miss that officer very much."
As a sign of respect, flags will now be flying at half-mast all over the force. Thursday night, someone called the police. BTP said that the man who was hurt by electricity was still in the hospital. It also said that police were still looking into what had happened.
Assistant Chief Constable Allan Gregory said, "This is truly heartbreaking news. On behalf of everyone at British Transport Police, I'd like to send our deepest condolences to Sgt Saville's family and to our colleagues at Nottinghamshire Police."
"This case is still in its early stages, and we will continue to work with the Coroner's Office as it moves forward.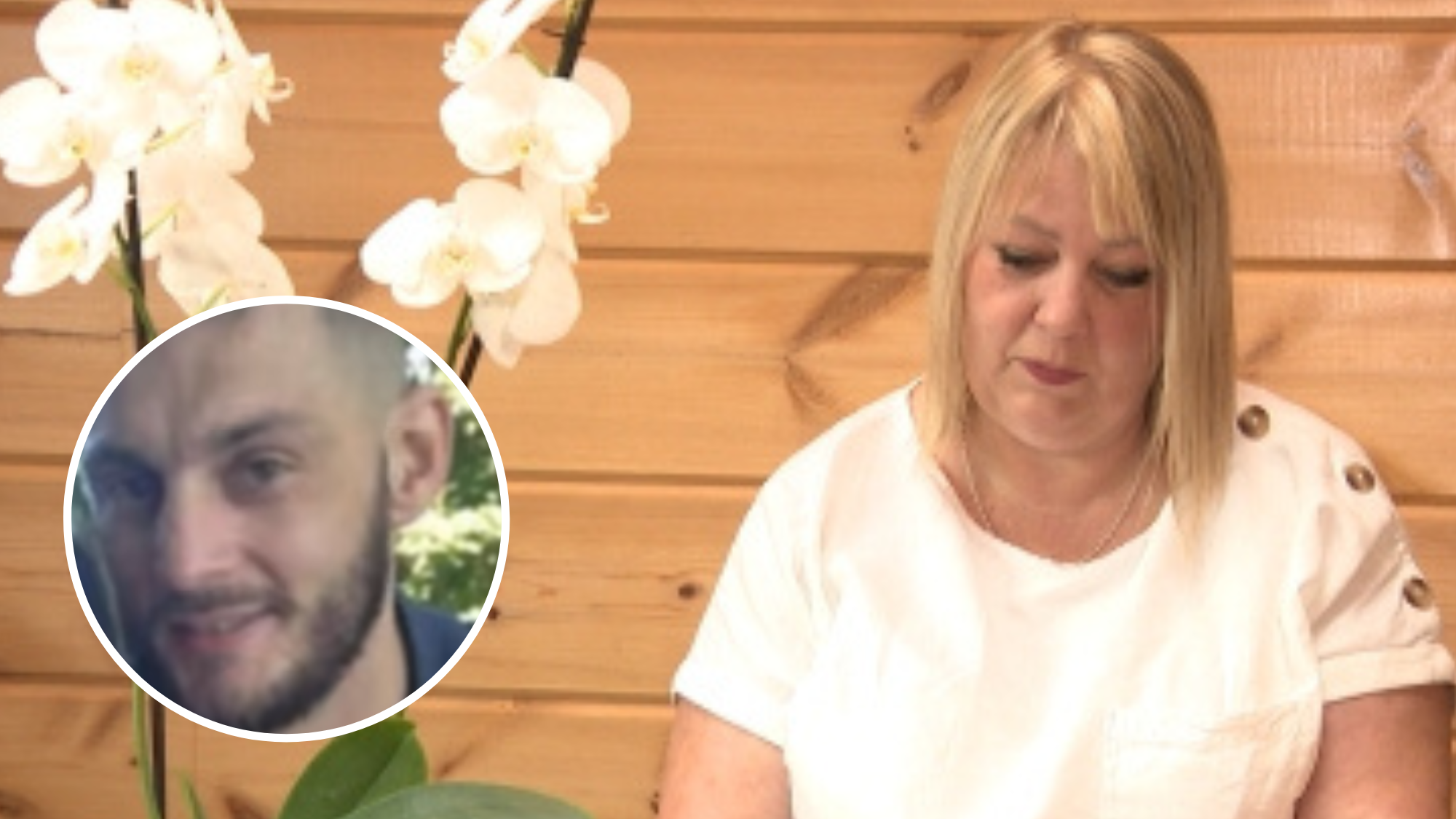 "Losing an officer on the job is one of the worst things that can happen in policing, and Sgt. Saville's family will be on our minds as we look into what happened." There are still questions about what happened.
On X, which used to be Twitter, Prime Minister Rishi Sunak said, "I'm sad to hear that Sgt. Saville has died. "The fact that he died on the job shows how brave he was. It's also a terrible reminder of how hard the police work every day to keep us safe."
Suella Braverman, the Home Secretary, added, "We owe our police officers a huge debt of gratitude for their bravery in keeping us safe."
Robert Jenrick, the MP for Newark, which includes Balderton in its district, praised Sgt. Saville's "extraordinary bravery."
Chris Philp, who is in charge of police, said that Sgt. Saville made "the ultimate sacrifice," and Yvette Cooper, who is the shadow home secretary, said that she was thinking about "the whole policing family" who will be affected by this.
Simon Riley, the head of the Nottinghamshire Police Federation branch, said, "I can't put into words how sad we all are to hear this terrible news. Our hearts go out to Graham's family, all of his colleagues at Nottinghamshire Police, and all of his former colleagues at the Metropolitan Police Service, where Graham used to work."
"Graham was the best example of what we should all try to be as police officers, and we will never forget how bravely and selflessly he tried to save the life of another person. "No one will ever forget what he did for no reason."
Chief Constable Andy Marsh of the College of Policing said it was "a tragic reminder of the risks and bravery our police officers and staff take every day to keep the public safe."
Senior Police Officer Sacked for Extortion and Attempted Rape