Top Police Officers in Thailand Deny Corruption Allegations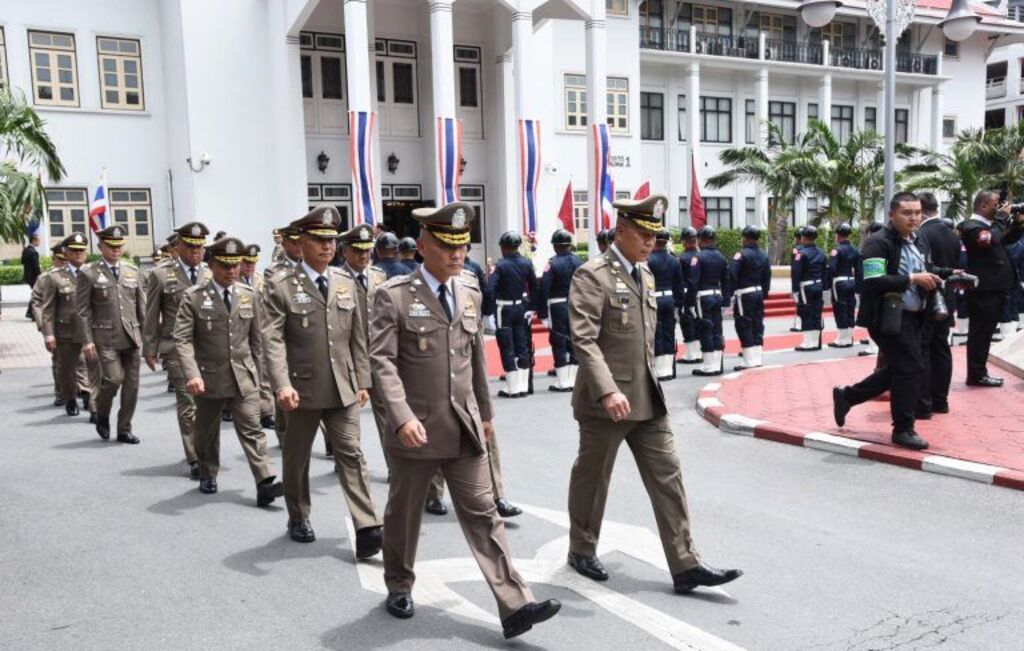 Thailand's National Anti-Corruption Commission has found former national police chief Pol Gen Chakthip Chaijinda guilty of procurement irregularities in the purchase of 260 smart patrol cars worth more than 900 million baht.
Following the NACC's major committee meeting on Tuesday, secretary-general Niwatchai Kasemmongkol stated that a decision was made to take legal action against Pol Gen Chakthip and 45 of his associates after finding grounds to Mr. Niwatchai's allegation of project irregularities.
A contract for smart patrol cars was signed with Genius Traffic System Co Ltd for fiscal years 2018 and 2019.
The purchase included 230 electric vehicles, each outfitted with high-tech tools such as a roof-top camera, a notebook or notepad, a passport verification tool, and police officer equipment such as tasers and helmet cameras.
The NACC became concerned about whether this was in accordance with the Public Procurement and Supplies Management Act BE 2560 (2017), as well as Finance Ministry procurement and supply management regulations. It also questioned whether the cost of the smart patrol cars was excessive, and whether the process provided fair competition.
Mr. Niwatchai stated that the 46 suspects were divided into four groups: five police executives, seven officers on the committee that outlined the project's specifications, three officers on a committee that drafted a median price, and 31 people working in private companies. He stated that the NACC would give the accused 15 days to defend themselves.
According to a source, the NACC committee agreed in May last year to form an inquiry panel comprised of nine NACC members led by commissioner Supa Piyajitti, as proposed by a screening complaints subcommittee, which led to the accusations against Pol Gen Chakthip and his 45 associates.
A source from the Royal Thai Police said the allegation was groundless, citing how the procurement was approved by the Office of the Auditor General of Thailand (OAG) (OAG).
Former police chief denies drug lobby claims
Meanwhile, another former national police chief, Suwat Jangyodsuk, denied on Tuesday that he lobbied police investigators or agreed to testify in criminal cases involving a senator accused of being involved in drug trafficking rings.
Pol Gen Suwat told Channel 3 that despite meeting the senator at least twice in parliament, he did not know him personally.
A letter written by a police inspector had previously circulated on social media, detailing how police arrested a Myanmar national, identified as Tun Min Latt, for a drug-related charge on September 17 last year. During questioning, the suspect named the senator.
According to the letter, on October 3, last year, the Criminal Court approved a warrant against the senator on drug trafficking and money laundering charges.
The senator has also sued Atchariya Reuangrattanapong, chairman of the Help Crime Victims Club, for defamation in connection with the latter's alleged accusations about the senator's alleged involvement in a drug ring.
On Tuesday, Pol Gen Suwat insisted that he is aware of the senator's criminal cases, particularly the defamation charge. He also expressed his displeasure with what he called a baseless claim that he would testify for the senator in both the drug and defamation cases.
Earlier, Move Forward Party MP Rangsiman Rome claimed that a top-level police officer with the Thai initial Sor may have intervened to have the senator's arrest warrant revoked.
National police chief Pol Gen Damrongsak Kittiprapas said he had ordered an investigation into the "Sor" police officer allegations.
Police protecting suspects in drug cases
A police investigation in southern Thailand discovered evidence for legal and disciplinary action against Narathiwat police, including their chief, for protecting suspects in drug and weapons cases.
Pol Maj Gen Waesamae Salae, the commander of police in the country's southernmost province, and subordinates were found to have accepted bribes in exchange for assisting drug and weapons suspects, according to deputy national police chief Pol Gen Surachate Hakparn on Wednesday.
Pol Col Narawee bin Wae-arong, chief of the Tak Bai police station, and Pol Capt Nima-aming Wateh, deputy inspector for interrogation at the same station, were the subordinates.
The inquiry team led by Pol Gen Surachate intends to take action against Rungruang Thimabutr, the civilian former chief of Sungai Kolok district. On Monday, he said, requests for criminal and disciplinary action were filed with the police Anti-Corruption Division.
The investigation was launched in response to a complaint filed by lawyer Atchariya Ruangrattanapong, a well-known advocate for crime victims.
According to Mr Atchariya, one of those aided by corrupt police was Chayanont Nithor, a 25-year-old Tak Bai resident and murder suspect.
He claimed that despite evidence linking Mr Chayanont to the murder of Pol L/Cpl Thanakrit Ruekdee, 23, who was on patrol in Sungai Kolok on July 16, last year, a decision was made not to prosecute him.
According to the lawyer, Mr Chayanont paid 40,000 baht to have seven gun licenses issued by the Sungai Kolok district office despite his history of drug abuse. Three licenses were issued on the same day.
Mr Chayanont was also not pursued by Narathiwat police in a case involving the seizure of 128 kilograms of compressed marijuana in Songkhla on December 6, 2021. Asi Bueheng, the accused dealer apprehended with the drugs, told police that Mr Chayanont had hired him to transport the marijuana to Malaysia.
On June 8, 2022, police and narcotics officials raided Mr Chayanont's Tak Bai home and discovered a pistol, a shotgun, and an assault rifle.
Mr Chayanont and five others were detained, but only one was later charged. Following an investigation, the group's phone communications and financial transactions with some local police officers were discovered.
Mr Atchariya also claimed that Pol Maj Gen Waesamae gave informants' cards with his name and phone number on them. Criminal suspects with such cards, he claims, have no qualms about carrying weapons in public.
In October, Pol Maj Gen Waesamae was transferred to an inactive post pending the investigation.
He then filed a defamation suit against someone who accused him of assisting criminals.
The accuser's name was mentioned in the documents he submitted, but he refused to reveal it to reporters.