Morocco's Earthquake Death Toll Surpasses 2,800, Hunt for Survivors Continues
The death toll from Morocco's deadliest earthquake in more than six decades has risen to over 2,800, with rescuers racing against the clock to locate survivors. While King Mohammed of Morocco was in France on a private visit.
Search and rescue teams from Spain, the United Kingdom, and Qatar were assisting Moroccan efforts after a 6.8 magnitude earthquake slammed the High Atlas Mountains late Friday, with the epicenter 72 kilometres (45 miles) southwest of Marrakech.
According to state television, the dead toll has increased to 2,862, with 2,562 people injured. The traditional mud brick buildings that were common in the area, according to rescuers, limited the odds of locating survivors because they had disintegrated.
The first response to the earthquake, which some survivors regarded as overly slow, looked to be picking up on Monday, with tent camps developing in some spots where people were ready for a fourth night outdoors.
The authorities have not published any estimates for the number of individuals missing because much of the seismic zone is in difficult-to-reach places.
Morocco's cultural legacy has suffered progressively. Buildings in Marrakech's old centre, a UNESCO World Heritage Site, suffered damage. The quake also severely damaged the historically significant 12th-century Tinmel Mosque.
Residents of Tinmel, a small town near the epicentre where 15 people were killed, said they had been sharing food, water, and medicine but were in severe need of tents and blankets to keep warm through the chilly mountain evenings.
According to the US Geological Survey, it was the worst earthquake in the North African country since 1960, when a tremor killed at least 12,000 people, and the most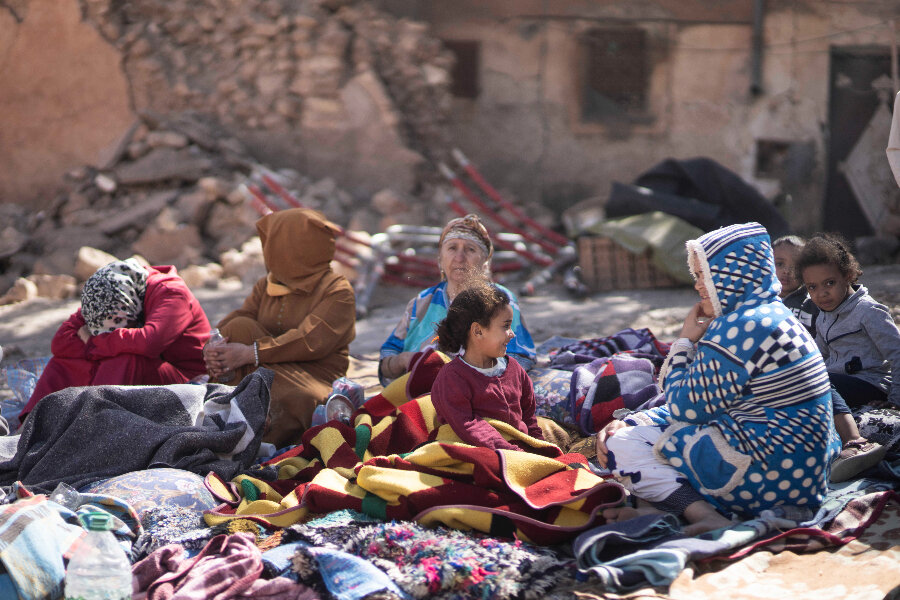 Government spokesperson Mustapha Baytas defended the government's response in a televised broadcast on Sunday, claiming that every effort was being made on the ground.
The army said it was bolstering search-and-rescue teams, giving food, tents, and blankets, and supplying drinking water.
On Monday evening, a main road connecting the High Atlas Mountains to Marrakech became impassable as heavy vehicles and volunteers carrying relief supplies made their way to some of the severely impacted communities in remote sections of the mountains.
Moroccan volunteers and residents, with the assistance of some foreigners, directed traffic and cleared the road of rock debris.
Prime Minister Aziz Akhannouch informed local media that the government will pay victims, although he didn't go into specifics.
According to two officials acquainted with the arrangement, the Moroccan government intends to proceed with the International Monetary Fund-World Bank annual meetings set for next month in Marrakech.
Morocco has received aid from Spain and the United Kingdom, which both dispatched search-and-rescue teams with sniffer dogs, as well as the United Arab Emirates and Qatar. According to state television, the administration may accept rescue proposals from other countries later.

King Mohammed of Morocco Living the life in France
Meanwhile, Morocco's King Mohammed was on a private vacation to France when the terrible earthquake struck on Friday, and he issued a statement only after returning to Rabat the following day.
His absence drew attention on his lavish lifestyle in France, where he frequently spends time. In 2020, he purchased a property in Paris's trendy 7th arrondissement, near the Eiffel Tower, from Prince Khalid bin Sultan Al Saud, a member of Saudi Arabia's royal family and a former deputy defence minister.
The price was never disclosed, but the property was estimated to be worth €80 million (£68.6 million). At the time, Marie-Hélène Lundgreen, the manager of the estate agency Belles demeures dé France, an affiliate of Christie's International Real Estate, told Le Figaro that it could have sold for more.
The ten-bedroom estate, built in 1912, contains a swimming pool, a games room, a spa, a hair salon, a conference room, a 3,300-square-foot garden, and a large terrace with a spectacular view of Paris.
The king also owns the Château de Betz, which is located approximately 35 miles northeast of Paris. The 18th-century property, purchased by his father, King Hassan, in 1972, was reconstructed during the First World War and features a walled park and gardens regarded as among the most beautiful in France.
According to residents, Mohammed visits the château frequently, perhaps multiple times per year. They rarely see the monarch himself, but his retinue and bodyguards are always visible.
He keeps thoroughbreds at the chateau's stables and occasionally enters them in races at neighbouring Chantilly.
Despite the king's visits to France, Paris and Rabat have had a strained relationship in recent years, and Morocco has declined offers of earthquake relief from its former colonial power.
The French foreign minister, Catherine Colonna, played down the possibility of a schism, emphasising on Monday that it was up to Morocco to seek assistance.
The country's ambassador post in Paris has remained vacant for months, and President Macron's visit to Rabat has been postponed multiple times.