Choose the Right Collision Repair Shop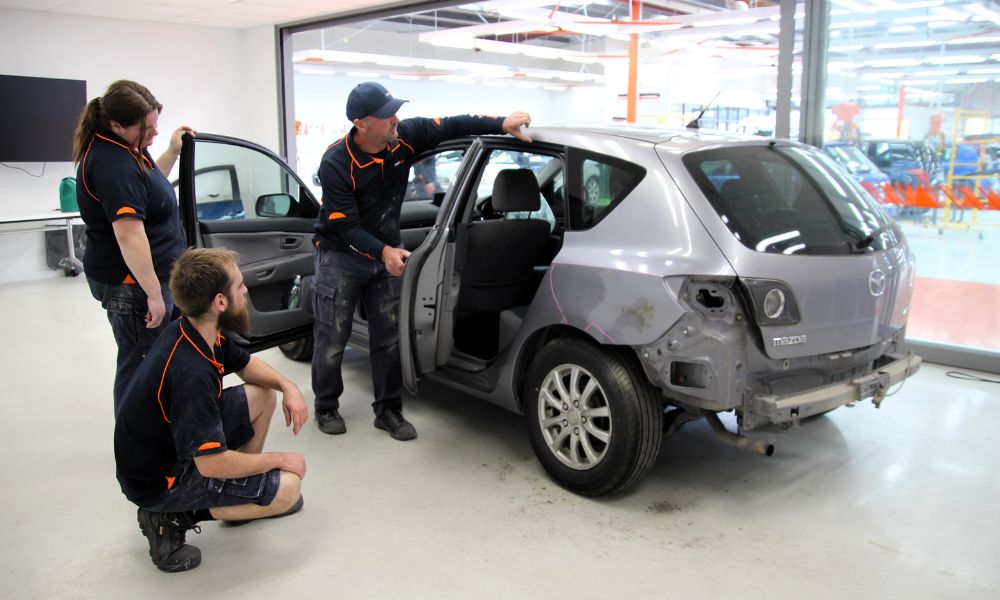 Car accidents happen, and when they do, you want your vehicle to be repaired by experts who will make it safe and roadworthy again. This is where choosing the right collision repair shop becomes crucial. But with so many options out there, do you know how to choose an auto body shop that fits your needs?
In this guide, we'll walk you through the process of finding the best collision repair shop to give your car the care it needs. From researching options to checking certifications, we've got you covered with collision repair tips and insights. Don't let a collision throw you off course; let's get your vehicle back in top shape.
Do Your Research
When it comes to choosing the right collision repair shop, doing your research is the first and most crucial step. Here's how to get started:
Online reviews: Look at online reviews on social media platforms or on directories like Yelp or Google Reviews. Be interested in hearing what former customers have to say about their experiences working with good collision repair shops.
Suggestions: To receive suggestions, ask friends, family members, or coworkers who may have had positive experiences with repair facilities in your neighborhood. Referrals from friends and family members can be quite beneficial.
Ask Questions: Do not be afraid to inquire about the shop staff's background and methods of repair. A trustworthy body shop will be forthcoming and eager to answer questions.
When choosing a collision repair company, research is your best friend in helping you make an informed decision. It guarantees that you give your car to experts who can handle the work properly.
Verify Qualifications
Ensuring that the collision repair shop you choose has the right qualifications is essential for a successful repair process. Here's how to verify their qualifications:
Certifications: Examination of their qualifications will reveal whether they are I-CAR or ASE certified. Therefore, their mechanics have acquired specific instructions.
Technician Experience: Find out the qualifications and experience of the mechanics. More experience usually leads to better fixes.
Equipment and Technology: Verify that they repair cars with the latest tools and technology. Better instruments can make the job easier.
Verifying qualifications helps you choose a collision repair shop that meets industry standards. And they are equipped to handle your vehicle's repair professionally and competently.
Check for Proper Licensing and Insurance
When selecting a collision repair shop, it's crucial to ensure they have the necessary licensing and insurance in place. Here's how to go about it:
Verify Licensing: Before everything else, make sure the shop has a permit to operate in your state or area. Location-specific licensing regulations differ, but a legitimate license is always the main requirement for any auto body shop to operate.
Insurance: Inquire about the insurance that the auto body shop carries. A trustworthy repair facility needs to be covered by liability insurance that covers any potential harm to your car. This insurance covers both you and the shop in the event of unanticipated mishaps.
Ask for Proof: Do not be afraid to request documentation from the shop proving its insurance and license. They ought to be happy to give you this information, which you can then independently check if necessary.
Ensuring that the collision repair shop has the right licenses and insurance. This can help you avoid potential legal and financial complications.
Visit the Collision Repair Shop
Before making a final decision on a collision repair shop, it's highly advisable to pay them a visit. Here's what you should look for during your on-site inspection:
Examine the Facility: Take a close look at the physical state of the shop. Is it spotless, orderly, and maintained? A neat and organized body shop frequently conveys a dedication to professionalism and care for the little things.
Check Equipment: Keep an eye on the tools and equipment they employ. Are they up-to-date and functional? Equipment that is up to date and is kept in good condition might improve the caliber of repairs.
Talk To Staff: Interact with the employees by speaking with them. Do they treat you with respect and are they open to your inquiries? Helpful and skilled personnel help simplify the repair process.
Review Completed Work: If possible, ask to see some samples of their finished work. You can get a sense of the shop's degree of care and quality from this.
Ask About Warranty: Inquire about the warranty procedures at the auto body shop. A reputable company should back up their repair work with a fair warranty as a demonstration of their faith in the caliber of their job.
Get Multiple Estimates
When you're dealing with collision repair, it's a good idea to get estimates from several different shops. You should always look for a shop that offers reasonable collision and auto repair. Here's why this is important:
Compare Prices: After getting several quotes, you can compare the costs imposed by various retailers. By doing this, you avoid spending too much for the same service elsewhere.
Recognize the Work: Different companies may suggest different fixes to fix your car. By getting several estimates, you can learn exactly what has to be done, which will guide your decision.
Check Their Behavior: Pay close attention to how the shop speaks to you when giving you an estimate. Are they cordial and concise? This exemplifies the quality of their work.
Verify Consistency: By contrasting estimates, you can determine whether there are any appreciable differences. If one shop's estimate drastically differs from the others, find out why.
Consider Recommendations: Consider what friends, family, or online reviews have to say in addition to estimations. A reputable auto body shop is a wise pick.
Not only should you look for the least expensive choice, but also a shop that charges fairly for quality work.
Check for Warranties
When choosing a collision repair shop, it's essential to inquire about warranties. Here's why:
Quality Assurance: Reputable repair shops often back their work with warranties. This demonstrates their confidence in the quality of repairs. In case something goes wrong with the repaired parts or workmanship, you'll have a safety net.
Peace of Mind: A warranty provides peace of mind. You know that if an issue arises post-repair within the warranty period, you won't have to bear the expenses again.
Understanding Warranty Terms: Pay close attention to the terms of the warranty. Understand what it covers, the duration it's valid, and any conditions or limitations. This information can help you make an informed choice.
Document Everything: Ensure that all warranty terms and conditions are documented in writing. This includes the specifics of what's covered, the duration, and any actions you need to take to maintain the warranty's validity.
Ask Questions: If anything in the warranty is unclear, don't hesitate to ask questions. Clarifying these details ensures you have a clear understanding of what you're getting.
In summary, warranties offer protection and assurance when choosing a collision repair shop. They reflect the shop's commitment to quality, and understanding their terms is crucial to avoid any surprises down the road.
Trust Your Instincts
When you've gathered all the necessary information and estimates, it's time to listen to your instincts. Here's why your gut feeling matters:
Comfort and Confidence: Pay attention to how you feel about each collision repair shop you've considered. Does one shop give you a greater sense of comfort and confidence than the others? Trust that feeling.
Communication: Consider how well the shop communicates with you. Are they clear, courteous, and responsive to your questions and concerns? Good communication is often a sign of a reliable repair shop.
Transparency: Trustworthy shops are transparent about the repair process. If a shop seems secretive or evasive, it might be a red flag.
Reputation: Do some online research and read reviews or testimonials about the shops you're considering. A shop with a strong reputation and positive customer feedback is more likely to provide quality service.
Personal Recommendations: If friends or family have had positive experiences with a particular collision repair shop, that's a valuable endorsement.
In summary, your instincts play a crucial role in choosing the right collision repair shop. While data and research are essential, your gut feeling can help you make the final decision. If something doesn't seem right, it's worth exploring other options until you find a shop that instills confidence and trust.
Making the Right Choice for Your Car
Choosing the right collision repair shop is a decision that directly impacts your car's safety and your peace of mind. By following these essential tips, you can make informed choices. You can also ensure that your vehicle receives the quality service it deserves.
So, when it comes to your car's well-being, don't rush the decision. Take the time to find a reputable, qualified, and trustworthy collision repair shop. Your vehicle, your safety, and your satisfaction are worth the effort.
With these guidelines in mind, you can be confident in navigating the process of selecting collision repair shops. Remember, it's not just about repairing your vehicle; it's about ensuring your peace of mind.