DotBig Ltd Review: Introduction to the Broker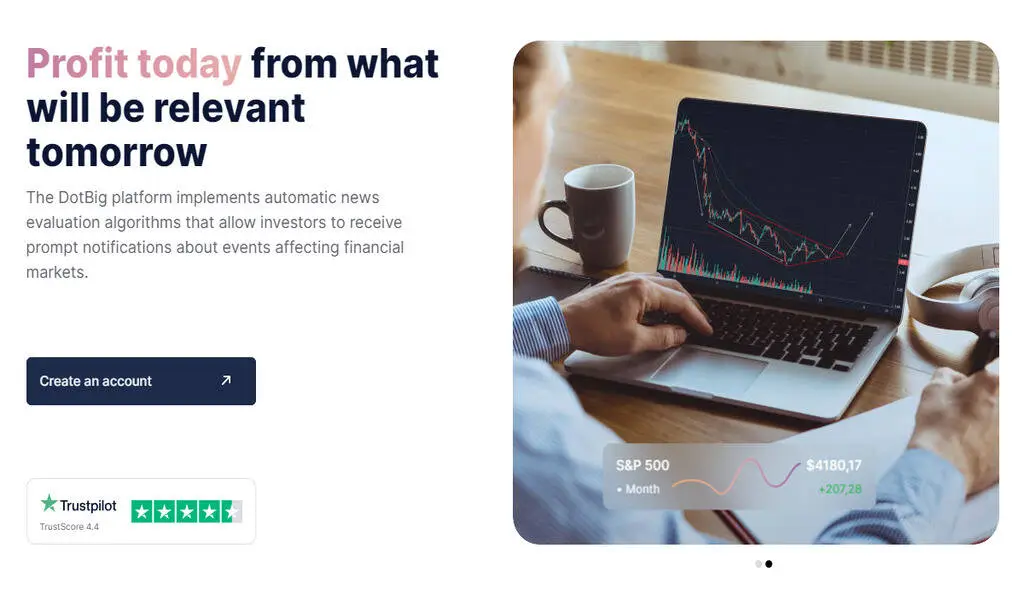 Over the past few years, online trading has become quite a popular way of earning money. It's because of its accessibility for many users all over the world. DotBig has contributed a lot to the development of online trading in Europe. Today we are going to review this company.
What is DotBig?
DotBig Ltd is an organization providing brokerage services to users from Europe, the United States, and Asia. It belongs to the jurisdiction of St Vincent and the Grenadines and is registered under the number 26 350 BC 2021.
Despite the lack of regulation, which is mentioned in some DotBig testimonials, the company can guarantee clients the complete safety of funds. This is provided by the means of segregated accounts, where those funds are stored. This means the broker cannot transfer clients' investments for satisfying its own operational needs. Money can be charged from accounts of inactive traders in a form of inactivity fees.
You can contact the DotBig forex broker via either e-mail or telephone.
E-mail hello@dotbig.support
phone numbers:

+448000465523
+18003142855
+972809399855
Creating a personal account
You cannot start trading until you sign up for the platform. Even if you want to trade on a demo account, you have to complete the registration process on the official website of the broker. Firstly, click the Registration button and fill in the presented form. If you have a promo code from the broker's partners, enter it in the special field. You will get a discount on some paid services, such as PRO trading webinars.
Then, the most complicated procedure comes. You have to verify your identity. In some DotBig testimonials, users say that this is a time-consuming process because the broker might decline your photos and copies of documents, providing no clear reasons for this. But in many cases, everything goes well, and the documents are confirmed in a few hours.
What can you do on your personal accounts
access to any of the available platforms – DotBig Web or MetaTrader5;
choose and manage trading account – Basic, Standard, Silver, or Platinum;
request help of a personal manager
compile a portfolio of investments;
manage your balance and choose between the available payment services;
join venture investments.
According to dotbig.com reviews, a personal account on the website of the DotBig company has a very user-friendly interface. It's vital for beginners because complicated navigation through a personal account might discourage new traders and cause difficulties at the beginning stage.
Trading assets
DotBig Ltd provides free access to multiple markets. You can trade on major Forex and stock exchanges. The range of displayed assets includes 71 currency pairs, 232 shares of international companies, 20+ indices, 5 cryptocurrencies, commodities, CFDs, and ETFs.
DotBig forex broker offers profitable conditions on Forex trading. A typical spread for major currency pairs is around 1.25 pips. The leverage starts from 1;400. Currency pairs are traded on DotBig Web and MetaTrader5. Participants might request help from automotive advisors. Clients say their signals are accurate in almost 100% of cases.
As for stock trading, the spreads are also tight. They might be as low as 0.67 pips. However, spreads are floating and they can gradually increase during nighttime, leading to slippage. This means DotBig isn't a good option if you practice nighttime trading.
Deposits and Withdrawals
credit/debit cards;
bank transfers;
cryptocurrency:
Alternative means:

Transferwise
PayPal
Qiwi
Webmoney
YooMoney
Pros
availability of many financial assets;
informative training programs for free;
low floating spreads on Forex;
1:400 leverage;
top-notch trading tools;
advisor-programs
positive DotBig testimonials;
stop-loss feature.
Cons
a 3.5% commission on withdrawals;
a $50 limitation on a minimum withdrawal amount;
slippage during nighttime trading;
complicated verification.
Conclusion
The concerns related to the lack of international regulation aren't relevant so far, because the DotBig forex broker applies not only segregated accounts but KYC policies as well. All the conditions are clearly explained in the open client agreement. Finally, as we can witness a lot of positive DotBig testimonials, the provider has a good reputation with both professional and new traders. If you consider trading on DotBig, you are better to read more reviews and explore key conditions on the official website.
Also Check:
DotBig Ltd Review: introduction to the broker
The Troubles of the PMP Quality Management Examination
Why is it Necessary to Make the Investment?
Five Facts of SEO that every Business Should Know