Get the Facts Before Buying the Ford F150 Hybrid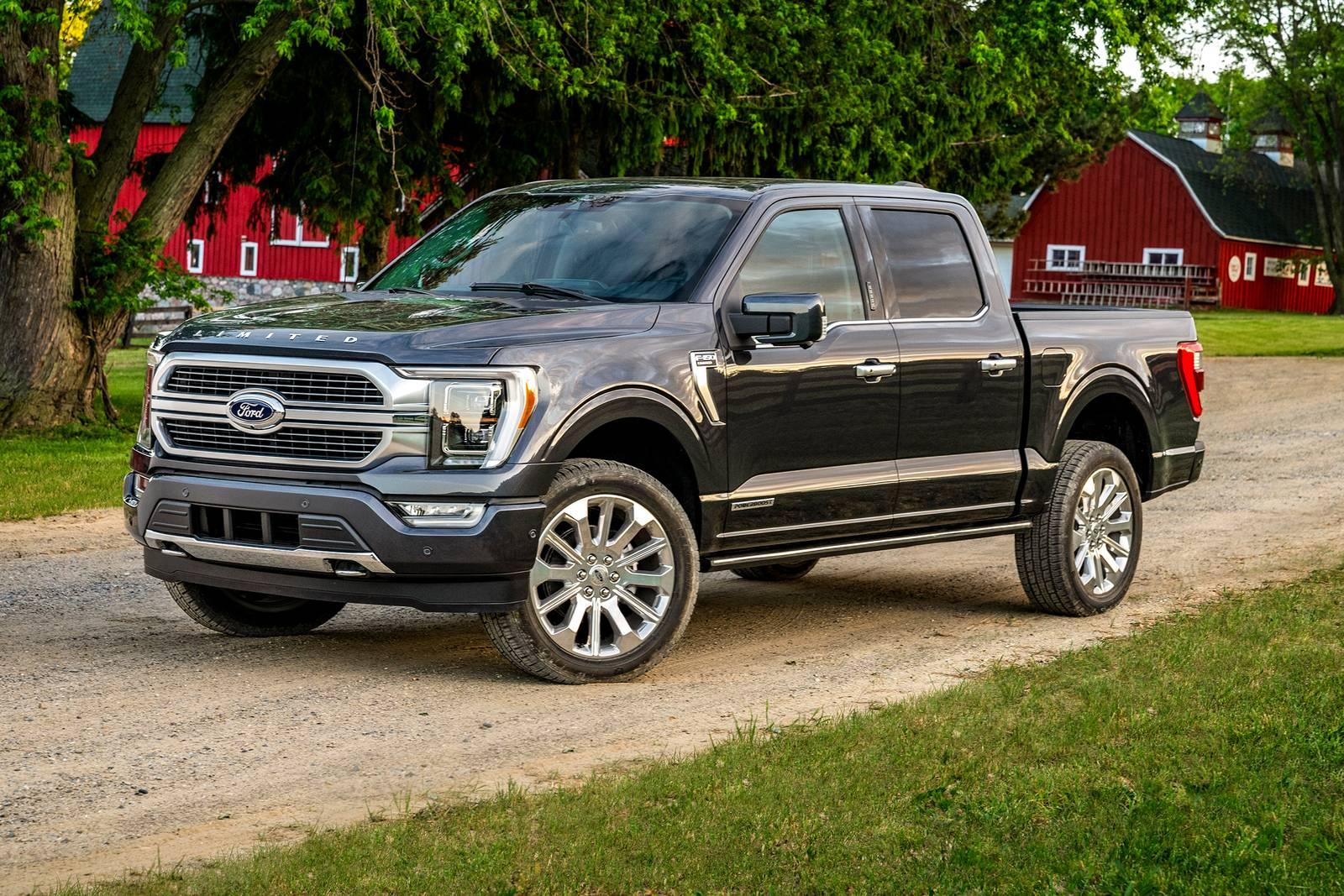 If you're in the market for a truck and are considering the Ford F150 Hybrid, there's no doubt that it is an attractive option. This hybrid vehicle offers great fuel economy and has plenty of power to get even the toughest jobs done. But before you make your purchase decision, it pays to have all the facts at your fingertips so you can make an informed choice. Here we will explore what makes this model so desirable, as well as any potential drawbacks that could stop you from making the right choice.
The Ford 150 Hybrid packs a powerful punch when it comes to performance. It features two electric motors combined with a 3.5L V6 EcoBoost engine, providing drivers with up to 430 horsepower and 570 lb-ft of torque – perfect for hauling heavy loads or taking on off-road tasks. The electric motors also provide improved efficiency over traditional gas engines, offering excellent fuel economy ratings of 23 mpg city/26 highway/24 combined (for 4×2 models). That's 30% better than non-hybrid versions!
In addition to its impressive performance capabilities, this model offers some great convenience features too such as standard automatic emergency braking with pre-collision assist, lane keeping system and adaptive cruise control for added safety on long drives. There's also Sync3 infotainment technology which includes Apple CarPlay and Android Auto integration so you can stay connected while behind the wheel. So if all these benefits sound appealing, read on further to learn more about why you should consider purchasing a Ford F150 Hybrid today!
Overview Of The Ford F150 Hybrid
For car shoppers looking for a hybrid vehicle, the Ford F150 Hybrid is an attractive option. It's sleek design and powerful engine make it stand out in the crowd of other hybrids on the market. But before you buy one, there are some key facts to know. Let's take a closer look at what this hybrid has to offer.
At first glance, the Ford F150 Hybrid looks just like any standard truck – with its traditional grille and bold body lines – but under the hood lies something entirely different. This Ford offers a turbocharged 2.7-liter V6 engine that produces 325 horsepower and 400 lb.-ft. of torque; making it far more powerful than most other hybrids currently available on the market today. The result? A smooth ride no matter where your journey takes you!
When it comes to fuel efficiency, the Ford F150 Hybrid also delivers impressive results. With an EPA estimated rating of 25 mpg combined city/highway, this truck proves that power doesn't always have to come at the expense of efficiency. Plus, cutting-edge technology such as regenerative braking helps reclaim lost energy from each stoplight or traffic jam so you can keep going further without having to constantly fill up your tank. All of these features combine to create a versatile and reliable pickup ready to tackle any task thrown its way.
Moving onto our next section now, let's compare how the Ford F150 Hybrid stacks up against its conventional counterpart…
Comparison To Standard Ford F150
Now that we've explored the features of the Ford F150 Hybrid, let's compare it to its standard counterpart. It's important to consider how these two vehicles differ in terms of performance and cost before making a purchase decision. Here are some key points to note:
* The Hybrid model is equipped with a 3.5-liter EcoBoost V6 engine that delivers more power than the standard 5.0L V8 engine while still maintaining fuel efficiency.
* The hybrid variant has an estimated combined mpg rating of 25 whereas the conventional F150 gets 19/26 city/highway mpg respectively on 2WD models and 17/23 for 4WD variants..
* In addition, the hybrid version offers better acceleration due to its electric motor which boosts torque when needed. This makes it ideal for off-roading or hauling heavy loads up steep inclines.
* Finally, while there is a slight premium on purchasing this vehicle over its traditional equivalent, you can expect significant savings in fuel costs throughout ownership thanks to its increased efficiency.
These differences between the Hybrid and standard F150 make one thing clear – if you're looking for improved performance from your truck without sacrificing fuel economy, then investing in the hybrid option could be worth considering. Next, let's take a look at what kind of fuel economy and emissions ratings drivers can expect from each model.
Fuel Economy And Emissions Ratings
When it comes to fuel economy and emissions ratings, the Ford F150 Hybrid offers impressive performance. It's equipped with a 2.3L EcoBoost engine that delivers up to 375 horsepower and 470 lb-ft of torque, while still providing an EPA estimated 25 mpg combined rating. That's 10 mpg more than the non-hybrid version! On top of that, the hybrid model emits fewer pollutants into the atmosphere than its conventional counterpart, making it a great choice for those who are conscious about their environmental impact.
In addition, the Ford F150 Hybrid features advanced technologies such as start-stop technology and regenerative braking system which help conserve even more fuel and reduce emissions further. These systems also make driving smoother and quieter while adding convenience in stop-and-go traffic situations.
Overall, the Ford F150 Hybrid is a great option if you're looking for an efficient vehicle that produces minimal emissions without sacrificing power or performance. Its combination of advanced technology and eco-friendly design makes it well worth considering when shopping for your next truck purchase. Moving on to cost analysis and financing options…
Cost Analysis And Financing Options
The cost of the Ford F-150 Hybrid can vary greatly depending on the model and options. To get a better understanding of what you're looking at financially, it's important to do your research. Start by comparing prices between dealerships for similar models with similar features and trim levels. You should also look into financing options that may be available to you in order to make sure you are getting the best deal possible.
When considering financing an F-150 Hybrid, there are several factors to consider beyond just interest rates. Factors such as down payment amounts, credit score requirements, loan terms, and any associated fees must all be taken into account when making this decision. It is also important to determine if leasing or buying makes more sense for your financial situation. Taking time to compare different lenders' offers will help ensure you find the right fit for your needs.
Finally, researching federal tax credits and other incentives offered might reduce the overall cost of ownership even further. Be sure to check with local government agencies before committing to any purchase so that you don't miss out on potential savings opportunities. With careful consideration and thorough research, finding a great price on an F-150 Hybrid doesn't have to be difficult. Onward we go now to examine technology features and safety systems available in the Ford F-150 Hybrid lineup.
Technology Features And Safety Systems
The Ford F150 Hybrid is packed with technology features and safety systems, making it a powerful choice for the savvy buyer. Rife with modernity, this vehicle will make you feel like you're in control of your destiny each time you take to the road. Here are some of its cutting-edge benefits:
* Blind Spot Information System (BLIS) that warns drivers when another car is entering their blind spot
* Adaptive Cruise Control with Stop & Go – adjusts your speed according to surrounding traffic conditions
* Lane Keeping Alerts keep drivers from unintentionally veering out of their lane
* Pre-Collision Assist with Automatic Emergency Braking alerts drivers if there's an impending collision
In addition to these innovative technologies, the Ford F150 Hybrid has been designed with advanced driver assistance systems such as auto high beam headlamps, hill start assist and rear view camera which help reduce driver fatigue while increasing visibility on the road. For those who value peace of mind and convenience, this truck offers unparalleled security measures. From theft deterrent devices to emergency roadside assistance programs, the Ford F150 Hybrid truly stands above the competition.
Given all these impressive features, it comes as no surprise that maintenance requirements must be carefully considered before purchasing any new vehicle – especially one as advanced as the Ford F150 Hybrid.
Maintenance Requirements
Maintaining your Ford F150 Hybrid is simple and straightforward. The vehicle requires oil changes every 5,000 miles or 6 months, whichever comes first. It also needs a tune-up after 20,000 miles. All other maintenance can be done at home if you're comfortable with the tools required to do so. The user manual provides clear instructions for performing most of these tasks yourself.
The hybrid system itself doesn't require special attention, as it's designed to last the life of the truck. If any parts need replacing, they can usually be found at your local auto parts store and installed without too much trouble. Of course, when in doubt about anything related to servicing your new ride, take it to an authorized dealership for assistance.
Overall, the maintenance requirements of the Ford F150 Hybrid are relatively low compared to gasoline models – making it a great option for those who don't want to spend hours under the hood tinkering around but still want their vehicle running reliably for years to come. With proper care, this reliable pickup will keep rolling down the road smoothly transition into comfort and convenience features that make driving fun again.
Comfort And Convenience Features
The Ford F150 Hybrid is a remarkable feat of automotive engineering. It's packed with features that make it the epitome of comfort and convenience. From heated seats to an advanced infotainment system, this vehicle has everything you need for a smooth ride.
For starters, the interior is incredibly spacious and comfortable. The cabin comes equipped with plush leather seating that can be adjusted to your exact preferences in terms of lumbar support and cushioning. Plus, there are power-adjustable pedals so you can find the perfect driving position every time you get behind the wheel. And if you need some extra heat on cold days, just turn on the optional heated seats!
But it doesn't stop at simple comfort – the Ford F150 Hybrid also offers plenty of sophisticated technology designed to keep you connected while on the go. There's an 8-inch LCD touchscreen display mounted in the center console where you can access all sorts of useful information like navigation directions or music streaming services. You'll even have Apple CarPlay® and Android Auto™ compatibility for complete smartphone integration, making your drive more enjoyable than ever before.
With its combination of luxurious amenities and modern tech features, the Ford F150 Hybrid truly stands out from other trucks in its class. Whether you're looking for a comfortable commute or something loaded with gadgetry, this truck delivers – all without sacrificing any performance capabilities…
Towing Capacity And Performance Specifications
When it comes to Ford F150 Hybrid performance, buyers can expect a lot. From its 3.5-liter EcoBoost engine and 10-speed automatic transmission to the impressive maximum tow rating of 13,200 pounds, this truck is sure to impress. The hybrid powertrain also offers plenty of torque for hauling and off-road excursions. Here are some points to consider when assessing F150 Hybrid's capabilities:
Maximum Towing Capacity – With a maximum tow rating of 13,200 pounds, the Ford F150 Hybrid is capable of pulling nearly anything you need with ease. Plus, it boasts an advanced trailer sway control system that helps keep your load stable on the road.
Power Output – Despite being a hybrid vehicle, the Ford F150 Hybrid still packs quite a punch under the hood thanks to its 3.5-liter EcoBoost engine and 10-speed automatic transmission combination which produces 375 horsepower and 470 lb.-ft.of torque . This gives drivers plenty of strength for tackling tough jobs or weekend trips away from home.
Fuel Economy -The fuel economy in the Ford F150 Hybrid isn't bad either; depending on trim level the EPA estimates up to 25 mpg combined city/highway driving making it one of the most efficient full size pickups available today [1].
Off Road Capabilities -With beefed up suspension components such as heavy duty shocks and coil springs plus skid plates underneath ,the Ford F150 Hybrid is ready for just about any terrain you might encounter while out exploring nature[2]. It's truly built like a tank but handles like a car!
In short, whether you're looking for serious workhorse capabilities or simply want something that won't break down at every turn ,the Ford F150 Hybrid has all bases covered with its powerful engine options robust frame design and excellent fuel efficiency ratings . So now we move onto another key factor in choosing a new pickup truck : warranty details .
Warranty Details
Ford offers a comprehensive three-year/36,000 mile new vehicle limited warranty on all F150 Hybrid models. This includes coverage for parts and labor to repair any defects in materials or workmanship. The powertrain is covered by an additional five-year/60,000 mile limited warranty. There's also corrosion protection for up to five years with no mileage limit. Ford stands behind its vehicles and the warranties reflect that commitment.
In addition, each model comes with complimentary roadside assistance for five years or 60,000 miles (whichever comes first). If you run out of fuel, need tire service, have a dead battery or other emergency situation, help can be dispatched quickly from certified technicians 24 hours a day, 7 days a week.
Finally, owners are offered access to MyCarFacts which provides information about recall notices and updates regarding their specific F150 Hybrid model as well as general maintenance tips and recommendations tailored to their driving habits. Owners can stay informed without having to wait until they bring their vehicle into the shop. With this knowledge at hand, drivers know exactly what needs to be taken care of when visiting the dealership.
Owning an F150 hybrid brings many benefits beyond just peace of mind when it comes to repairs and upkeep.
Benefits Of Owning A Ford F150 Hybrid
The warranty details laid out the basics of purchasing a Ford F150 Hybrid, but what about all the amazing benefits that come along with it? Absolutely stunning! As you can see, owning this vehicle offers some incredible advantages.
For starters, an electric powertrain means fuel economy like never before. You will be able to go farther than ever on one tank of gas as well as reduce emissions for a cleaner environment. Plus, because the electric motor helps when accelerating from stoplights and traffic jams, you get to enjoy smoother driving performance – something any driver would appreciate.
And speaking of smoothness, thanks to its regenerative braking system, your brakes won't wear down nearly as quickly as other vehicles so you can save money in repairs or replacement parts over time. The hybrid technology also makes acceleration quicker and more responsive than conventional engines which is great if you're looking for a sporty ride now and then.
Not only is the Ford F150 Hybrid good for your wallet due to efficient fuel consumption—it's also great for your peace of mind. With advanced safety features such as lane departure warning systems, blind spot information alerts, adaptive cruise control and automatic emergency braking just to name a few–you have extra help keeping yourself safe while on the road. So no matter where life takes you, rest assured knowing that both you and your passengers are protected inside this powerhouse vehicle.
Frequently Asked Questions
What Type Of Battery Is Used In The Ford F150 Hybrid?
When it comes to hybrids, one of the most important questions is what type of battery they use. The Ford F150 Hybrid uses a lithium-ion battery system to power its electric motor. This type of battery has several advantages over other types:
It's much lighter and more efficient than traditional lead-acid batteries, providing better fuel economy and performance on the road.
Lithium-ion batteries last longer and require less maintenance than lead-acid types.
They also generate fewer emissions, making them an environmentally friendly choice for drivers who want to reduce their carbon footprint.
The Ford F150 Hybrid's lithium-ion battery is rechargeable, meaning you can plug it into a regular outlet at home or work – no special charging station required! You'll get up to 30 miles per charge with this model, which should be enough for short commutes or errand runs around town without having to use gasoline at all. With careful driving habits, some owners report getting up to 40 miles per charge in ideal conditions.
For those who like convenience, the Ford F150 Hybrid offers several driver assist features that help make life easier behind the wheel. These include adaptive cruise control for maintaining consistent speeds in traffic; lane keeping alert for staying centered in your lane; and blind spot monitoring so you're aware of any vehicles that may be hidden from view when changing lanes or merging onto highways. All these features combine to provide a safe and comfortable ride while helping you save money on gas too!
Does The Ford F150 Hybrid Have A Regenerative Braking System?
Are you in the market for a Ford F150 Hybrid? Before making your purchase decision, it is important to arm yourself with all the facts. One of the questions on many people's minds is whether this vehicle has a regenerative braking system or not. Let's dive into what we know about this feature so that you can make an informed choice!
Like a phoenix rising from the ashes, regenerative braking systems are revolutionizing how cars stop and go. This technology works by recapturing energy lost during braking and storing it for later use – thus increasing overall efficiency and reducing fuel consumption. So does the Ford F150 Hybrid have such system? The answer is yes!
The regenerative brake system fitted to the Ford F150 Hybrid helps reduce emissions while providing improved performance:
– It increases fuel economy by up to 8%
– It reduces CO2 emissions significantly
– There's no need for extra maintenance – unlike traditional brakes which require regular inspection and replacement
– It offers precise control over stopping power and speed
These benefits showcase why having a regenerative braking system is essential when choosing your next car. In addition to being better for both your wallet and the environment, they offer greater safety as well thanks to their improved responsiveness and enhanced control capabilities. Therefore, if you're considering purchasing a Ford F150 Hybrid, rest assured knowing that its built-in regenerative braking system will give you peace of mind every time you hit the road.
Is The Ford F150 Hybrid Compatible With Aftermarket Accessories?
If you're considering buying a Ford F150 Hybrid, one of the questions that may come to mind is: Is it compatible with aftermarket accessories? The answer is yes. This popular truck model has been designed to be easily upgraded and modified with parts from third-party vendors.
It's important to note that some modifications can void your warranty or cause damage if not done correctly. To avoid any problems, make sure you purchase quality parts from reputable suppliers who specialize in hybrid models. Additionally, have a professional install them for maximum safety and efficiency.
The good news is that there are plenty of options available when it comes to customizing your Ford F150 Hybrid. From performance upgrades such as exhaust systems and air intakes to cosmetic changes like body kits and interior trim pieces, you'll find everything you need to make this truck yours. So don't hesitate – start researching today!
How Much Cargo Can The Ford F150 Hybrid Carry?
When it comes to vehicles, the Ford F150 Hybrid is definitely one of the most talked-about. With its impressive power and features, many drivers are taking a serious look at this hybrid truck before making their purchase decision. But how much cargo can the Ford F150 Hybrid actually carry? Let's take a closer look:
The Ford F150 Hybrid offers an impressive amount of hauling capacity for everyday needs or weekend adventures. It has enough room for all your gear and equipment, no matter what you're up to:
* Its maximum payload capacity is 3,325 lbs – plenty for any kind of workday loadout or vacation supplies.
* The bed length of 5 feet 9 inches allows users to easily fit larger items like furniture into the cargo area with ease.
* Dual rear wheel wells offer extra storage opportunities on either side of the cab while keeping everything secure when traveling down bumpy roads.
* A standard box tie-down system makes sure that whatever you're carrying remains in place during transit.
* Finally, optional roof racks provide even more options for large items such as kayaks or bikes without sacrificing interior space.
For drivers looking for a reliable vehicle that can handle both day-to-day tasks and longer excursions alike, the Ford F150 Hybrid delivers in spades. With its superior hauling capabilities and thoughtful features designed specifically with convenience in mind, there's no question that it will get you where you need to go safely and securely – leaving you free to focus on planning your next adventure!
Does The Ford F150 Hybrid Have An Adjustable Suspension System?
If you're in the market for a Ford F150 Hybrid, it's important to consider all aspects of your purchase decision. One question that often comes up is whether or not the vehicle has an adjustable suspension system. As it turns out, this powerful truck does indeed have an adjustable suspension system—allowing drivers to tailor their ride quality and level of comfort as needed.
The Ford F150 Hybrid offers several settings for its adjustable suspension system: Comfort, Normal, Sport, Off-road 1 and 2 levels. Each setting gives drivers a unique experience when on the road, with Comfort offering more cushioning for those who prefer a smoother ride; Normal being best suited for day-to-day driving; Sport providing greater responsiveness; and both Off-road levels delivering enhanced stability without sacrificing agility.
In addition to these five preset modes, the Ford F150 Hybrid also allows drivers to customize their own unique combination of dampening and rebound rates by using the MyMode feature—ensuring they get exactly what they need no matter if they're just cruising down the highway or going off-roading through rugged terrain. With so many options available, there's something here for everyone looking to make the most out of their drive time in the Ford F150 Hybrid.
No doubt about it: This truck offers plenty of customizable features designed with driver satisfaction in mind—giving them control over how they want their ride quality to feel every time behind the wheel. Whether you're searching for extra cushioned comfort or increased responsiveness at higher speeds—the Ford F150 Hybrid won't disappoint!
Conclusion
The Ford F150 Hybrid is an impressive vehicle with plenty of features to meet the needs of a variety of drivers. It offers great fuel efficiency, and its regenerative braking system helps save you even more money at the pump. Plus, it has enough cargo space for all your gear and comes with adjustable suspension so that you can customize your ride.
However, some may be worried about aftermarket accessories compatibility when buying this hybrid truck. But fear not! The Ford F150 Hybrid is compatible with most aftermarket parts and accessories, making customizing easy. So whether you're looking for upgraded lighting or a new exhaust system, you won't have any trouble finding what you need.
Overall, if you're in the market for a reliable and efficient hybrid truck, then the Ford F150 Hybrid should definitely be on your list. With its amazing battery technology, regenerative braking system, adjustable suspension system and excellent accessory compatibility – there's no doubt that this hybrid will make an outstanding addition to your fleet.