Pickup Trucks Crash into One Another, 1 Killed, 17 Injured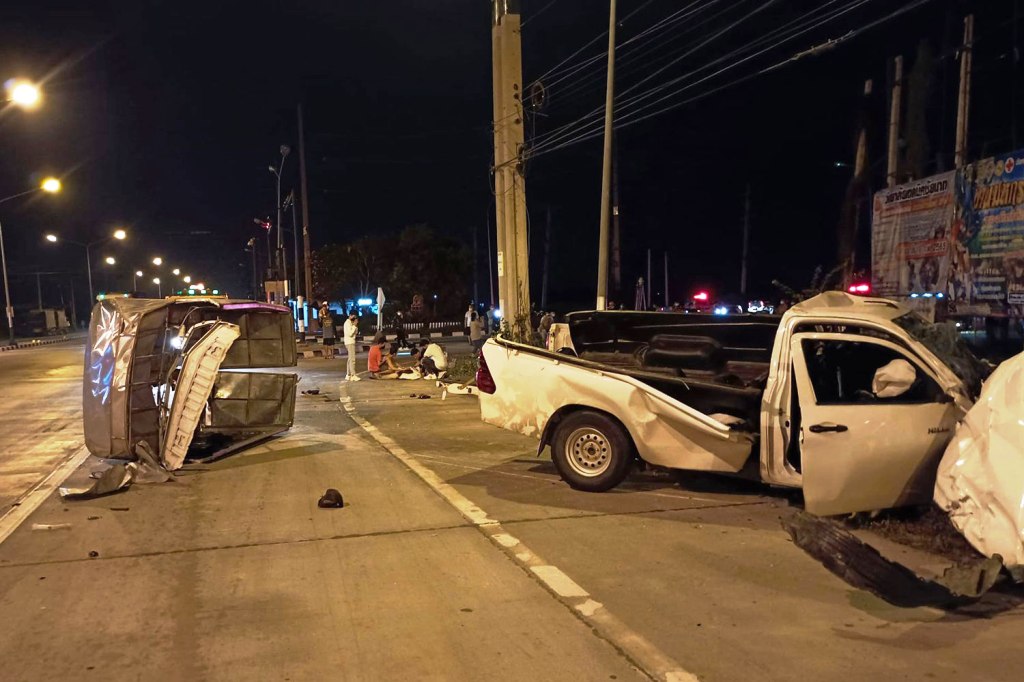 A pickup truck carrying migrant workers has crashed into another truck carrying Likay performers in Chai Nat province, killing one and injuring 17 other people. The accident happened on early Saturday morning.
According to Thai media, the crash occurred at the intersection of Khung Samphao Road and Phaholyothin Road in the Manorom district around 2 am.
Rescuers and police arrived at the scene to find a Toyota truck with Kamphaeng Phet plates. The roof of the pickup truck was ripped off by the impact of the crash, and the victims' belongings were scattered everywhere.
A driver fled the scene, while two passengers, who were Myanmar nationals, attempted to flee but were caught by police.
At the crash site, a red Toyota pickup truck with Bangkok license plates was found in a ditch. It had been severely damaged on the left side.
The vehicle contained the body of a dead woman. She was later identified as Anu Bualuang, 56. A 31-year-old man, Prachaya Bualuang, drove the red pickup truck and was the victim's son.
16 people were injured in the crash, including 13 migrant workers from Myanmar. All of the injured were taken to a nearby hospital. Two of the migrant workers tested positive for Covid-19.
The police investigated the incident and found that the red pickup truck had been hauling performers of the Likay troupe Sornram Nampetch. Mr. Prachaya, one of the performers, was seen crying over the body of his mother.
Investigators learned that his troupe was on the way back to Ayutthaya after performing at Wat Nong Khunchart in Uthai Thai province. The pickup truck in which he was travelling had four passengers, including his mother in the back seat.
His vehicle was struck by the truck that ran a red light at the Khung Samphao intersection. Mr. Prachya claims that his vehicle plunged into the roadside ditch due to the force of the crash.
A police investigation was underway to find the driver of another pickup truck.
Meanwhile, in Saraburi province, a passenger train returning from Pa Sak Jolasid Dam crashed into a tow truck near Kaeng Khoi railway station on Saturday afternoon.
A train passenger reported that the train sounded its horn to alert the truck, which was about 500 metres away. The train driver tried to brake but could not prevent the train from ramming into the vehicle.
Apparently, the truck driver failed to see the approaching train, according to the train passengers.
Three people were injured in the crash – the truck driver, his girlfriend, and a train engineer. There were no fatalities.
Related CTN News: