Deadly Suicide Bombings Target Pakistani Mosques On Prophet Mohammad's Birthday, Leaving 57 Dead
(CTN News) – Two devastating suicide bombings rocked two mosques in Pakistan on Friday, claiming the lives of at least 57 individuals, including seven young children.
These tragic events unfolded as worshippers were observing the birthday of the Prophet Mohammad, according to reports from local police and health officials.
No specific group has immediately taken responsibility for these attacks, and the death toll remains uncertain as numerous people sustained severe injuries, while others became trapped beneath the debris.
The initial explosion occurred in Mastung, a city located in the southwestern province of Balochistan. The suicide bomber detonated his explosives near a police vehicle, targeting a gathering of people participating in a procession.
لاہور سمیت صوبہ بھر میں جشن عید میلاد النبیﷺ کی1281 محافل، 2510 جلوسوں اور ریلیوں کی سکیورٹی کے فرائض سرانجام دینے کیلئے پنجاب پولیس کے 46 ہزار سے زائد افسران اور اہلکار تعینات۔
سیف سٹی اٹھارٹی کے کیمروں کی مدد سے تمام ریلیوں، جلوسوں اور محافل کی مانیٹرنگ جاری، تمام سنئیر… pic.twitter.com/grgUW1NMYO

— Punjab Police Official (@OfficialDPRPP) September 29, 2023
Senior police official Munir Ahmed provided details of the incident, stating that at least 52 people lost their lives, including children aged between nine and eleven. Additionally, at least 58 individuals sustained injuries.
Witness Munir Ahmed Shahwani described the horrific scene, recounting how the injured cried out for assistance. He stated, "I saw at least 25 bodies on the spot, which included small children," emphasizing that people were desperately searching for their loved ones. Tragically, a deputy superintendent of police was among the casualties as he was overseeing security arrangements in the area.
He bravely attempted to stop the suicide bomber but was tragically unable to prevent the explosion, as Javed Lehri, a senior police officer, explained.
The gathering targeted in Mastung was taking place at a mosque affiliated with the Barelvi sect, a branch of Islam generally regarded as more moderate compared to hardline sects such as Salafism.
It is important to note that some of these hardline sects consider the veneration of the Prophet Mohammad as heresy.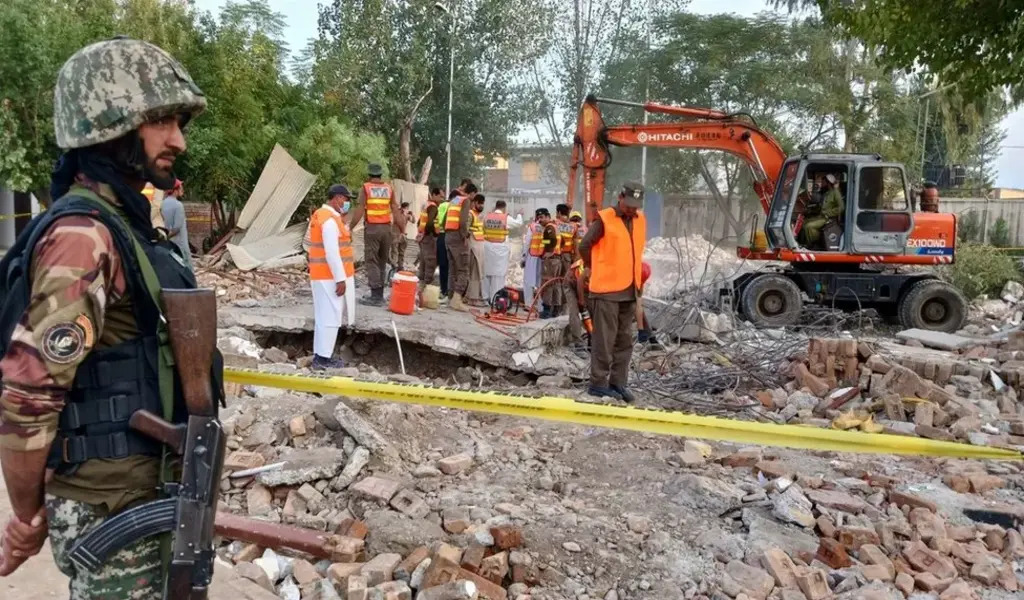 Escalating Militant Attacks Cast Shadow Over Upcoming Elections in Pakistan
The second attack occurred in the neighboring province of Khyber Pakhtunkhwa, claiming the lives of five individuals within a mosque.
Rescue officials reported that the mosque's roof collapsed due to the force of the explosions, leaving approximately 30 to 40 people trapped under the rubble.
This assault involved two explosions—one at the mosque's entrance and the other within the compound, as indicated by an official statement.
The recent surge in militant attacks in Pakistan's western provinces has cast a dark shadow over the preparations for upcoming elections and public campaigning scheduled for January. Until now, these attacks had predominantly targeted security forces.
Both of these provinces share a border with Afghanistan and have experienced repeated attacks by Islamist militants in recent years, all aiming to overthrow Pakistan's government and establish their own strict interpretation of Islamic law.
Caretaker Prime Minister Anwar ul Haq Kakar, who is currently in Saudi Arabia for the religious pilgrimage of Umrah, condemned the bombings and called for full support for the victims.
Kakar leads a caretaker government tasked with overseeing the national election set for the last week of January.
The surge in militant attacks began in 2022 when a ceasefire between the government and the Tehreek-e-Taliban Pakistan (TTP), an umbrella organization of hardline Sunni Islamist groups, broke down.
The TTP, responsible for some of the deadliest attacks in Pakistan since its formation in 2007, has denied involvement in these Friday bombings.
However, a faction within the umbrella group later claimed responsibility for the January attack on a Peshawar police mosque, which resulted in the deaths of 100 people.
In July, another suicide bombing in Khyber Pakhtunkhwa killed over 40 individuals during a gathering of a religious political party, with the Islamic State militant group claiming responsibility for that attack.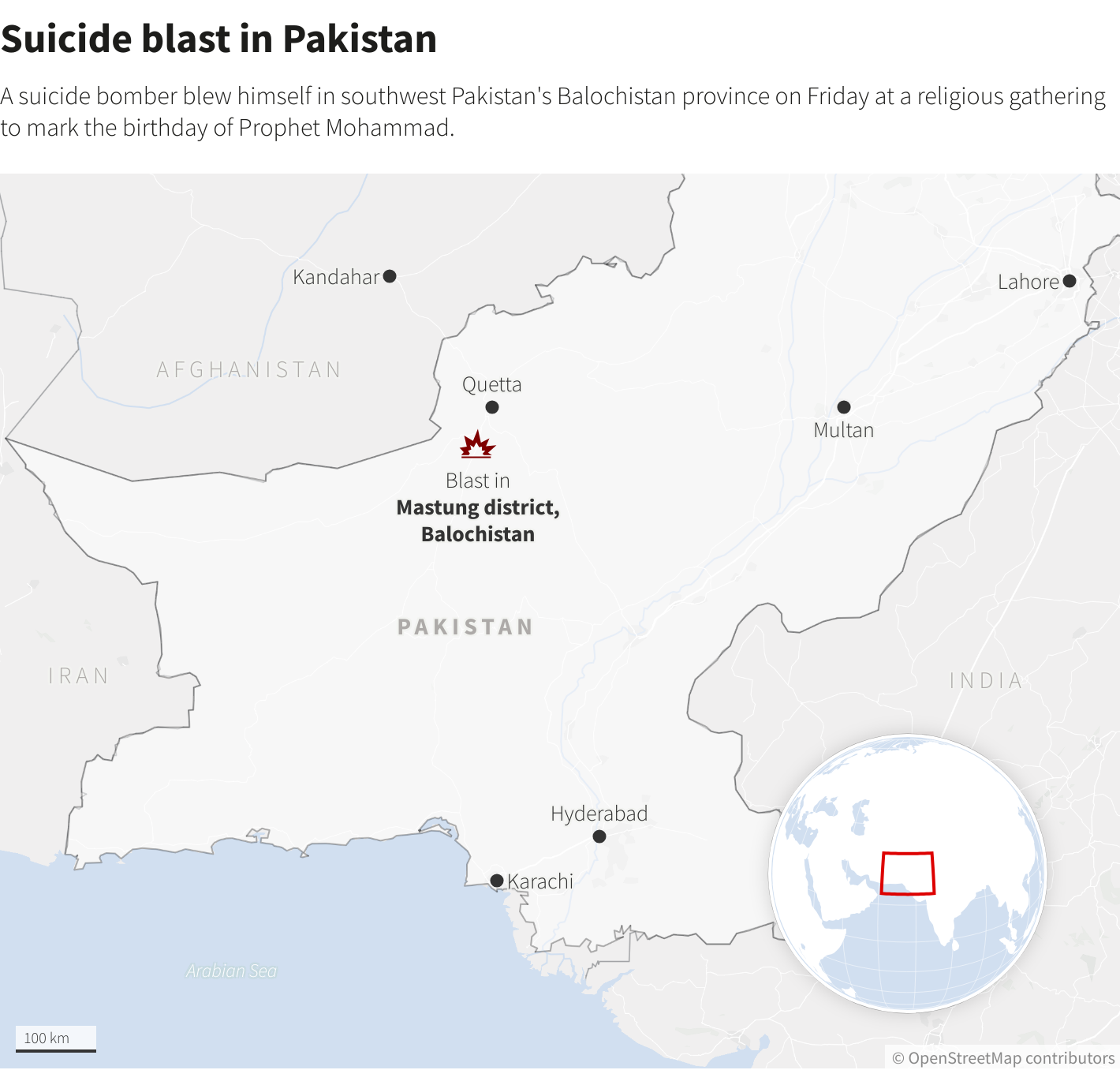 Pakistani Soldiers Martyred in Heroic Standoff with TTP Terrorists Near Afghan Border
Four Pakistani Army soldiers were tragically killed during a military operation in Zhob. This operation occurred near Sambaza in the Zhob district, close to the Pakistan-Afghanistan border.
On September 28, at 1745 hours, our security forces successfully thwarted an attempt by TTP terrorists to infiltrate from Afghanistan into Pakistan.
In the course of this operation, Havildar Sattar, Lance Naik Sher Azam, Lance Naik Adnan, and Sepoy Nadeem displayed exceptional valor and ultimately made the ultimate sacrifice.
Additionally, during the exchange of gunfire, three terrorists were neutralized, while others sustained injuries.
The Inter Services Public Relations (ISPR) emphasized that Pakistan's security forces remain committed to deterring any efforts by those who seek to disrupt the peace and prosperity of the nation.