Surprise Your Siblings Near & Far with these Trendsetting Designer Rakhis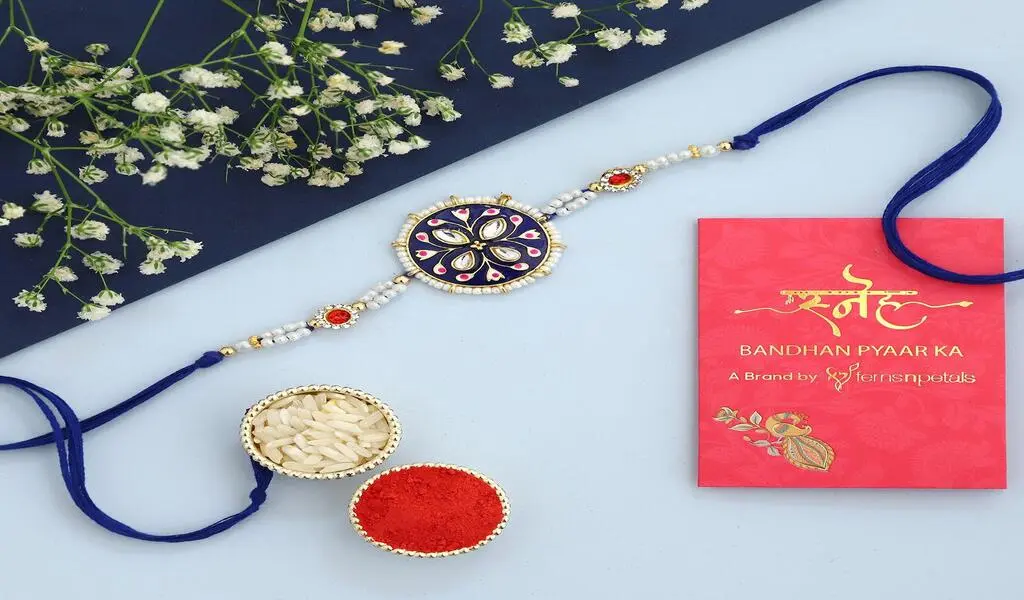 In the gentle rhythm of shared laughter and childhood memories, the festival of Raksha Bandhan finds its place. It's a day when the bond between a brother and sister shines a little brighter when a simple thread carries the promise to protect and cherish. As the calendar draws us closer to this heartwarming occasion, the world of rakhi designs opens up, offering a range of choices that speak to the heart.
These designs aren't just threads and beads but expressions of love, tokens of the unbreakable connection. From traditional patterns that resonate with simplicity to modern designs that capture the essence of today, take a look at some of the trendy rakhi that can be ordered from any part of the world and delivered to the doorstep of your choice –
Meenakari Rakhi
The Meenakari Rakhi is a symphony of colours and intricate detailing. Adorned with delicate enamel work, this rakhi is a testament to the craftsmanship of skilled artisans. Its vibrant hues and intricate patterns seem to tell stories of their own. Tying a Meenakari Rakhi is not just a gesture; it's a tribute to the rich heritage of artistry.
Kundan Rakhi
Another amazing rakhi option is Kundan rakhi drenched in elegance and regal charm, they embrace the timeless allure of gemstones. Delicately placed Kundan stones reflect light like stars in the night sky, exuding an aura of grandeur. This rakhi's beauty lies not just in its aesthetics, but in the emotions it encapsulates – the rakhi becomes a treasure trove of memories, each stone a chapter of shared experiences.
American-Diamond Rakhi
Every sparkle of an American Diamond Rakhi is reminiscent of a promise made. Its dazzling appearance symbolises the enduring bond between siblings, a bond that shines even in the darkest of times. As the rays of light refract through the stones, they mirror the countless moments of laughter and support that have been shared over the years.
Silver Rakhi
Embracing the charm of tradition and the elegance of modernity, the Silver Rakhi stands as an embodiment of simplicity and sophistication. Crafted with intricate designs and often featuring symbols of protection and good fortune, the Silver Rakhi is a wearable symbol of the strong thread that ties brothers and sisters together.
Mauli Rakhi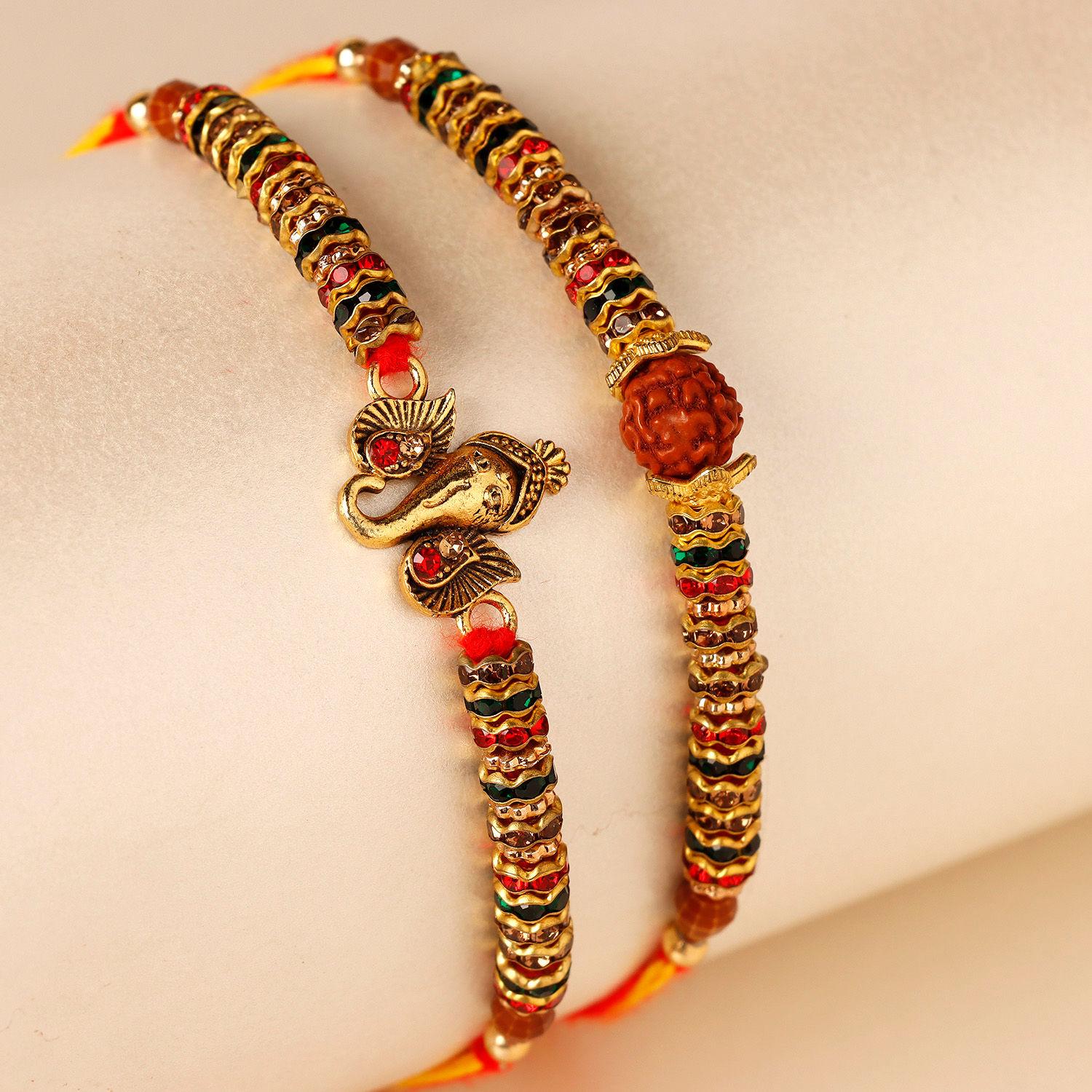 Steeped in tradition and spirituality, the Mauli Rakhi transcends the ordinary to embrace the divine. The sacred red thread is intertwined with blessings, prayers, and well-wishes, making it a tangible representation of the sibling relationship blessed by the gods themselves. Tying a Mauli Rakhi is not just a gesture; it's an act of devotion.
Rudraksha Rakhi
The Rudraksha Rakhi draws its inspiration from ancient wisdom and spiritual grounding. Each bead is a symbol of inner strength, protection, and divine connection. As brothers wear this rakhi, they carry with them the power to overcome challenges, making it a gift of not just love but also empowerment.
Agate Rakhi
Like a canvas of nature, the Agate Rakhi captivates with its natural patterns and earthly hues. The agate stone is believed to bestow harmony and balance, echoing the essence of a sibling relationship that bridges differences and stands as a rock-solid foundation of support.
Evil Eye Rakhi
In a world filled with both beauty and challenges, the Evil Eye Rakhi emerges as a protective talisman. Adorned with the symbol of an eye, it's believed to ward off negativity and bring in positivity. This rakhi not only celebrates the bond between siblings but also seeks to ensure their well-being.
Conclusion
As we traverse through this captivating tapestry of rakhi designs, one thing becomes clear; these threads are not just embellishments but vessels of emotions, stories, and aspirations. So, this Raksha Bandhan, as you tie a rakhi around your brother's wrist, let the design you choose be a reflection of your unique relationship. Let it encapsulate the laughter, the shared secrets, the support, and the love that has grown stronger with time. Happy Raksha Bandhan!
SEE ALSO: 10 Unexpected Ways Ace Hardware Can Transform Your Home