Top 5 Countries for IT Outsourcing in Eastern Europe: 2022 Market Research
This article compares the best countries in Eastern Europe to outsource software development based on the growth prospects and other factors.
Outsourcing is a common practice for businesses that want to focus on their core competencies. For many Western companies, outsourcing to the Eastern European market has become a popular trend in the last few years.
There are many reasons why companies choose to outsource their services to this region, including reducing costs, accessing skilled labor, and increasing productivity.
According to Market Research Future, the business process outsourcing market is projected to grow at a CAGR of 9.6% by 2030. The total value of the European IT outsourcing market is expected to amount to more than $104 billion(based on Statista.com).
The top five countries for IT Outsourcing in Eastern Europe are Ukraine, Poland, Romania, Hungary, and Bulgaria.
This article will provide insight into these major outsourcing locations and their key advantages.
Why Does Outsourcing Bring Value to Businesses?
Outsourcing is a process where businesses transfer certain operations from their own facilities to another company or an individual.
Outsourcing is a cost-effective mode of operation that provides benefits to both the outsourcer and the outsourcing company.
The main reason why businesses outsource is to reduce operational costs. When you outsource your work to an external agency or individual then you will not have to spend money on equipment, staff recruiting and training, and office space which are all expensive in the long run.
Cost reduction has become critical again due to the impact of the coronavirus pandemic and the uncertain economic environment.
Based on Deloitte Global Outsourcing Survey, the main benefits of outsourcing are as follows:
Lowering operational costs.
Becoming more flexible in leveraging the latest technologies.
Improving the overall speed to market.
Improving production quality and boosting productivity thanks to easier access to tools and processes.
Improving customer service and agility.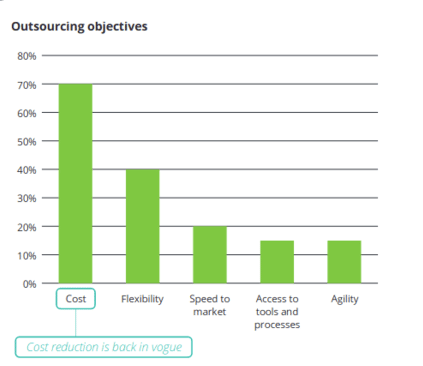 Source: Deloitte Global Outsourcing Survey
5 Advantages of Outsourcing to the Eastern European Market
Outsourcing to the Eastern European market is a great way for companies to save money and still get quality work done.
Besides cost reduction, Eastern European locations are considered the best countries to outsource software development because it offers lots of other advantages, namely:
A lot of educated people with high levels of IT skills. This makes it easy for business process outsourcing (BPO) companies to find qualified employees.
Low cost of living in Eastern Europe which means that salaries are also lower than in Western countries.
A high level of English proficiency makes communication easier and faster between employees and employers from different parts of the world.
Attractive business environment when governments are taking proactive steps to improve their ecosystem for outsourcing.
A lot to offer in terms of vibrant culture – from delicious food to beautiful nature and places with a great range of tourist activities.
Most Popular IT Outsourcing Countries in Eastern Europe
Outsourcing to Eastern Europe is not a new concept. It has been around for decades and it is still popular today. The outsourcing industry inside the region is growing too with new talent entering the market. Let's take a look at the best countries to outsource software development in Eastern Europe.
Ukraine
Ukraine has a rich history of outsourcing and has been ranked as one of the best outsourcing destinations in Eastern Europe by A.T. Kearney's report.
Outsourcing to Ukraine has become a global trend due to the country's large pool of highly skilled professionals, including software developers, engineers, programmers, and other IT professionals.
There are a lot of reasons why the country has become so popular such as:
Ukraine has a high-skilled workforce that can be hired at competitive hourly rates of $25-50 (based on UpWork.com).
The country has a favorable tax and regulatory environment for IT companies.
Ukraine has developed its own IT infrastructure, which is robust and reliable.
The country is relatively close to Western Europe, which makes it easier to communicate with clients.
The Ukrainian government assists foreign investors and offers preferential treatment to IT companies.
Romania
Romania is also one of the best outsourcing countries. It offers competitive salaries and a reasonable cost of living with a well-developed infrastructure.
The Romanian economy has been growing for the past decade, with a GDP growth rate of about 6.5% in 2021. The country has a strong industrial base, and it is home to some of the largest companies in Central and Eastern Europe. Romania's economic growth was fueled by foreign investments, which have been steadily increasing over the past 10 years.
Romania's high-tech industries are mainly focused on:
automotive production;
aerospace engineering;
information technology services;
software development;
biotechnology applications and medical equipment manufacturing;
renewable energy production.
Romania has a strong workforce with high skillsets, which are needed for the IT industry.
Poland
Poland is a country in Eastern Europe that has a good reputation for IT outsourcing. The reason why Poland is one of the top outsourcing countries is that it has a large population, which means there are many skilled workers to hire.
The Polish language is also spoken by many people around the world, which makes it an attractive option for international companies looking to outsource their work.
Another reason why Poland has become such a popular destination for IT outsourcing is because of its low costs and high quality of living standards.
The Polish government has also been proactive in providing incentives and support to foreign investors and entrepreneurs, which has helped create a more welcoming environment for business development. This includes tax exemptions for companies. It offers subsidies for research and development for small-to-medium enterprises as well.
Bulgaria
Bulgaria is a country with a population of 7 million people. The country is often considered the best country to outsource software development and has attracted more than 120 international companies from all over the world.  If you are looking to outsource IT jobs, check en.dev.bg.
Bulgaria has many common competitive advantages like:
Cheapest destination for software development.
Highly educated workforce.
Low taxes and a favorable business environment.
The country has the lowest labor costs in Eastern Europe, with the average hourly wage for programmers at $10. Bulgaria also has an educated workforce and an English-speaking population of over six million people, which makes it a prime location for foreign companies looking to outsource IT jobs.
Hungary
Hungary is known for its well-developed IT infrastructure and a high-quality workforce.
The country's low labor costs and geographical proximity to Western Europe make it an attractive destination for outsourcing services.
In recent years, the number of multinational companies that have chosen to outsource their IT departments to Hungary has increased significantly.
There are many reasons why companies choose Hungary as their outsourcing destination. Some of the reasons are:
Lower wages in comparison with other countries in Eastern Europe.
Hungarian developers are also skilled and well-educated.
Citizens have a good understanding of Western European languages and they can easily adapt to the needs of the company on a global scale.
Summary
Today's outsourcing environment is filled with new opportunities to achieve innovation and competitiveness for BPO companies.
As the COVID-19 crisis has imposed a remote working model, the nature of workplace relationships has changed to hiring through virtual meetings and signing contracts without face-to-face interactions.
As of now, remote work culture provides even more opportunities for access to global talent from the most cost-effective locations.
In this respect, the Eastern European region remains one of the fastest-growing destinations where to outsource software development. Thanks to an abundance of experienced engineers and low labor costs, BPO companies can support their strategic goals, embrace flexibility, and adapt to the new normal faster.
SEE ALSO: 
Xpeng Teases Two New Cars – One Will Compete With The Tesla Model Y
Amazon to Shut Down Amazon Care at the End Of 2022
Amazon Prime Video Launches in Thailand
Prospects for the Development Of Mobile Applications For Business