Russia-Ukraine War: Ukraine Gradually Restores Power after Russian Strikes on Grid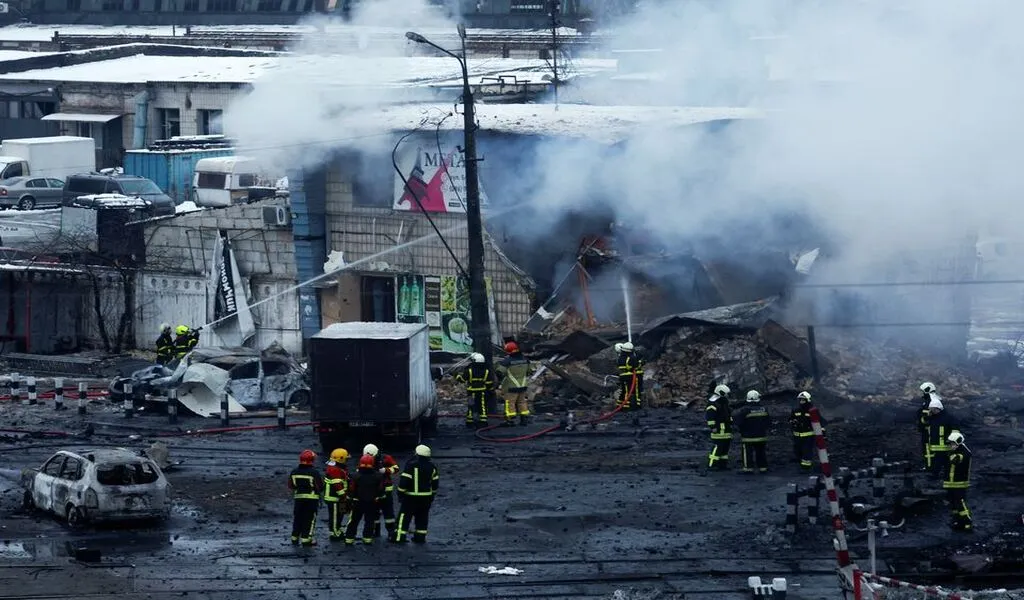 Russia-Ukraine War: The reconnection of the nation's four nuclear facilities helped Ukrainian officials gradually restore electricity on Friday, but millions of people remained without power after the most catastrophic Russian airstrikes of the conflict.
Ukrainian President Volodymyr Zelensky urged people to save electricity. In an evening video message, he clarified that just because there is energy doesn't imply you may use many powerful electrical gadgets at once.
He said six million people, or half as many as there were immediately before the Russian attack on Wednesday, were still without electricity. Millions of people were left without heat, light, or access to water as a result of the assaults, which resulted in the conflict's greatest devastation yet.
30% of electrical supplies were still unavailable, according to the national power grid operator Ukrenergo, who urged consumers to use less energy. A Telegram message said that "repairs personnel are working around the clock."
On Friday, Zelensky travelled to the Ukrainian village of Vyshhorod to see a four-story structure that a Russian missile had hit. Additionally, he went to one of the several emergency facilities to provide heat, water, power, and mobile communications.
"Together, we can navigate this challenging route for our nation. We will conquer every obstacle and unquestionably prevail. "In a previous video message, he said.
Moscow claims that the strikes on essential infrastructure are acceptable from a military standpoint and that if Kyiv submits to Russian demands, its people's misery may end. According to Ukraine, assaults meant to inflict suffering on civilians constitute war crimes.
A European Union official says the EU will help Ukraine restore and maintain its electricity and heating.
According to the chairman of the European Commission, the European Union will increase its efforts to help Ukraine restore and maintain its access to electricity and heating.
Russia says the "special military operation" that began in late February does not target civilians. According to international human rights experts, that is impossible to reconcile with assaults on public infrastructure.
Volker Turk, the head of the U.N. human rights office, said, "millions are being thrust into severe poverty and dreadful circumstances of existence."
In what President Vladimir Putin has referred to as a fake nation formed out of Russian territory, Moscow claims it began its operation in Ukraine to defend Russian speakers there.
During a televised meeting with mothers of troops, he remarked, "Russia is first and foremost about people, their culture, their customs, and their history, which is handed down from generation to generation and absorbed with mother's milk."
Putin claimed to understand the women's suffering and reassured them that their solidarity is "the biggest guarantee of our triumph."
Putin, according to Ukraine and the West, lacks legitimacy for what they call a conquest-oriented conflict.
According to his office, British Foreign Minister James Cleverly visited Ukraine and promised millions of pounds in further help.
On the way, Cleverly ran into Zelensky and denounced Russia for its "brutal assaults" on hospitals, energy infrastructure, and people.
According to a Friday post on the Hungarian news website index. hu, Katalin Novak, the president of Hungary, was going to see Zelensky in Kyiv.
Russia, according to Kyiv, has been continuously shelling Kherson, a city in southern Ukraine that it abandoned earlier this month. In the previous six days, 15 people had been murdered, and 35 had been injured, according to the chairman of the local government on Friday.
The 27-nation union is divided over a Group of Seven plan to control Russian seaborne oil prices even while the EU is drafting new penalties to impose on Russia. According to EU officials, a Friday meeting that discussed the concept has been cancelled.
Nuclear Plants Reconnected
Two days after the assaults caused them to shut down for the first time in 40 years, the International Atomic Energy Agency reported that the three nuclear facilities in Ukrainian-controlled territory had been reconnected to the grid.
The fourth station is in Zaporizhzhia, under the Russian administration. On Thursday, it went online once again.
The conflict, according to Kyiv, reflects what it regards as historical animosity against Ukrainians that dates back to the Soviet and imperial eras.
Ukrainians will commemorate the Holodomor famine's 90th anniversary this week.
Soviet leader Joseph Stalin sent police to freshly collectivized farms in November 1932 to take all food, cattle, and seed required to sow the next harvest.
Timothy Snyder, a Yale University historian, describes the subsequent months as "obviously orchestrated mass murder" as millions of Ukrainian peasants starved to death.
Germany's Bundestag is anticipated to vote resoundingly in favour of recognizing it as genocide after this week's actions by Ireland, Romania, and Moldova.
Russia disputes the claim that the killings resulted from a planned genocide, arguing that the starvation also affected Russians and other ethnic groups.
Russia-Ukraine War Live | Missile Strikes Kherson City
More in: Ukraine War