New Years eve Food – 10 Best New Year's Eve Foods to Celebrate 2022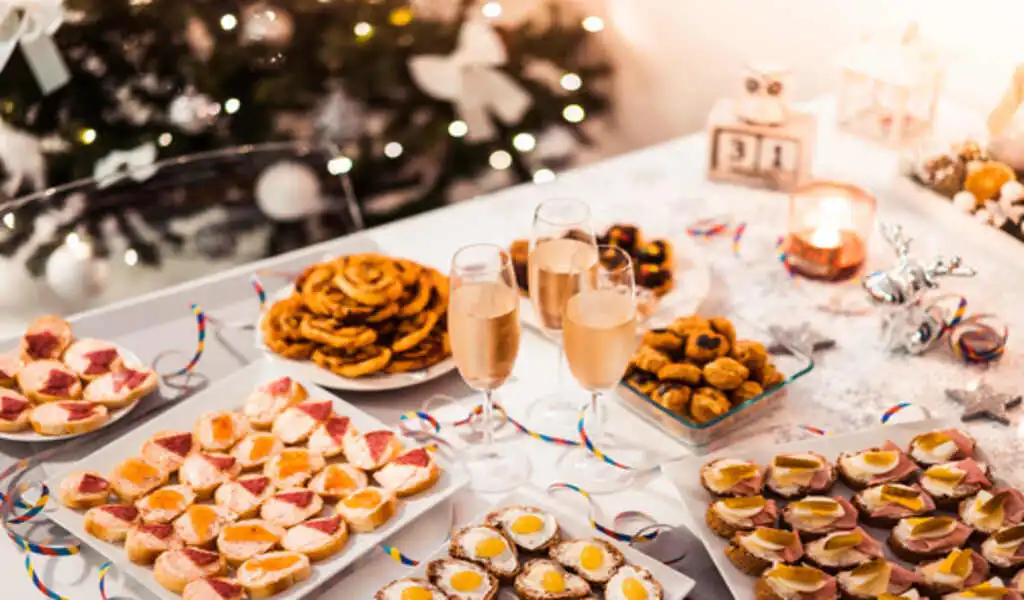 New Years eve Food: Each person has their own criteria for what makes a great holiday. For us, it's all about the food. Hanukkah without latkes or Thanksgiving without turkey? The same applies to New Year's Eve appetizers. It doesn't just have to be the typical appetizers. Cheese and crackers can be left at home (but don't fret, we have plenty of cheese recipes below), and veggie trays are not needed.
Here is the List Below 10 Best New Year's Eve Foods to Celebrate 2022
1. Caprese Skewers
One of the best New Year's Eve Food recipes involves mozzarella, tomatoes, basil, and cantaloupe (trust us). Pro tip: Serve your skewers with balsamic glaze for an additional flavor boost. (It's also great for homemade pizza!)
2. Corned Beef Cheese Balls
Although this app is not for vegetarians, if you are a meat lover, you will love this recipe for corned beef. It's decadent enough to feel holiday-like, and it might even be healthy thanks to the green onions.
3. Cocktail Meatballs
We're all about simple meals. The quality of the food should not suffer because no one has time to spend hours in the kitchen. New Year's Eve should not be complete without these tasty meatballs. They can be crock potted while you enjoy your guests and, um, cocktails.
4. Artichoke Spinach DipThis
The following dip recipe is mostly cream, cheese, and more cheese, so vegans should keep scrolling if they want vegan New Year's Eve appetizers. It's sour cream, mozzarella, and Parmesan that you'll need. If you eat this, you'll be exhausted.
Kraft will pay you $20 if you Don't Make Cheesecake this Holiday
Some Different Type Of Cakes To Celebrate Your Parent's
5. Balsamic Bruschetta
How should you eat your veggies? With bread, of course. Especially on New Year's Eve. On your favorite slices of bread, pile the tomatoes, garlic, and balsamic together. We'll have sourdough, please.
6. Queso Cheese Dip
The word is cheese. Chipotle, who are they? Cheese dip is delicious and easy to make at home. It doesn't take much skill to make. There are only a few ingredients you need: cheese, spices, peppers, and onions.
7. Southern Baked Brie
You might consider serving this as one of the more elegant New Year's Eve Food appetizers. We mean it in the best possible way when we say Brie is among the more bougie cheese options. Think of this as a cheesecake, but literally (!) because it is cheese shaped like a cake. It's warm, gooey, and sweet since it's topped with sugar. Drooling is not the only thing going on right now.
8. Crab Boil
For your New Year's Eve snacks, you don't have to travel to Louisiana to enjoy an authentic crab boil. It may not even require you to leave your house. Take advantage of the Cajun flavors this season and step outside of your comfort zone. Bonus points to this sound for being #onbrand.
9. Bacon Jalapeño Cheese Balls
Is there a time when you read an appetizer's name and love every single word? What about bacon? Certainly. How about jalapenos? Make sure. How about cheese balls? Countless checks. Everything tastes better with cheese.