5 Tips for First-Time Travelers to Riyadh, Saudi Arabia
Saudi Arabia is a country on the Arabian Peninsula in Western Asia. It is officially known as the Kingdom of Saudi Arabia. It is the fifth-largest country in Asia that covers a land area of approximately 2,150,000 km². It is the largest country in Western Asia while the second-largest in the Arab world.
The tourism sector of Saudi Arabia is loaded with excitement. The country has many airports and you can rent a car at Riyadh airport for visiting the country.
The country allowed citizens from 49 countries to enter the country without a visa. A tourist can stay in the Kingdom for a period of 90 days. The visitors can discover Saudi Arabia's rich culture, diverse landscapes, and incredible attractions in this short time.
The experience of the trip to the middle will be thrilling as it has lots of locations for sightseeing. Embracing Saudi traditions and culture is part of the adventure! The experience of a Saudi trip is very different from European, Asian, or American countries.
1. Tourist visas
Saudi Arabia grants visas to the citizens of 49 countries on arrival. Tourists can cross-check the eligibility for getting a visa on the website. If you wish to visit the Kindom of The tourism sector of Saudi Arabia is loaded with excitement. The country has many airports and you can rent a car at Riyadh airport for visiting the country. then you can apply for a visa on the official website of tourism Saudi Arabia.
As per the new rules, a visitor can get a visa for one year with multiple-entry visits. The visitor can stay in the country for a period of 90 days at one time. All tourists must hold a passport with validity for at least six months.

2. Travel Insurance
Travel insurance is one of the most important things to get during a visit to a foreign country. The most prominent reason for buying insurance during Saudi Arabia's visit is the expensive healthcare for foreigners in the Kingdom.
Some airlines offer medical insurance for healthcare at affordable prices. Research about a travel company that provides credible and affordable companies for international travel insurance. There are numerous insurance companies, that do research online.
3. Language
A language is an important tool for getting for understanding any place in detail. The local and official language of the Saudi Arabians is Arabic. It is the official language of the Kingdom of Saudi Arabia. But Visitor does not need to worry about the language barrier as there are lots of them who speak good English or at least can understand enough
English that can make your stay in the kingdom easier. The kingdom has all the sign boards written in both English and Arabic for making life easy for foreigners to get around. well, it is very easy for foreigners to stay in Saudi without knowing the local language but knowing some key phrases will not harm them in any way, it will only going to make their stay more blissful.
Some most common but important key phrases of Saudi Arabia:
Arabic words & phrases that are good to know
Hello and goodbye – Assalam alaykom
Yes – na am
No – la or kalla
I want a taxi – ureed sayaratt ujra
I want to get to [location] – Ureed an Azhab Ila [location]
Thank you – shukran
Thank you very much – Shukran jazeelan
Welcome or you're welcome – Ahlan Wa Sahlan or Hayak
Can I take a photo? – Momken asawwar
Excuse me – Afwan
4. Dress codes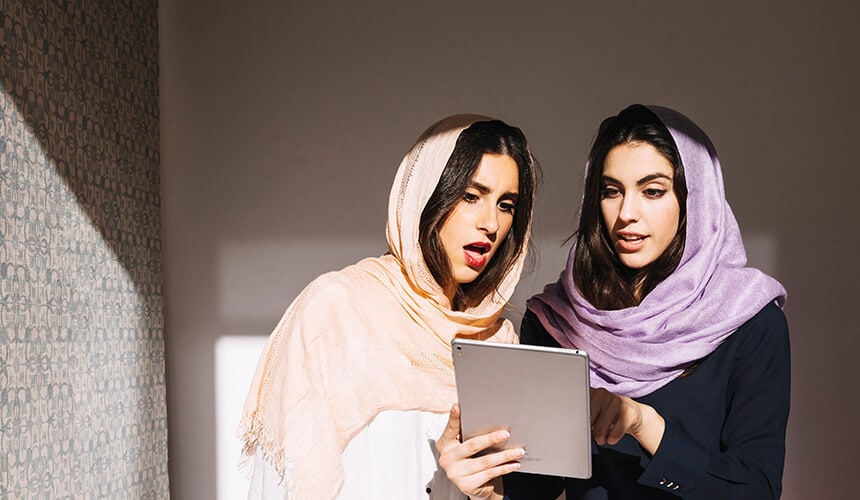 It is the most important tip for your Saudi Arabia trip as it is an Islamic country and there are certain rules for dressing for local people along with foreign visitors. Saudi Arabia's dress codes can be a bit intimidating for visitors. Earlier women need to wear full-length dresses or robes in public places but now the rules are easing up.
Foreign women have more freedom to wear cloth that must cover their shoulders, arms, and legs. Most private beaches permit ladies to wear swimming outfits, such as a one-piece bikini swim suit is suggested.
Visitors to the Kingdom are supposed to follow clothing regulations in public places. Police can question guests and request them to change apparel as per clothing regulations.
5. Public decency
The Saudi government has many rules for visitors. Every visitor must follow these rules otherwise they can be charged a hefty fine.
Acts of public sexual harassment
Playing loud music in residential areas
Placing racist stickers on cars
Distributing ads in public without a license
Starting fires in authorized places during safaris
Playing music during prayer times
Threatening people verbally or through gestures
Cutting in line in public venues
Shining laser pointers into people's eyes
Taking people's pictures without their permission
Taking pictures of a traffic accident without permission from the parties involved in the accident
Littering
Failing to remove pet waste
Occupying seats designed for people with disabilities
Bypassing barriers to entering public places
Wearing an improper dress in public, such as underwear or pajamas
Wearing shirts that display nude pictures
Wearing shirts that display phrases offending public decency
Writing and drawing on the walls of public places

Getting there & getting around in Saudi Arabia:
Saudi Arabia's government has invested a lot in making the commute to and from the country very easy. It has several international, regional, and domestic airports. All these investments are done for making the country's tourism sector more profitable. So once you get your visa approved, pack your luggage and enter through one of the following airports.
International airports in Saudi Arabia
King Khalid International Airport (RUH) – Riyadh
King Abdulaziz International Airport (JED) – Jeddah
King Fahd International Airport (DMM) – Dammam
Prince Mohammed bin Abdulaziz International Airport (MED) – Madinah
Prince Abdulmohsin Bin Abdulaziz International Airport (YNB) – Yanbu
Al-Ahsa International Airport (HOF) – Al Ahsa

Top Hotels In Riyadh:
Tulip Inn Riyadh
Golden Prince Al Sulaymaniyah Hotel
MENA AL DIYAR 114
Reef Al Malaz Hotel International
Al Hamra Palace by Warwick
Hyatt Buyutat Apartment
Aliah Tolan Palace
HDB Sahafa
Nuzul Mena 109
Golden Tulip Qasr Al Nasiriah
Aliah Tolan Palace
Obaer Hotel
Golden Prince Al Sulaymaniyah Hotel
Towlan Suites 1
Silent Room 3 By Quiet Rooms