How to Spend a Weekend in Chiang Rai
.
Chiang Rai is often compared to what Chiang Mai was like years ago before tourism boomed and saturated the local community. This Northeast Thailand gem sits within the heart of the Golden Triangle just a mere few hours from the borders of Laos and Myanmar and a scenic four hour bus ride through Doi Luang National Park from Chiang Mai.
Out of the way for most travelers, Chiang Rai has remained unspoiled by the robust influx of tourism. It boasts contemporary Asian urban flair with an artistic and hippie-esque ambiance while retaining Thai authenticity. I set down roots in Chiang Rai after backpacking around Southeast Asia for five months. You can get a taste of the small town expat life here and how the expats and locals have peacefully integrated, living side by side in harmony.
Before I moved to Chiang Rai, a spontaneous weekend visit while traveling was enough to make me fall in love with its quirky charm and creative vibes. What does a weekend in Chiang Rai look like? Sit back, close your eyes and take my hand. Let's go on a Chiang Rai adventure.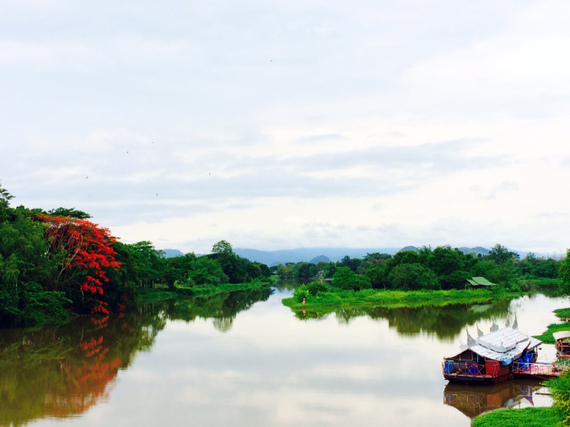 First, we travel there on the back of an elephant…
Just kidding folks, I know riding elephants is a touchy subject; Chiang Rai has its own international airport if you'd rather fly. The popular option is to travel by bus from Chiang Mai. Purchase your ticket at the Green Bus counter in Arcade Bus Station. They have regular buses leaving throughout the day.
Transportation Tip: Renting a motorbike for the weekend allows the most freedom, but if you want to get around using local transportation, take the blue songthaews for 20-30 baht 50 cents- $1) per person.
WAKE UP. We're in Chiang Rai! Let's find a place to stay…
The bus station in Chiang Rai is located in the heart of the city center. You can find plenty of accommodation options at reasonable prices, whether you seek a dorm, guesthouse or hotel room. Here are my top recommendations:
Friends House Chook Dee: This is my ultimate hostel recommendation, conveniently located in the city center, just a 10 minute walk to the bus station. Chook Dee isn't your typical Thailand hostel. The crew that runs the place have made it into a chill hangout where friends- whether local Thai regulars, expat regulars or backpackers gather to relax, drink and kick it. There are dorm and private rooms available.
Chian House: It's tricky to find this teak wood Lanna style abode-turned-guesthouse, because it's tucked away in a Thai neighborhood. There are soi dogs roaming the street, children playing, neighbors gossiping outside their homes and stores or they're enjoying beers while watching football on TV. Chian has a quirky pack of guests- some are long term travelers, expats or weekenders. Nevertheless, everyone is family! They offer some tasty Thai and western fare enjoyed community style in the evening, a swimming pool and private rooms and bungalows.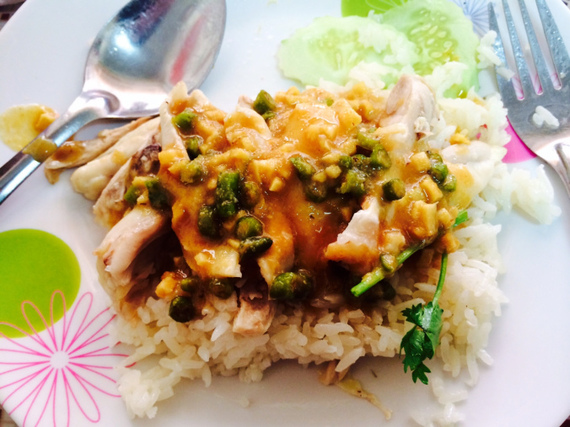 I'm hungry, let's eat
The dining options in Chiang Rai are diverse and delicious. Coconuts Bar may look like just a…well, bar…but you'd never guess that their curries are out of this world. The Panang curry is the best I've savored thus far, or any of the indian curries for that matter.
For both Thai and western dishes, especially brunch, Chivit Thamma Da is a MUST. Dress cute and bring your camera because the setting is like something out of a fairy tale. Sit outside the rustic, shabby chic style farmhouse along the tranquil Kok River and dig into their smoked salmon benedict on crispy potato pancakes. For dinner, get lost in the aromatic flavors of the North Thai pork curry and don't forget to indulge in a creamy slice of homemade lemon cheesecake.
If you want some super tasty, cheap local Thai food then you need to visit this family run establishment. The khao man gai (chicken and rice) and tom yum soup are superb, all for around 40 baht ($2) a dish.
It's Friday night, time to dance
Chiang Rai nightlife isn't overrun by backpackers, elephant pants and face paint. On Jetyod Road, there is a string of bars with a mix of expats and locals. Peace House is a favorite for live music on Friday nights, where talented reggae band Croissant fills the air with the sweet sounds of Pink Floyd and Bob Marley. Peace House is as laid back as it gets, with a beautiful sitting garden for guests to enjoy drinks and socialize.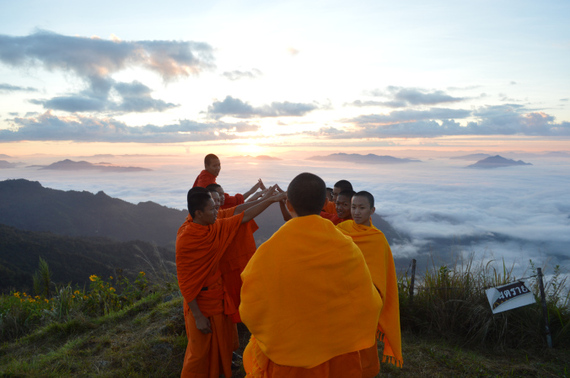 Let's get out and explore
Chiang Rai is best known for the White Temple and Black House. Nationally recognized Thai artists showcase their eclectic architectural styles with earthbound renditions of heaven and hell.
If sightseeing isn't your jam, nature reigns supreme on the city outskirts. Drive a motorbike into the mountains past rice paddies and trek through misty jungle to cleanse yourself in one of many gushing waterfalls. In Mae Salong the sprawling tea plantations offer breathtaking panoramic shots and just a couple of hours away, climb up into the heavens, where the village Phu Chi Fa sits far from the rest of the word. Wake early and witness a stunning sunrise from above the clouds.
Or, we can do some shopping
Saturday walking street in Chiang Rai isn't a night market filled with cheap knock offs and Chang tank tops. The market is a weekend pastime enjoyed by the Thai community and visitors alike. City center streets are blocked off every Saturday evening and it seems like everyone in Chiang Rai is there. A Thai band plays traditional music (not 90s English covers) while Thais old and young enjoy dancing around the stage.
You'll find one-of-a-kind arts and crafts for sale that you won't see in other markets, and Chiang Rai is a thrifters paradise for trendy second hand clothing at cheap prices. I bought a dope pair of overalls for only 100 baht ($3)! The food vendors are plentiful, offering every Thai delicacy imaginable. Try the spicy som tum (papaya salad), North Thailand sausage and the small pancakes stuffed with tasty fillings such as Thai custard and fruit.
Courtney Lambert Travel writer and adventurer with the Huffington Post

Want to learn more about my travels through Southeast Asia? Visit her travel blog: A Great Perhaps