Health Minister Defends Covid-19 Liability Immunity Decree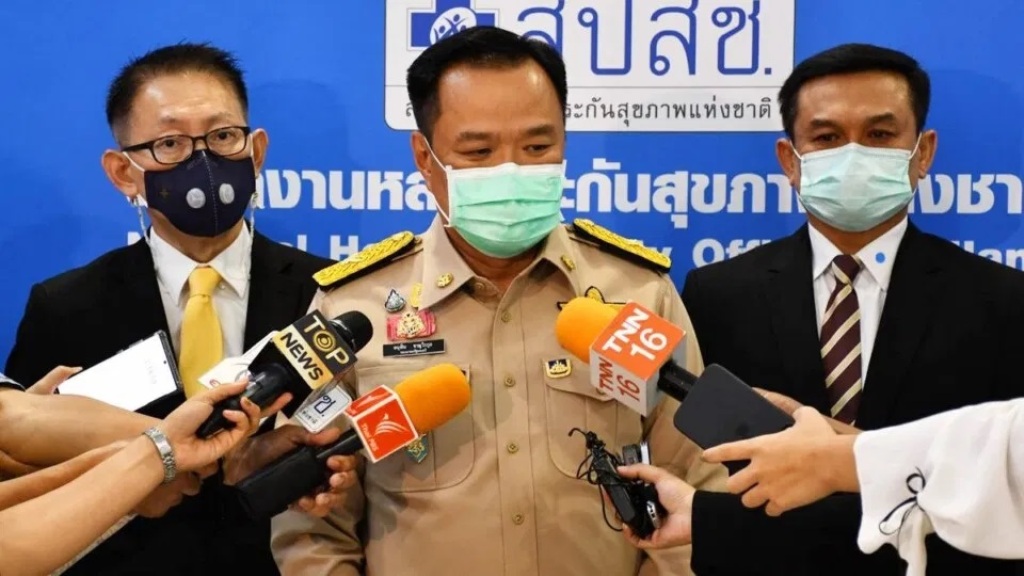 Thailand's Public Health Minister has defended a proposed executive decree that will protect the government from civil litigation over their handling of the pandemic.
The executive decree would limit liability involving Covid-19 medical services, management and could also  be used to shield policymakers.
Minister Anutin Charnvirakul responded to questions raised the opposition Move Forward Party on Friday after they claimed to have obtained a draft of the decree granting a "semi-blanket amnesty" to government officials.
Mr Anutin said the Covid-19 situation had worsened which has put a strain on medical services and treatment efforts under limited resources.
He told the Bangkok Post the executive decree would cover people at the management and operational levels as long as they have done their best so they don't have to worry about being sued later, making no mention of policy makers.
"If people perform duties honestly, are not seriously careless and treat everyone indiscriminately, they won't face charges," said Mr Anutin. However he did not mention who would determine no liability.
He added that the protection also included negotiators or procurers of Covid vaccines for Thailand. "If they act in good faith and their decisions are based on academic knowledge at the time, the law also protects them," Mr Anutin said.
The executive decree has yet to be put up for hearing of opinions among related parties in Thailand.
The Importance of health workers
Thares Krassanairawiwong, director-general of Thailand's Health Service Support Department, which is in charge of drafting the executive decree, said that morale and courage of health officials were of paramount importance in the wake of an unprecedented pandemic.
He said the executive decree would protect all public health personnel in Thailand, including operators of public, private, field hospitals and policy makers.
On vaccines, he said the knowledge changed all the time, hence the need to protect those in charge of immunisation.
"For instance, we first agreed on two shots [of the same vaccine] but we discovered later mix-and-match regimens work as well. The same goes for treatment. It needs to be dynamic based on the knowledge at a given time. [The coverage] would give operators confidence to do the best they could," he said.
Dr Thares added the protection would not apply to all cases. It would, however, be within the large frameworks of acting honestly and without gross negligence.
Liability only for healthcare workers
Mr Wiroj earlier wrote on Facebook that while he agreed that coverage from service liability was important to protect staff at operational levels, he did not believe the amnesty should automatically cover decision-makers at the policy level.
In his view, it needs to be established first that their decisions had not contributed to the deteriorating Covid-19 situation.
According to the draft shown by Mr Wiroj, the protection is for medical workers and health volunteers in Thailand, as well as "people or groups appointed to procure or manage vaccines".
In principle, he wrote, protection from criminal, disciplinary and civil liability should be limited to frontline medical personnel who have done their best honestly and indiscriminately given limited resources.
"But the fact is that we can't deny the pandemic, which has spiraled to levels seen today, was partly due to decisions made even when [adverse] consequences were quite predictable," he wrote.
He cited as examples the failure to diversify risks in vaccine procurement, slow vaccinations, lack of systematic and database management, and ineffective disbursements of budgets for medical equipment, medicines and supplies.