Ultimate Guide to ImgUpscaler: The Latest in AI Image Upscaling Technology
In today's fast-paced digital world, image quality is everything. Having high-resolution images is crucial Whether for personal use or professional projects. Enter ImgUpscaler, the smartest solution for upscaling multiple images in a jiffy. Let's dive into what makes this tool a game-changer in the realm of AI image upscaling.
ImgUpscaler: Redefining AI Image Upscaling
ImgUpscaler emerges as a paramount solution for those pursuing impeccable image quality in the ever-evolving digital realm. But what exactly is ImgUpscaler?
ImgUpscaler is an avant-garde image upscaler specifically crafted to upscale and refine your PNG and JPG images. Utilizing the forefront of AI image upscaler technology it ensures that every upscale image boasts an unmatched quality without the usually accompanying extensive wait.
Let's delve into the standout features that make ImgUpscaler a must-have for anyone aiming to elevate their photo resolution without compromising the original charm: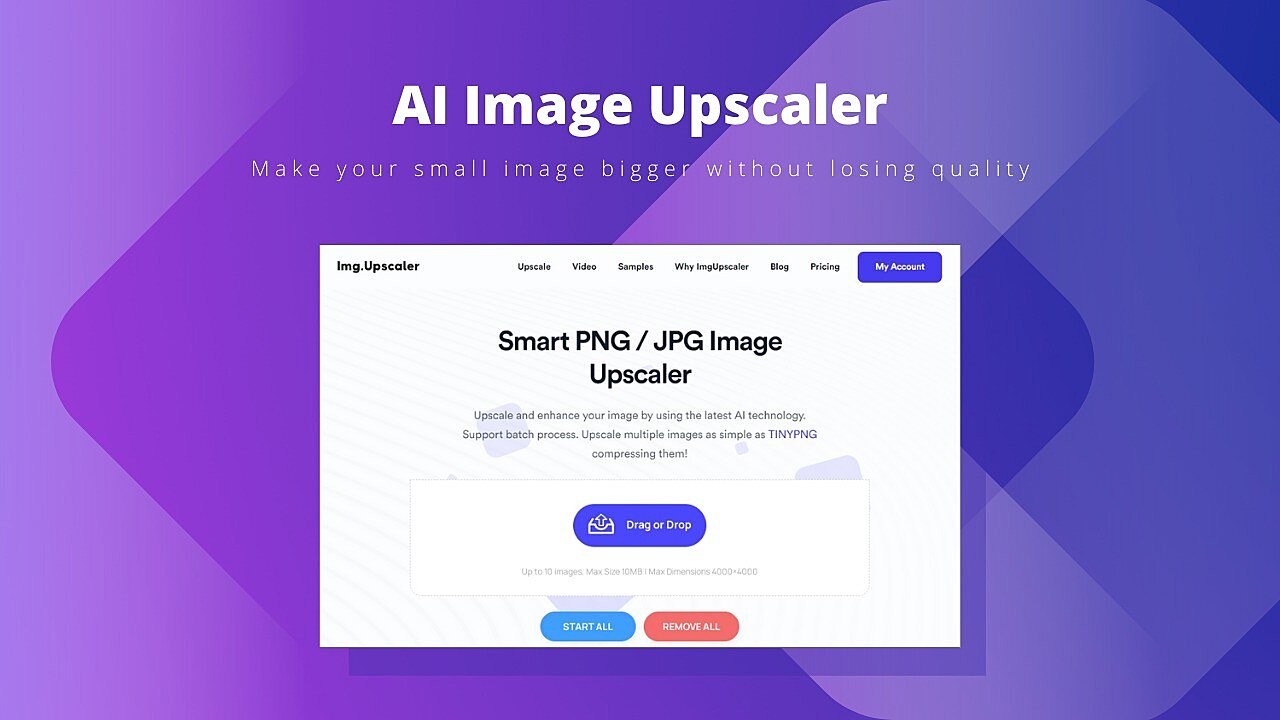 What are Key Features of Imgupscaler
Batch Processing for Multiple Images
Have a collection of snapshots you wish to upscale? ImgUpscaler acknowledges the demands of today's digital enthusiasts. You can upscale images in batches, handling up to 5 at once, ensuring you save time while optimizing many memories.
State-of-the-art AI & Super-Resolution Technology
No longer must one choose between speed and excellence. With its integration of the latest in AI and super-resolution techniques, the process of upscaling images happens in a blink, preserving every nuanced detail.
In-depth Image Editor
Beyond just upscaling, ImgUpscaler presents a powerful editing suite. Whether it's cropping, adding annotations, or many other editing tools, it ensures your images aren't just larger but aesthetically more appealing.
Privacy as a Priority
In an age of data breaches, ImgUpscaler stands firm in its commitment to users. Every upscale image is removed within 24 hours, ensuring your personal snapshots remain personal.
Empower Commercial Projects Free of Cost
Venturing into commercial endeavors? Every image enlarged and enhanced using ImgUpscaler is free for commercial use. No hidden charges, no fine print, only impeccable image quality for your professional pursuits.
Magnify Resolution Without Compromising Quality
Elevate your photo resolution without the dread of pixelation. With the capability to boost image resolution by up to 400%, ImgUpscaler promises that every image enlarger process retains clarity and detail, delivering an enhanced image without losing its inherent quality.
ImgUpscaler vs. ImgLarger: The Battle of the Giants
In the digital imaging domain, ImgUpscaler and ImgLarger stand out as colossal players. While birthed from the same innovative minds, their purposes and strengths vary, especially when you aim to enhance image quality or upscale without losing quality.
Why ImgUpscaler was Born?
ImgLarger, with its reputation as a comprehensive AI photo enhancer, goes beyond just increasing image resolution. It can transform photos into sketches or cartoons and offers a broad spectrum of image enhancements.
However, the modern-day demand for faster, bulk AI image upscaling led to the inception of ImgUpscaler, designed specifically for users wanting to upscale multiple images online, ensuring each enlarged image retains its crispness.
Key Differences Between Imgupscaler and Imglarger
Here are the key differences:
1. Primary Objective
ImgLarger is a versatile tool, adept at various image-related tasks, from creative enhancements to improving overall image quality.
ImgUpscaler, With its core focus on deep learning and super-resolution upscaling, is dedicated to those who seek to enhance image quality rapidly, especially when working with numerous images simultaneously.
2. Speed vs. Quality
ImgUpscaler is a boon for those against the clock, it offers rapid upscaling, becoming the go-to AI image enlarger for quick yet quality results.
For those where perfection trumps speed, ImgLarger steps in. It may take its time, but the outcome is an image with enhanced photo quality and unparalleled clarity.
Deciding between ImgUpscaler and ImgLarger hinges on your specific needs: rapid upscaling or detailed perfection. Either way, both tools ensure the pursuit of enhancing images is a successful endeavor.
The Science Behind ImgUpscaler: AI at its Best
What powers ImgUpscaler to upscale images so seamlessly? The answer lies in its deep learning and super-resolution technology.
When you upscale an image online with ImgUpscaler, you're harnessing the power of advanced algorithms that predict and fill in the gaps, ensuring your upscaled image retains clarity and detail.
How to Use ImgUpscaler?
Using Image Upscaler isn't just easy—it's intuitive. Begin by uploading the desired image or images you wish to enhance.
Once uploaded, a handy slider becomes accessible, enabling you to instantly compare the original with the upscaled version. This before-and-after comparison allows you to appreciate the power of AI upscale image technology firsthand.
A crucial tip to bear in mind: the clearer and higher quality of your original image, the more impressive the upscale result. This is especially true for eliminating common issues like JPEG artifacts, ensuring you always get an image without losing quality.
Why Choose ImgUpscaler?
In a world teeming with image upscaling tools, what sets ImgUpscaler apart? Whether you're delving into professional photography or merely seeking to enhance images from recent travels or events, ImgUpscaler stands as a beacon of excellence.
Speed & Quality
It's not just about enlarging an image but also ensuring it retains its charm. ImgUpscaler's use of advanced AI image enhancer algorithms guarantees that every enlargement exudes quality. Transform low-resolution images into vibrant, detailed photos, all while keeping pesky JPEG artifacts at bay.
User Experience
With its intuitive design, users can effortlessly enlarge images. Slide to see the transformations, from the original to the enhanced version, understanding the tangible difference in photo quality.
Commitment to Privacy
In an era where data privacy is paramount, ImgUpscaler prioritizes your peace of mind. You can trust that your images are handled securely and confidentially.
Free Commercial Usage
Professionals rejoice! ImgUpscaler isn't just a free AI photo enhancer but also grants permission for commercial use. Whether it's for advertising, portfolios, or other commercial ventures, upscale without any lingering worries about hidden costs.
Tackling Low-Resolution Challenges
Low-resolution images often carry the burden of lost detail. Yet, with ImgUpscaler's prowess, you can increase image resolution and breathe life back into those faded memories or crucial project visuals.
Our Thoughts: Is it worth it?
To wrap up, ImgUpscaler is more than just another tool—it's a game-changer.
Its dedication to quality, user experience, and trustworthiness makes it an indispensable ally in enhancing photo quality, offering an unmatched solution in the realm of AI-powered image enhancement. It's definitely worth it!