Repair Damaged PDF: PDF is one of the most commonly used file formats, which Adobe developed in 1990. PDF is the abbreviation form of Portable Document Format. Sometimes PDF files may get corrupted for many reasons, and they become inaccessible, which results in data loss. Users can easily use PDF files, but they don't know how to fix any problem quickly. Here, a simple and advanced method of repairing damaged PDF files is available, allowing users to repair pdf files. We will help you fix your PDF through tools and techniques for easy PDF recovery.
The Causes of PDF File Corruption
The pdf files may get damaged during upload, download, or regular use. It has several factors why a PDF file is corrupt. Some common reasons discuss here.
Weak and poor internet connection
When a user faces a poor internet connection, incomplete downloads. As a result, files become corrupted. The user can not open the file because a poor connection damages the file structure. In this situation, they badly need to repair the file.
Virus infection
Virus or other malicious content may stay in your hard drive or USB. When users encounter malware or open bugs, the file may become damaged. So always be cautious when browsing a website and uploading anything from an unfamiliar site. You might open malicious content unconsciously, but it could harm your document quickly. 
Problems with the hard disk
Hard disk crash is one of the common problems for corrupting pdf files. Sometimes data is lost as a result of a minor collision. If the lost information is part of your PDF, it will be corrupt and will not open. A file can be lost entirely because of hard disk failure. There are many reasons
behind the hard disk failure. Such as
Poor power supply
Missing or faded sectors
System flaws
First, check your hard disk for errors before creating or receiving a pdf file.
 Sudden power breakdown
An internal system error can increase the risk of file corruption when a user transfers or shares any files. The unpredicted shutdown of the system can damage the file.
Problem with storage media
If you put a good PDF on the corrupted hard drive, USB device, or other social media, it also corrupts your file.
Use Incompatible programs on your devices.
Using incompatible programs to open the PDF can also damage users' files.
Common ways to repair PDF files
If you are worried about PDF files corruption but find no way out, don't panic. You are at the right article now. In this article, you will find your desired solution to repair damaged pdf files and recover corrupted pdf documents as well.
Method 1: Use Alternative PDF Reader Utilities
If you are facing a common problem like Adobe Reader cannot open the pdf file, you should check whether the programs used to read these PDF documents are working well or not. Try different PDF file readers, such as Adobe PDF Reader, Adobe Acrobat, etc.
Method 2: Restore an Older File Version
If you have the PDF file on your Windows 10 machine, you can use the backup utility. It will help you restore the previous versions of the pdf file. This window contains a feature that saves different versions of files if needed again. The restore proceeds with the following steps:
Open update and security in settings
Right-click on your corrupted pdf file
Then, select Properties. To find your required pdf file click on the Previous version in the properties system.
Finally, select the Restore option to restore the previously established understanding of the file.
Method 3: Extraction of Text
This method is a lengthy process than other ways, but it could be tried if necessary. In this case, the text can be extracted from the damaged pdf files.
• First, select properties from the context menu when you right-click on the pdf file.
• Choose open with,
• Then notepad
When the notepad application displays a mix of PostScript code, text, and unreadable character sets, select only the text potion and copy it in the file's blocks. Now, copy and finally paste the copied text into a new document.
Method 4: Use Professional PDF Repair Software Wondershare Repairit
Wondershare Repairit is one of the professional and best tools that can repair corrupted PDF files without difficulty. If you fail to make a solution using these basic methods, don't panic; your easy solution is here.
It is the most useful and workable PDF file Repair software with the best utility features. It can provide you with restoring all the content of the document. You can repair corrupted pdf files and make them readable in seconds through it. You can follow just three steps to fix the damaged PDF file.
Add a corrupted pdf file
Repair the pdf
Check your pdf and save it
Step 1: Add a Corrupted pdf file
Firstly, open the main interface. When you open the software on your device, your dashboard should look like this. Then you found it navigate to the file repair feature in the sidebar. Click the "Add" button, and the new browser will open. Now You can add the distorted file that you want to repair here. You can add more than one file using the "Add" button to improve.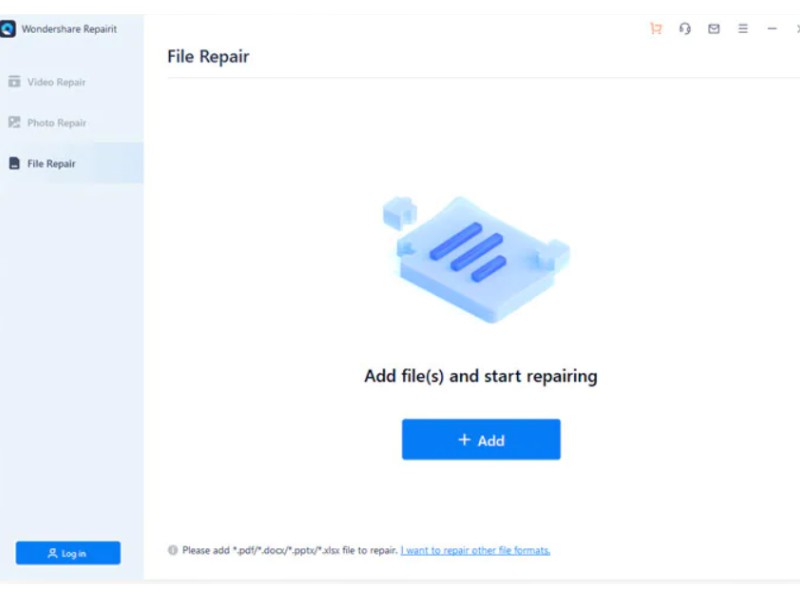 Step 2: Repair the pdf
Following 1 step, you can already add files. Then, you have to click on the Repair option to start repairing. Even if it is in progress, you can stop it anytime.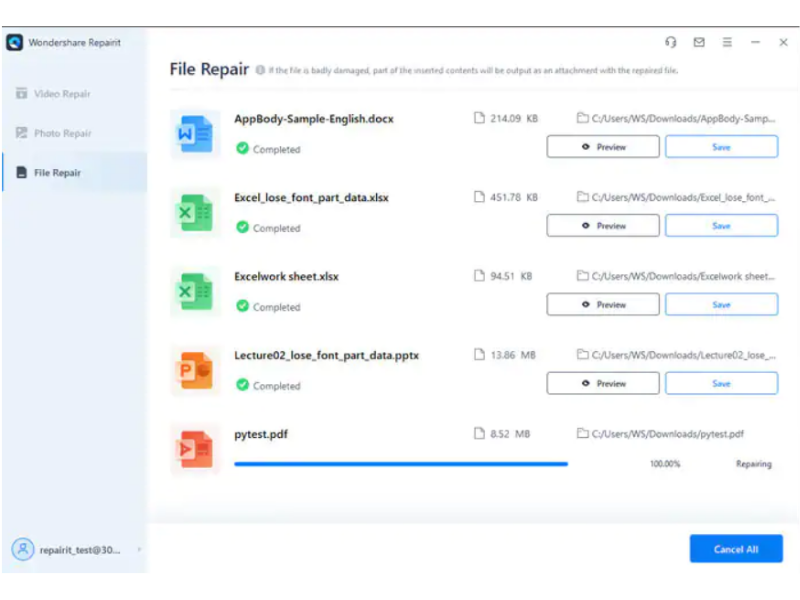 Step 3: Check your work and save
The browser will notify you when the repairing process is complete and the overall result. Then, click on the displays "Save" button to save the pdf file and define the location where it should be stored.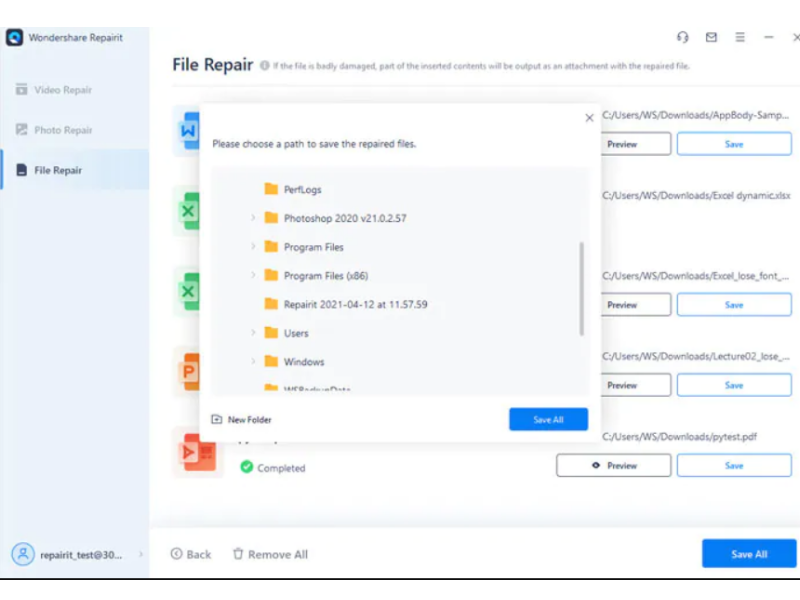 Nowadays, Repairit has become a widespread and popular intelligent software for its low cost and professional services. It is not only a file repair software, and it is the best video repair tool that repairs video in every format, both in windows and Mac. It is compatible software and supports pdf files of versions 1.2 to 1.7. Here are essential features of the Repairit video repair software:
PDF files that have been damaged variously.
Eye-catching user interface.
It supported both Windows and Mac.
There is a preview feature included.
It is a professional tool and has no limitations.
It's capable of Restoring the music, videos, graphs, hyperlinks, text, graphs, digital signatures, and other pdf file content.
Repair files, photos, and videos efficiently.
Also, PDF files are stored on external devices.
Final Words
PDF is considered the Global Standard Format for sharing and restoring information. Many people worldwide, businesses, and consumers use PDFs format to share and store news. Usually, PDF files are saved from computers or any other storage media. It may damage for many reasons, and we should know how to repair files. There is various file repair system, and we have already discussed these ways. Wondershare Repairit is the most recommended tool for repairing corrupted pdf files for all of these recovery ways. Using the device, you can improve the data very quickly.
 Also Check:
Apple Event: Details About the March 8 'Peek Performance'
4 Advanced and Easy Way How to Make Blurry Video Clearer
CNC Machining: Why is it Important in Modern Industry?
Samsung Phones have had a Flashlight feature for years on Android 13