OpenAI Introduces ChatGPT Plugins Support To Access More Recent Data
(CTN NEWS) – The "brain" of ChatGPT is set to be upgraded. A lack of knowledge about events has long constrained the bot after September 2021.
OpenAI is currently working on plugins that will give it access to more recent data and let it communicate with websites using its APIs.
No date has been established for a stable release, but OpenAi is currently accepting reservations to try it, so a general release shouldn't be too far off.
ChatGPT Plugins Capabilities
ChatGPT plugins are being added, according to OpenAI. The implementation will give the chatbot and other algorithm-using developers several capabilities.
Although the plugins are currently only in a limited testing stage, anyone can join the waitlist by registering or authenticating into OpenAI.
One of the new capabilities lets ChatGPT use the internet to research a topic before responding. Since its deployment, the software's accuracy has been scrutinized numerous times.
One of its issues is that its training data only extends through September 2021. As a result, the bot finds it challenging to respond to inquiries requiring knowledge of current events.
For instance, if you inquire about a person who passed away this year, it will respond that they are still alive as far as she is aware. A more ambiguous question that calls for current knowledge yields inaccurate responses (below).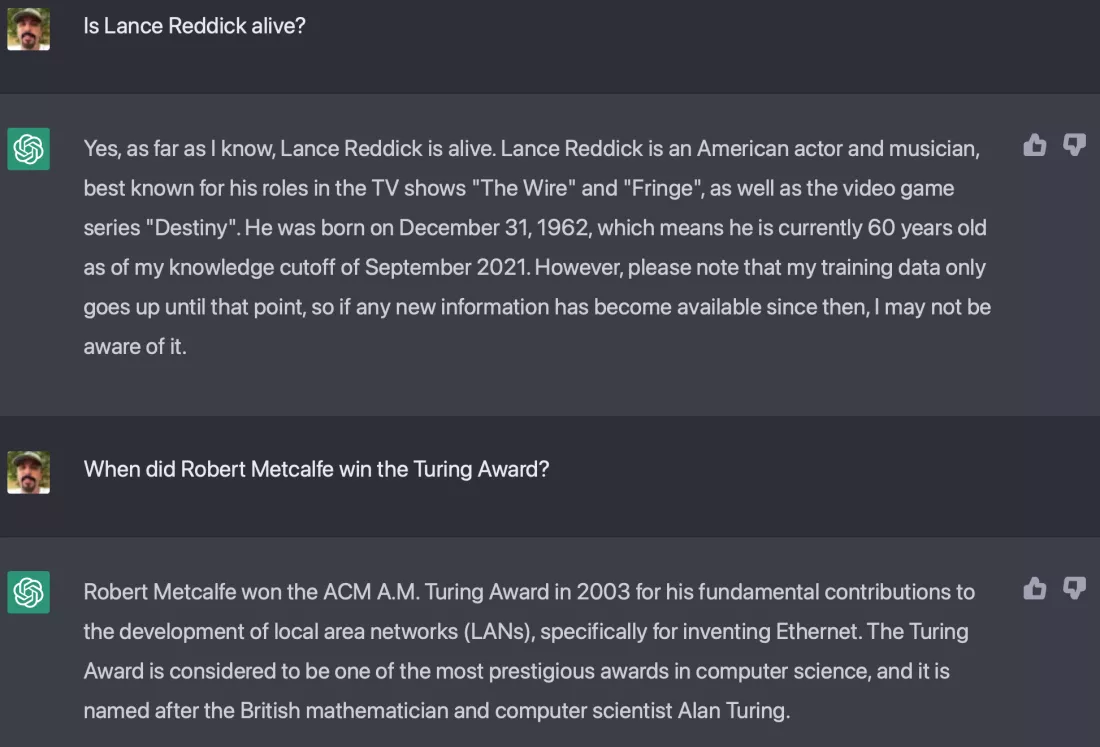 Notice that despite ChatGPT's knowledge that Alan Kay won the Turing Award in 2003 for his contributions to object-oriented programming languages, it still states that Metcalfe received it that year (instead of 2023).
Such a response is referred to as a "hallucination." When responding to specific time-sensitive requests, ChatGPT should be considerably more practical and reliable if it is given the ability to search up current information.
Plugins will enable programmers to construct user interfaces for the AI to engage with on their websites and allow the AI to browse the internet.
Greg Brockman, co-founder of OpenAI and president, demonstrated how to use ChatGPT to seek recipes and buy their supplies. It accomplishes this by acting "on behalf of the user" via utilizing APIs.
We've added initial support for ChatGPT plugins — a protocol for developers to build tools for ChatGPT, with safety as a core design principle. Deploying iteratively (starting with a small number of users & developers) to learn from contact with reality: https://t.co/ySek2oevod pic.twitter.com/S61MTpddOV

— Greg Brockman (@gdb) March 23, 2023
Whether or not it's a good idea to delegate decision-making to an AI is up for debate.
The degree of its ability to act will be crucial. It is pretty harmless to have it add items to a shopping cart and then give it off to the customer to finish the transaction.
Not so much when it comes to interacting with your bank's or your doctor's website. Nonetheless, developers, not OpenAI, appear responsible for functionality.
The beta is progressing slowly. Testing is only available to a select group of developers and ChatGPT Plus members. OpenAI has launched a line for the general public, though.
As errors are fixed, users from the waitlist will gradually be added to the beta.
RELATED CTN NEWS:
How To Become A UX Designer: Importance And Skills Required
What Is Natural Language Processing (NLP) And How Does It Work?
Relativity Space Launches World's 1st 3D-Printed Rocket 'Terren 1', But Fails To Reach Orbit