Microsoft Edge Adds New Feature To Allow Users To Stick Sidebar To Side Of The Windows
((CTN NEWS) – Microsoft Edge – Do you ever wish Windows had a second, less functional taskbar?
Microsoft is testing the option to remove Edge's Sidebar feature and connect it to the side of your Windows 10 or 11 desktop because it believes you will want to do so.
Neowin noticed that the most recent Edge canary release (114.0.1791.0) introduced a new feature that lets browser users detach the Sidebar and stick it to the side of the Windows desktop.
In the bottom-right corner of the bar, near to the Settings symbol, is a Detach button that must be clicked to complete the process.
Users can instantly access Search, Tools, Games, Office, Shopping, Outlook, and more thanks to the Edge Sidebar's customization options.
Additionally, you can 'pin' your favorite websites to it.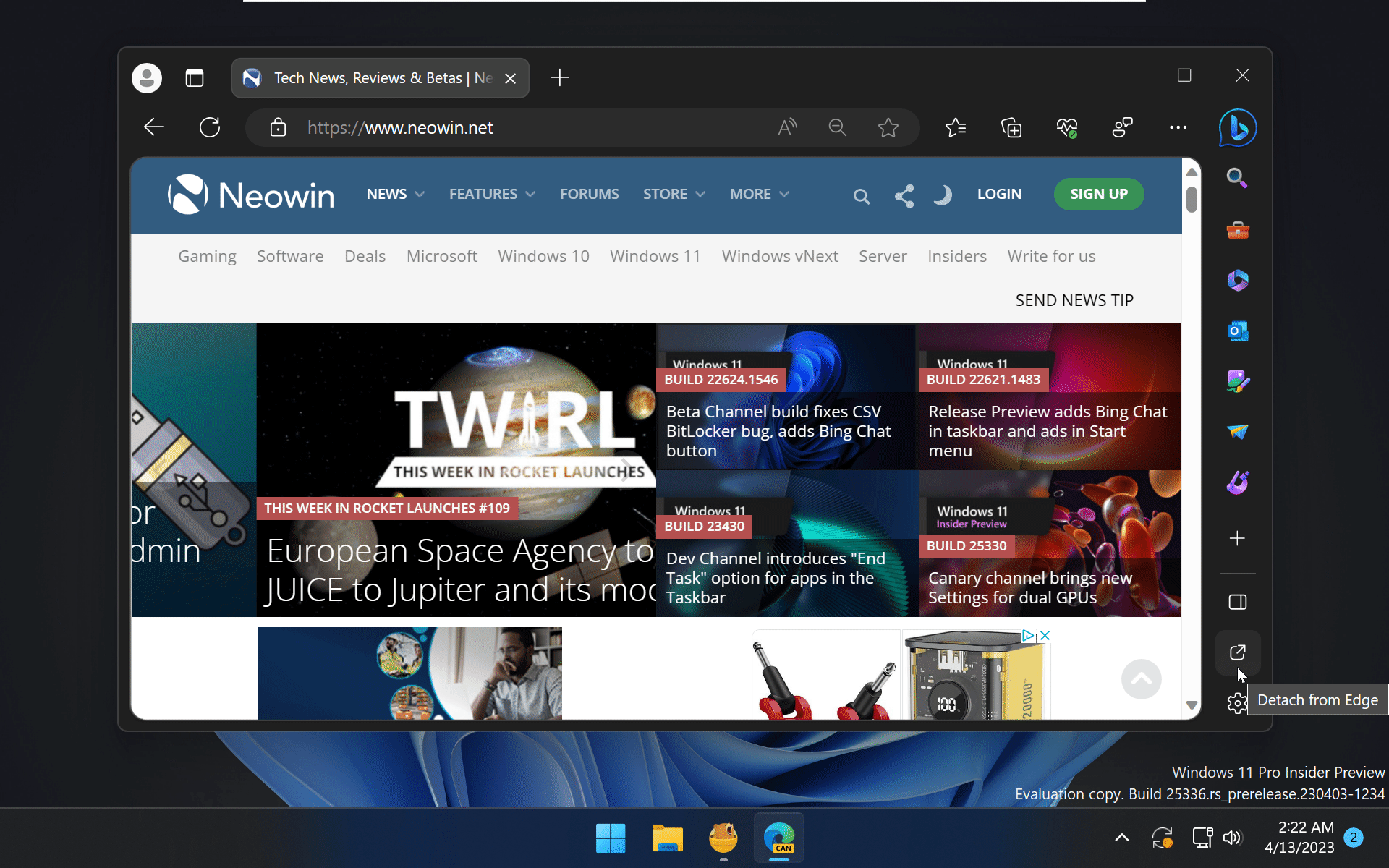 Microsoft Edge's Most Used Feature Currently Is The GPT-4-Powered "Copilot" AI Assistant
Like previous generative AIs, it can communicate, offer insights, and compose messages. On the user's request, it can also produce photos.
Some users might like the ability to pin the Edge Sidebar to the Windows desktop.
Then again, some would consider it Microsoft adding something to Windows that was not requested.
Although somewhat less intrusive than some of the improvements Microsoft frequently rolls out, this one appears to be yet another attempt by Redmond to convince users to switch from Chrome to Edge.
This year, it included an upscale for web videos that runs on AMD and Nvidia GPUs, incorporated a PDF rendering engine, and added a number of AI functions.
Microsoft's upgrades to Edge appear to be slightly raising user adoption. According to Statcounter, the browser's global market share increased from 4.46% in January to 4.64% in March.
This week, a new controversial feature that Microsoft may add to its operating system (Windows 11 only) was uncovered.
The Windows 11 Snipping Tool key appears to be what the Redmond company plans to replace the Print Screen button with.
RELATED CTN NEWS:
React Developer Tools: An Essential Extension For Every React Developer
How To Install The Android 14 Beta 1 On Your Google Pixel?
How To Transfer Files From PC To PC: 4 Different Methods To Transfer Your Files