How To Use ChatGPT On WhatsApp: Using Multiple Chatbots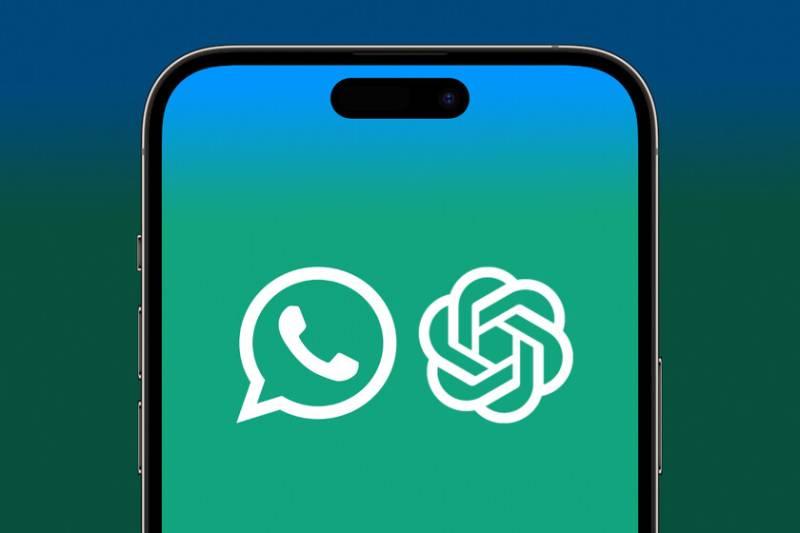 (CTN NEWS) – By this point, ChatGPT has gained access to practically all devices. The AI chatbot is widely used, from utilising ChatGPT on Siri to having it on your Apple Watch.
OpenAI's new GPT-4 language model has only sparked curiosity. ChatGPT is still a pipe dream for many Whatsapp users.
But as of right now, you may utilise the WhatsApp AI bot without going through a lengthy process. Let's get started learning how to use ChatGPT on WhatsApp right now.
Methods for using ChatGPT on WhatsApp
These chatbots can quickly become expensive if they are operated using OpenAI and WhatsApp APIs (via Twilio). To support the developers, please consider purchasing a paid tier for the chatbots below.
How to use ChatGPT on WhatsApp With BuddyGPT
We'll start with BuddyGPT, a chatbot built on the GPT platform that can also produce photos. Let's start by configuring it to use WhatsApp ChatGPT.
1. Access the official BuddyGPT website from your mobile device. Click the "Try for free on WhatsApp" link here. If the "Open" button displays, tap it.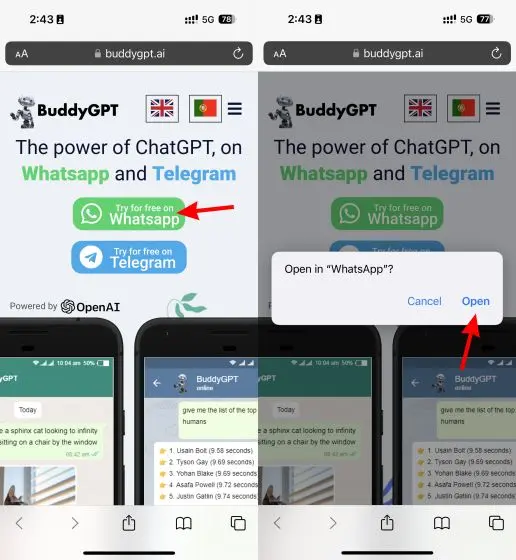 2. From the chat screen, type Hello and send it. Click "Send" after selecting your language from the hamburger menu.
3. In the next few minutes, ChatGPT will send you a few messages explaining how it works and its restrictions.
4. At this point, BuddyGPT can be used on WhatsApp. Send the prompt to the group by typing it out. BuddyGPT, in our experience, provides prompt responses with a high degree of accuracy.
You only receive 15 free messages and 5 free photos per month, so keep that in mind. For $3.92 a month, you can buy the Texty Plan, which includes 5 photos and unlimited text messages.
For a simple way to install ChatGPT on WhatsApp, visit BuddyGPT.
How to Use ChatGPT on WhatsApp With Roger da Vinci
Next, we'll use Roger, which, like BuddyGPT, enables you to use ChatGPT on Telegram and WhatsApp. Roger da Vinci is based on OpenAI's GPT-3 model and tailored for complex human dialogue.
Thus, the bot behaves like a decent hybrid of a content creator and a natural talker. The Roger AI chatbot's complete use is currently free, which is its best feature.
Follow these instructions to quickly set it up on WhatsApp.
1. You can access Roger AI's official website from your mobile device. To get started, select "Use with WhatsApp". Press the "Open" button if prompted.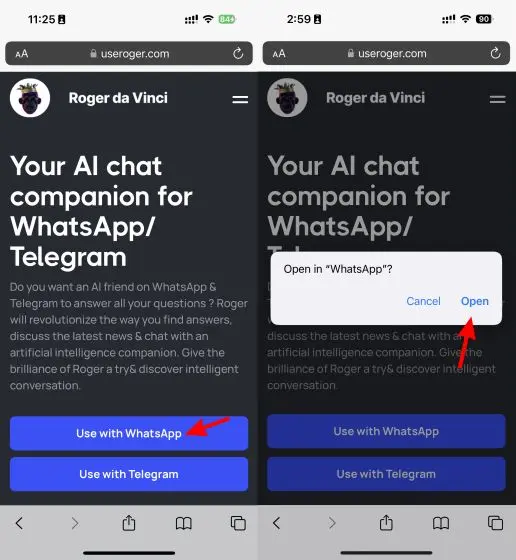 2. You will now immediately see a pre-written "Hey Roger!" message in your WhatsApp chat. Send it and the bot will accept it.
3. In order to use this ChatGPT-powered chatbot in WhatsApp, you must first register. The bot's reply contains a sign-up URL that you can access. To access the form, tap on it.
4. Enter information like your country, state, and mobile number on the form that opens. In order to finish, touch the "Sign Up" button.
5. And it's that simple. The "OK" button can now be tapped to return to Roger. You can see from the notification above that Roger has already sent me a confirmation message.
6. Roger da Vinci and ChatGPT are now available on WhatsApp. As was already indicated, the AI bot is currently completely free to use, so feel free to have any conversation with it.
How to Use ChatGPT on WhatsApp With WizAI
WizAI, another ChatGPT option on WhatsApp, is the second service we suggest. Additionally built on the GPT-3 LLM, WizAI is highly sophisticated in what it is capable of.
WizAI can create any kind of content, and you may chat with it on WhatsApp just like a friend. Therefore, apply the instructions below to configure ChatGPT on WhatsApp.
1. Click the provided link to access the official WizAI website on your mobile device. Your WhatsApp will open once you tap the "Get Started" button. When it requests authorization, press the "Open" button.
2. You can start a conversation with the bot by typing Hello and sending a message, albeit it won't exactly greet you by itself.
3. That concludes it. There is no need to register or provide any additional information. You may easily begin utilising ChatGPT and WizAI within WhatsApp right away.
Use the five free messages you currently receive by default (there used to be 100 free texts) wisely. Once you reach the monthly cap, you must pay $5.99.
How to Use ChatGPT on WhatsApp With Jinni AI
We also tried out Jinni AI, a ChatGPT-powered WhatsApp chatbot that has been incorporated into the messaging service. This is how it goes:
1. When you tap the "Launch WhatsApp" button, WhatsApp will launch. Click the Open button if it asks for your permission.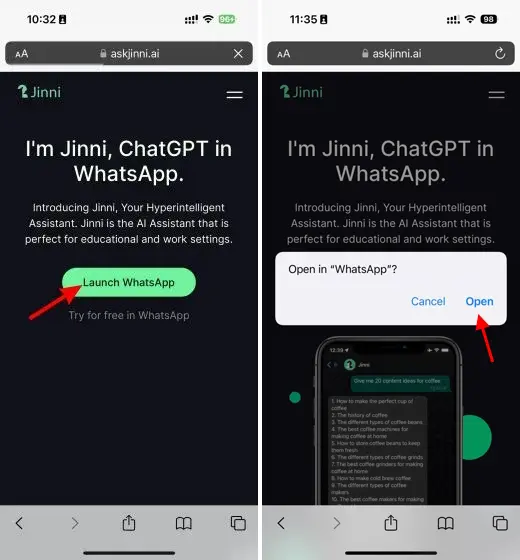 2. The Jiini chat screen will now automatically open with your Whatsapp. Just enter "Hello" and it will reply right away.
3. Afterwards, you can talk to Jinni in WhatsApp without any issues as you would in ChatGPT. You only have ten free messages left before Jinni declares you've run out of wishes. A premium subscription, however, costs $5.99 per month.
You might want to give Jinni a try and download ChatGPT to WhatsApp.
How to Use ChatGPT on WhatsApp With Shmooz AI
Our next service will be Shmooz AI, which has a bot that seamlessly integrates GPT-3 to serve as a mediator.
Although WhatsApp doesn't allow users to use their API, you can still set up Shmooz to use ChatGPT on WhatsApp by following the instructions below.
1. Click this link to access your mobile device's official Shmooz AI website. When you click the "Start Shmoozing" button, WhatsApp will launch automatically.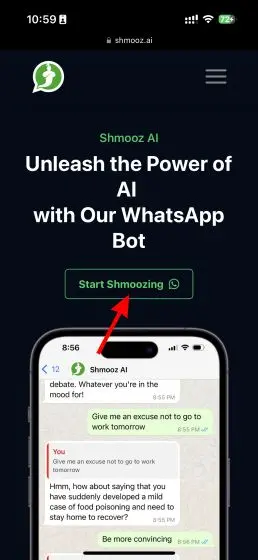 2. Click the "Continue to chat" button to be taken directly to the conversation screen.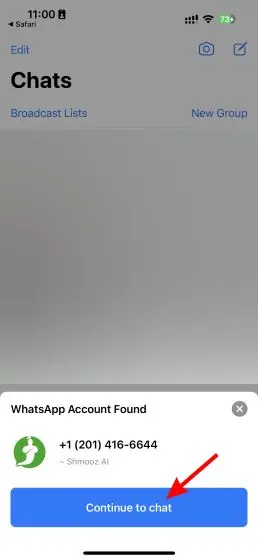 3. The message field will automatically be filled with your message. It only needs to be sent for the bot to reply.
4. That concludes it! In WhatsApp, you may now converse with Shmooz AI like you would with ChatGPT, and it will react promptly.
Remember that Shmooz is a premium service with only five free texts like before. The next step is to subscribe to a premium tier, which offers unlimited access and starts at $9.99 per month.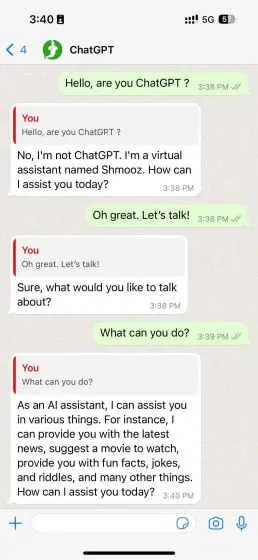 Bonus: More ChatGPT WhatsApp Bots
We discovered several other amazing bots that give users access to ChatGPT within the messaging app in addition to the intriguing ChatGPT-powered WhatsApp bots that are listed above.
However, keep in mind that due to heavy demand, these bots could unexpectedly go down or provide sluggish responses. A few of these bots include:
MobileGPT (Visit): Another platform you may utilise to communicate with and get all of your questions answered is MobileGPT, one of the first WhatsApp bots to employ GPT-4. Additionally, MobileGPT can produce photos for you, which is extremely astounding.
WhatGPT (Visit): This ChatGPT bot for WhatsApp can convert voice memos into text in addition to providing answers to your questions. The chatbot can also use AI to generate pictures and summarise YouTube videos. WhatGPT, however, has been unavailable for the past few days due to the unexpected increase in user population, only taking new sign-ups for its waitlist.
RELATED CTN NEWS:
How To Buy Bitcoin On eToro: Tips And Risks Of Using This Platform.
Startup Business Insurance: Types & How To Choose The Right Policy
How To Alphabetize In Google Sheets: Sorting Made Simple