Best Laptops Of 2023: Top 5 Laptops and Usage Tips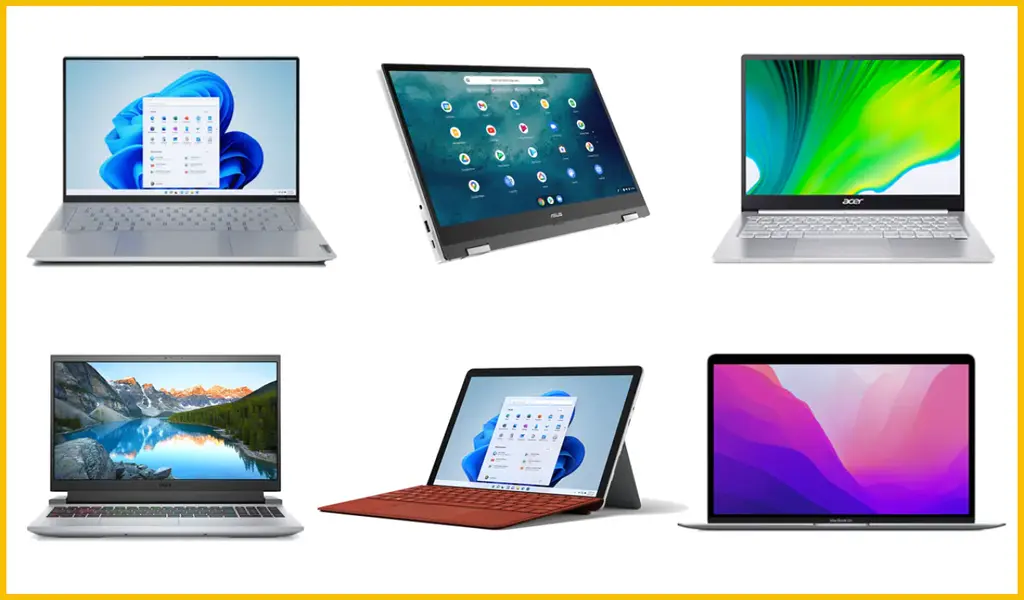 With the advent of smartphones and tablets, laptops computers still provide invaluable aid for our everyday tasks.
Whether it's a student needing assistance with writing papers or an executive creating detailed spreadsheets – having access to reliable mobile computing power is essential.
The perfect laptop varies depending on usage frequency, the intention behind the purchase, and budget constraints; no matter which one you choose however be sure that its keyboard won't let you down when crunch time comes!
It's becoming harder to find a good laptop. But what makes the best laptops different is their ability to balance power, efficiency, and portability with comfort. A top-of-the-line laptops must have a great keyboard and trackpad.
These are the main reasons why you would choose a laptops to replace a tablet or smartphone.
A display with eye-catching brilliance and smooth edges is needed to tackle everyday tasks while on the go.
It needs to be light enough that carrying it won't become a chore, yet powerful enough for basic activities like streaming or casual gaming!
Best Laptops – Dell XPS 13
Dell has managed to make an already excellent laptops even better with their XPS line.
The Dell XPS 13, 15, and 17 all boast a stunning size of 13 inches, making the laptops ideal for portability while still providing you with plenty of space on your screen.
With recent upgrades made by Dell that have been well-received across its user base – it is no surprise they are one of the most sought-after models in today's market!
The visual changes were initially a bit jarring, but the "invisible trackpad" works great and adds to the minimalist design.
It's the same with the simple touch bar that is above the keyboard. Although it takes some time to get used to, the seamless keyboard is undeniably elegant.
As Dell describes, the laptop's chassis is CNC-machined aluminum tinted to a tone-on-tone design.
The laptops comes in two colors: a subtle icy blue called Sky, and a sophisticated, Spectre-like deep violet called Umber.
It's amazing how Dell has brought a creative twist to the traditional PC with their unique shaded PCs and peripherals.
Not only do they help brighten up office spaces, but certain lights can even pass for muted tones of silver – providing an innovative compromise between style and functionality! Blue and purple laptops may not be for everyone.
The XPS 13's frosted finish and carefully chosen hues make it one of our favorite laptops.
Its build is firm and professional-feeling, with a thin lid bringing minimal flex and a deck that shows just a smidge of giving when we forced it.
Apple MacBook Pro (14 or 16-inch, M1)
With the 16-inch MacBook Pro, Apple has created an innovation like no other.
Its M1 Pro and Max chips are perfect for use on its large screen, while a variety of ports allows you to connect multiple external displays or even your very own 4K TV!
The 14-inch MacBook Pro is a better choice for creative professionals who don't want to spend the same amount as the MacBook Pro 16.
Or if you are looking for something smaller, the MacBook Pro 14 is a good option.
The 14-inch MacBook Pro is lighter and more affordable than the 16-inch model, but it still has the same powerful processor options and stunning screen.
Apple MacBook Pro comes with an M1 Max SoC that has 10 CPU cores and 32 GPU Cores, 32GB of unified memory, and 512GB of storage.
It also has fast charging and lasted more than 14 hours under battery test.
You can choose between an M1 Pro chip that has 16 GPU cores and an M1 Max chip that has 24 GPU cores to configure your MacBook Pro for a lighter workload. Choosing the right SoC for your computing needs is an important decision.
With M1 Pro you can choose from 16GB, 32GB, or 64GB of memory to suit any workload –
but if you're tackling something truly demanding, the larger bandwidth and extra video capabilities offered by M1 Max models may be worth considering – with configurations ranging from 32-64 GBs available.
The Apple MacBook Pro is a great workstation. The M1 Max SoC is capable of handling almost all workloads, even those that require 3D rendering and video editing.
It doesn't heat up or get loud under load, and it doesn't throttle too much over time.
With a fully-featured port selection, including HDMIs and USB-Cs with Thunderbolt 4 compatibility plus an SD card reader, you'll be able to connect your desired peripherals.
Apple MacBook Air (M2)
With the latest MacBook Air, you can expect amazing performance powered by Apple's M2 8-core CPU and GPU! Starting at $1199 for an impressive 256GB storage plus 8GB memory, this laptops is perfect for everyday use.
Splurge a bit more to upgrade to 512 GB of storage – it'll last longer so your machine won't need replacing as often!
Although the Air's iconic wedge-shaped design has been lost, it retains many of its other great features, such as MagSafe charging and Touch ID.
It also includes a 1080p webcam, two new color options, and a touch-switch keyboard.
This Apple MacBook is one of the most popular laptops on the market. It has a long battery life and a lightweight design.
The new MacBook Air has even more great additions, such as a larger Touch ID sensor that allows you to log in with your fingerprint.
The perfect laptops for video call generation, this technology provides a fantastic connection whether you're catching up with friends or making important business deals.
For photographers looking to take their career further and make some money in the process, it's not just about acquiring more clients – many dreams of seeing their work featured across high-profile publications too!
This laptops is ideal for displaying colorful photos, as well as working with online visual editors for photographers.
Powerful Gaming Laptops – HP Spectre x360
The HP Spectre x360 13.5" is the perfect Ultrabook for pushing productivity to its highest levels – with blazing fast performance and an impressive 10-hour battery life, you can work all day without interruption!
The device's innovative 360-degree hinge allows it to be used as a laptops or tablet in any position — plus comes complete with active stylus support.
Get everything that makes an Ultrabook great into one stunning package!
The Spectre's exterior features a large 3:2 display. If FHD resolution is not your thing, OLED or 1,000-nit options are available.
A packaged stylus is available, which can be attached magnetically to the Spectre's side. This is handy if the device is being used as a tablet.
The laptop's other features, including its smooth keyboard and touchpad, as well as its powerful audio and port selection, are comparable or better to the best convertibles.
With good performance being the priority, many people are willing to shell out a bit more for HP's Spectre.
Though it might be pricier than competitors like Dell's XPS 13 and Apple's M1 MacBook Air, reviewers suggest that in this case, you get what you pay for – an unbeatable combination of features and value stored up inside one sleek package.
Microsoft Surface Laptops Pro 8
Microsoft Surface Pro 8 is the latest addition to its 2-in-1 tablet line, which includes the Surface Pro 8.
This model features an Intel 11th-generation CPU, a 13-inch 120Hz display, two Thunderbolt4 ports, and a removable SSD.
This 2-in-1 will give you Windows 11 right out of the box.
Surface Pro 8's compact size and simple design make the device ideal for use at home or on the move.
Windows laptop Pro 8 has been revolutionized with new and improved features, such as a larger screen size, a more powerful processor, two Thunderbolt ports in place of the Surface Connector port, plus enhanced capabilities for inking.
And if you want to get your hands on one now- fear not!
It is available in either Platinum or Graphite – making it perfect for any tech enthusiast who wants an all-rounder 2-in-1 laptop experience.
This surface laptops studio is versatile and has a variety of features that will keep you productive and on the right track with your projects. The tablet mode has been made more user-friendly by Windows 11's improvements.
Useful And Interesting Things To Do On Your Laptops
You can get many options for self-development, training, and work using your favorite laptops.
Learn a New Language
Do you want to travel? Or improve your resume? Learning a foreign language could be a great idea.
A lot of programs, as well as watching tutorials on YouTube will help you quickly and conveniently get the right knowledge in any language.
Use For Banking
A laptop can be used to do Internet Banking. A laptops computer can be used to access internet banking services. You can send money to anyone and receive money from others.
You can access many banking features online using a laptops. This includes shopping online, paying your electricity bill, and checking the details of your account without visiting the bank.
Get New skills
Learning a new skill might seem daunting, but it can have incredible benefits.
Not only will you be able to gain valuable knowledge and experience, but your increased skillset could also lead to earning potential rewards!
Many education sites which offer a wide range of courses covering everything from web development to video production, photography, and even web design, are great places to start.
Play Games
On modern laptops, you can enjoy playing classic and popular computer games: Portal 2, Fortnite, Minecraft, and others.
You can also easily play your favorite casino games in any modern browser on your laptops.
Choose the best online casino for table games if you are a fan of card games. You can also try your luck in slots and jackpots.
Or bet on black or red at a live casino with the best online casino Canada roulette game.
View a Movie
With a laptops, you can enjoy the best of all worlds in entertainment – streaming video right at your fingertips plus access to Netflix and Hulu for an endless selection of movies. Let the movie marathon begin!
A modestly-priced laptop with integrated graphics can also be used for editing video clips or cropping photos.
Communicate On Business Issues And Also With Friends
A laptops can be used to communicate with anyone. You can communicate with someone far away via voice or video calling using a laptop computer.
Technology enables us to stay connected with our loved ones no matter how far away they are.
With just the click of a button, you can use Skype, Google Meet, or Zoom and instantly have a conversation with someone across the world!
These services on the internet allow people to bridge geographic distances like never before – making it easier for everyone to keep in touch.
Laptop Usage Tips
Some tips to make your computer last longer:
Protect your company laptop and personal computer from malicious software by avoiding any non-business-related applications. Exercise caution when downloading unknown programs, especially if they are not licensed – you don't want to invite trouble!
Keep liquids out of your laptop.
Food should be kept away from your laptop.
Keeping your hands clean is an essential part of proper laptops care – oils and grime can corrode delicate parts like the trackpad, keyboard, and protective coating if not removed. Take some time to give your device a quick scrub for long-term protection!
Keep your computer running cool and efficiently with an old toothbrush! A few minutes of brushing around the keys, exhaust fans, and bezels can go a long way in improving airflow and decreasing heat buildup.
Related CTN News:
SpaceX Rocket Successfully Lands With 40 OneWeb Satellites In Orbit
Twitter To Roll Out New Ad Placement Controls
Japanese Billionaire Maezawa Reveals Crew Of Artists For dearMoon Project