Apple Unveils Apple Vision Pro Reality Headset and New iOS17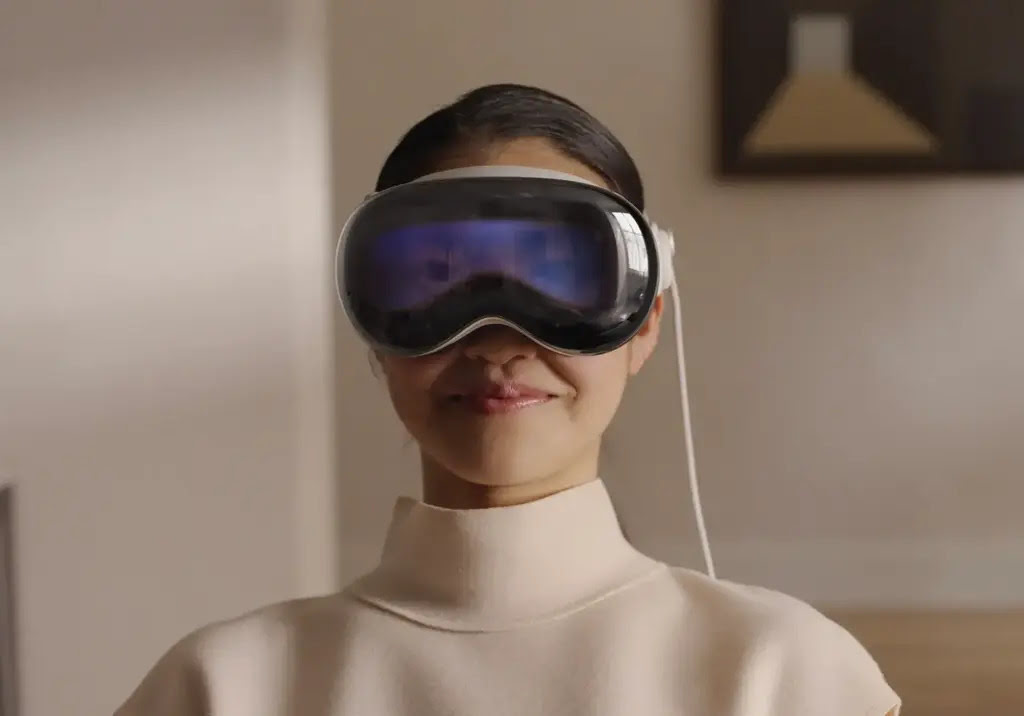 Apple debuted the Vision Pro mixed reality headset on Monday at its Cupertino, California, headquarters during the company's Worldwide Developers Conference.
The headset combines augmented and virtual reality, requiring wearers to manage it only with their eyes, hands, and voice. The headset will be available for $3,499 early next year.
"Just as the Mac introduced us to personal computing and the iPhone to mobile computing, Apple Vision Pro introduces us to spatial computing," stated Tim Cook, CEO of Apple.
The Vision Pro features a three-dimensional interface in which programmes appear to pop up within the room you are in while still allowing you to monitor your surroundings if desired. The digital crown, which is also included on the Apple Watch, determines how engrossed users want to feel when wearing the headset.
For those who prefer more traditional computing alternatives, the tablet will also support Apple's Magic Keyboard and Trackpad.
According to Apple, the headset allows users to have browser tabs organised around them, stretch screens for a movie theatre experience, or join video chats with spatial audio that can resemble an in-person engagement.
The device employs advanced eye tracking to allow users to highlight an app or other field with their gaze. You can scroll by flicking your wrist or tapping your finger. When you see a search bar highlighted, you can speak to enter a query.

Apple to keep users connected
What distinguishes Vision Pro from other VR and AR headsets is EyeSight, a feature that allows others to see the person wearing the headset's eyes. When the wearer is engaged in an activity, the headset alerts others when they are busy. According to Apple, the feature is intended to keep users connected to their environment.
The product's front is a single piece of glass with a set of cameras that provide a view for the user. The digital crown determines how absorbed you wish to be in your surroundings. Apple stated that it researched thousands of heads to develop a modular system that can fit any wearer. It, like other headsets, has an adjustable dial for customizing fit.
Users can view photographs as large as your room, and panoromas can stretch and wrap around you to provide a realistic vision. The headgear also contains a camera for capturing moments while wearing it. According to Apple, video views and cinema surroundings give movie theater-like sensations. The headset will also support 3D movies.
Apple's demonstration shows the user viewing apps that appear in the room. The headgear, like the Apple Watch, has a digital crown and appears to be attached rather than running autonomously, however it's unclear what device connects to the headset.

Disney a Vision Pro partner
The headset itself is stylish. You navigate between apps with your eyes while scrolling or selecting with your hands. Voice is also supported via the headset. Simply gaze at the search bar and utter your inquiry. When using the headset, Vision Pro will also reveal your eyes via an EyeSight feature. It clearly combines VR and AR.
You can also see through the headset as if you were wearing glasses, but apps show in your environment as if you were wearing augmented reality.Vision Pro will teach us about spatial computing.
Disney is one of the Vision Pro partners, delivering a sample of entertainment options on the headset. A preview depicts activities such as NBA courtside replays and bringing Disney World into your living room. Disney Plus will be available when the Vision Pro is released, according to Disney CEO Bob Iger.
Apple also unveiled iOS 17, the latest version of its iPhone operating system. Contact Posters will be available to offer phone contacts more personality, as will live transcriptions of voice mails, NameDrop for easily sharing contact information, and text messaging autocorrect improvements.