10 Best AI Marketing Tools (May 2023): Streamlining Your Marketing Efforts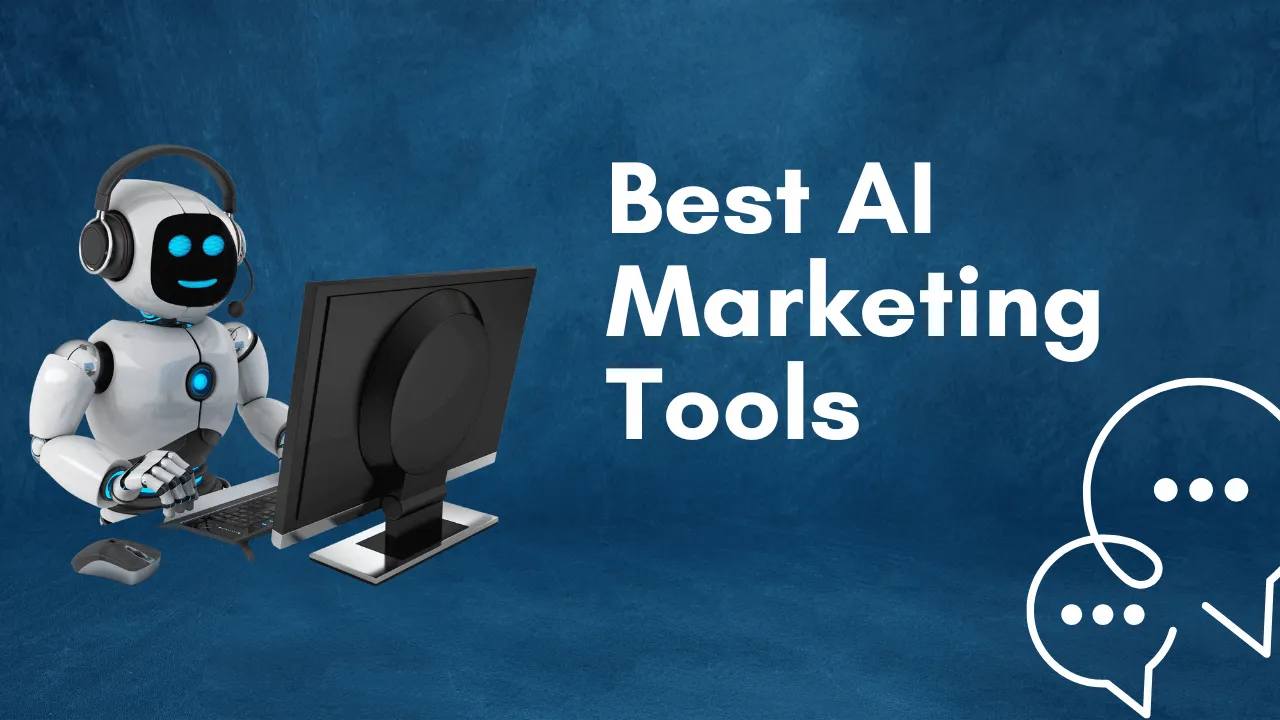 (CTN NEWS) – Marketing has come a long way since the days of print ads, billboards, and radio commercials.
With the advent of the internet and social media, businesses have had to adjust their marketing strategies to keep up with the changing times.
Today, artificial intelligence (AI) is revolutionizing the way we market our products and services.
AI marketing tools have become increasingly popular, providing businesses with a wealth of data and insights that can help them make informed decisions about their marketing campaigns.
What are AI Marketing Tools?
AI marketing tools are software applications that use machine learning algorithms to analyze data and provide insights that can be used to improve marketing campaigns.
These tools can be used to analyze customer data, predict consumer behavior, and provide personalized marketing messages.
There are many impressive options on the market, so let's take a look at the 10 best AI marketing tools:
1. Jasper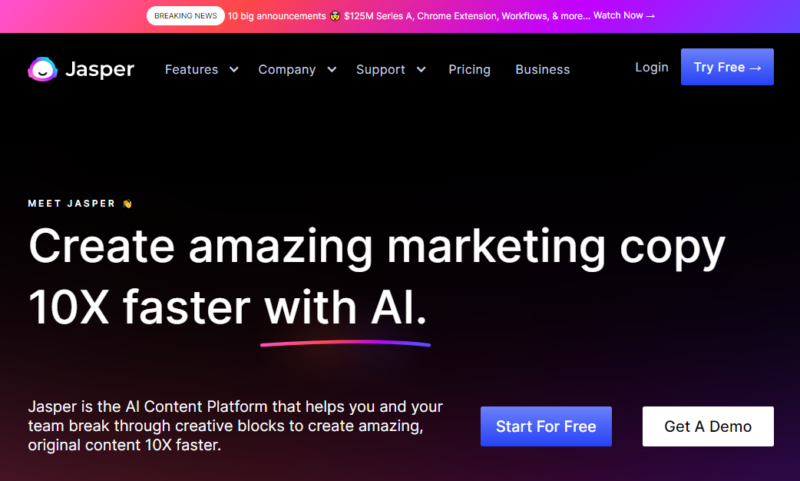 Jasper is widely regarded as the best all-around AI writing assistance, dominating the industry with its outstanding features and calibre.
Jasper creates phrases, paragraphs, or papers based on the subject and tone of voice once you give it a set of seed words to analyse. It can finish an article of 1,500 words in about 15 minutes.
More than 50 AI content production templates are available on the platform, including those for blog posts, emails, marketing text, Facebook ads, Google ads, meta title and description, press releases, and much more.
Here are a few of Jasper's finest qualities:
More than 11,000 free fonts and 2,500 categories of writing styles
Supports 25+ languages
Intuitive interface
Long-form writing assistant (1,000+ words)
Identify key elements in text (pronouns, verbs, names, etc.)
2. Anyword
Anyword is a tool for copywriting that is data-driven and made for marketers. It makes it possible to create efficient copy for advertisements, emails, landing sites, and content for various platforms.
Creating advertisements for Twitter, LinkedIn, Google Adwords, and Facebook ads is simple.
Of course, they also make generating blog entries, product descriptions, YouTube descriptions, and much more simple for longer form material.
Anyword's unique selling point is that it enables creative marketers to add data to their toolkit by giving them insights on which aspects of the message are effective and for whom.
3. Scalenut
Scalenut was created to scale and is essentially an all-in-one marketing tool. It enables you to create a content management strategy to dominate these terms and instantly obtain the whole keyword plan for your area. There are 4 sections in the software:
Research – By gathering all the knowledge and semantic key terms required to outperform the competition, it can help you uncover insights and develop a strategy that succeeds.
Create – Utilizing the most sophisticated NLP and NLU (Natural Language Processing & Natural Language Understanding) systems, writers may create SEO content that ranks.
It provides material that works in real-time optimisation based on SERP information.
Optimize – Get immediate feedback on the performance of your content with a dynamic SEO score. Stop making adjustments and improve right away!
Marketing Copy – Use 40+ AI copywriting templates to create persuasion-based copy that increases conversions. The following is included in this:
Product descriptions
Website copy
Copywriting Frameworks
Email Copyrighting
4. Semrush
You may run content marketing campaigns, SEO, social media marketing, analytics, PPC, and much more with the help of Semrush's comprehensive suite.
Its position tracker, which gives companies a method to monitor how they rank versus other websites when it comes to keyword usage, is its highlight feature.
The AI marketing tool also provides a Content Marketing Toolkit that permits topic searches and gives you information about what is popular. Based on this data, you can then develop content marketing initiatives.
The following are some of Semrush's best attributes:
Position tracking that shows you ranking for targeted keywords
On-page SEO
7 tools aimed at competitor analysis
Social media management and content marketing
5. Pro Rank Tracker
Knowing your current ranking in real-time is one of the hardest parts of SEO. Manually searching on Google wastes time and exposes you to the possibility of receiving inaccurate personalised and localised results.
With its strong tools, this is the greatest tool available to swiftly identify your present ranks.
Rank tracking – Track your rank accurately from any location and on any device.
Rank tracking – Online views, data visualisations, and charts that make it possible to quickly analyse ranking development and make wise decisions based on insights.
Rank tracking – They provide the option to automatically generate and transmit white-label reports that can be customised for potential investors, clients, or internal team members.
6. INK
INK combines an SEO assistant and AI co-writing to aid you in creating content. You may produce content with the tool's SEO Assistant that will rank highly on search engines and generate organic traffic.
This is accomplished using a patented AI system that analyses content in real-time and makes recommendations to raise SEO rankings.
The other key element, AI Co-Writing, aids in producing effective copy. Users can write, rewrite, and simplify sentences with the AI's help.
Here are a few of the key attributes of INK Editor:
Meta optimization
Image optimization through compression and resizing
Spelling and grammar correction
AI-Writing, AI-Simplifying, and AI-Expanding functionalities
Integrates into WordPress
7. Seventh Sense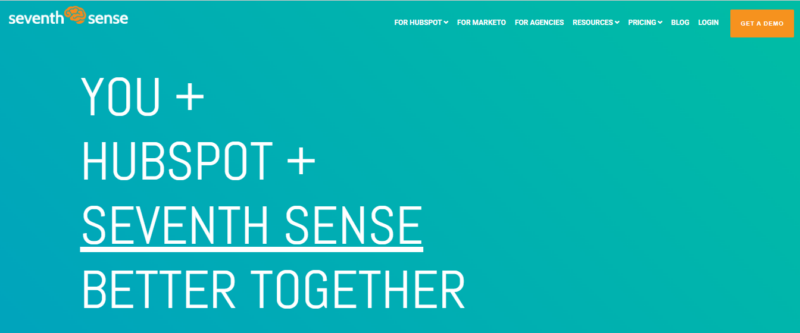 Seventhth Sense, an AI marketing tool that uses behaviour profiling to draw clients in, comes out on top of the list. It is primarily targeted towards emails, which frequently present challenges for both people and corporations.
It's impossible to determine the ideal time for every customer, but you must choose the optimum hours and days to obtain high open rates if you want to have a successful email marketing campaign.
Seventh Sense analyses the ideal time and day for email campaigns for each contact to get around this. By building a predictive model for each contact based on their activities, the AI platform is able to accomplish this.
The following are some of Seventh Sense's best qualities:
Personalized service
Determines best time to send emails for each contact
Constructs individual predictive models
Behavior profiling
8. Personalize
If you want to determine which goods and services your contacts are most interested in, Personalise is a terrific AI tool.
The top three interests of each contact are determined by an algorithm, and these are updated in real-time depending on website activity.
Email personalization has been demonstrated to increase click rates by 57% and average open rates by 13%. This is largely due to its successful personalised ads, which advertise the ideal goods and services at the ideal moment.
The following are some of Personalize's best attributes:
Uses algorithm to identity interest of each contact
Updated in real-time
Tracks metrics like time on page, frequency, and recency
Easy set up and operation
9. Acrolinx
Acrolinx is a platform for content alignment that aids in brand expansion and content quality improvement.
Acrolinx, which targets businesses as opposed to some of the other tools, is utilised by some of the biggest brands in the world, like Google and Amazon.
Acrolinx uses artificial intelligence (AI) to analyse the material already produced by your business and then better match it with the brand.
Setting preferences for writing style, voice tone, syntax, and terminology particular to the firm is the first step in the process.
The AI marketing tool then rates your current content according to these areas and offers suggestions for how to make it better.
The following are some of Acrolinx's key characteristics:
Reviews existing content and aligns it with brand voice
Automates parts of the editorial process
Aimed at enterprises
Integrates with top platforms like Google Docs and WordPress
10. MarketMuse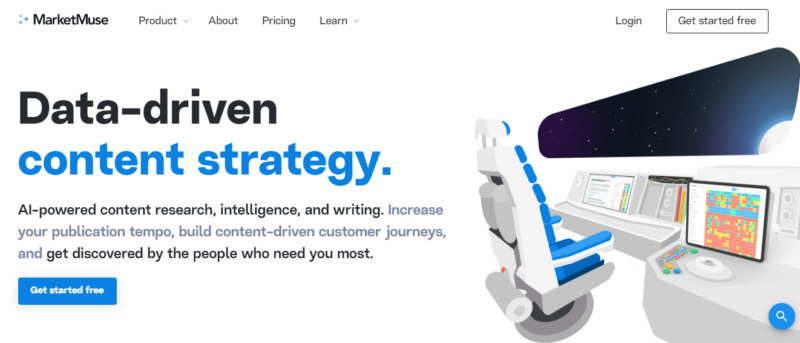 Another excellent choice for individuals searching for an AI marketing tool that is efficient across the board is MarketMuse, especially given that it integrates AI technology into every one of its offerings.
It was created especially for companies who wanted to maximise long-form content, such as sales copy, landing pages, emails, and essays.
The programme works by conducting in-depth AI research on a subject before generating a first draught based on the selected topic, which users may subsequently edit.
KPIs, a content brief, and an integrated editor are further features of MarketMuse.
The following are some of MarketMuse's key attributes:
AI in all of its services
Conducts deep AI research
Creates a first draft that can then be altered
Build-in editor and content brief
How do AI Marketing Tools Work?
AI marketing tools work by analyzing large amounts of data to identify patterns and trends. This data can come from a variety of sources, including customer data, social media data, and website analytics.
The tools then use machine learning algorithms to make predictions and provide recommendations for marketing campaigns.
For example, predictive analytics can be used to predict which customers are most likely to make a purchase. This information can be used to create targeted marketing campaigns that are more likely to be effective.
Chatbots can be used to engage with customers and answer their questions, providing a personalized experience that can increase customer satisfaction.
Benefits of AI Marketing Tools
There are many benefits to using AI marketing tools. Here are just a few:
Improved Efficiency: AI marketing tools can automate many marketing tasks, freeing up time for marketers to focus on other areas of their campaigns.
Better Customer Insights: AI marketing tools can analyze large amounts of data to provide insights into customer behavior and preferences, allowing marketers to create more targeted campaigns.
Personalization: AI marketing tools can provide personalized marketing messages based on customer data, increasing the likelihood of a successful campaign.
Improved Customer Engagement: Chatbots and other AI marketing tools can engage with customers in real-time, providing a personalized experience that can improve customer satisfaction.
Cost-Effective: AI marketing tools can be more cost-effective than traditional marketing methods, as they can automate many tasks that would otherwise require human intervention.
Conclusion: Embracing AI in Marketing
As AI technology continues to develop and improve, it's becoming increasingly important for businesses to embrace it in their marketing strategies.
AI marketing tools can provide valuable insights and data that can help businesses create more effective and personalized campaigns.
While they cannot replace human creativity and intuition, they can automate many tasks and free up time for marketers to focus on more strategic activities.
Whether you're a small business owner or a marketing professional at a large corporation, incorporating AI marketing tools into your campaigns can help you stay ahead of the curve and achieve better results.
So why not give it a try and see how AI marketing tools can benefit your business today?
RELATED CTN NEWS:
How To Install Chrome Extensions On Android: 4 Best Chrome Extensions
Free Guest Posting Sites: Boost Your Online Presence For Free
15 Mobile Business Ideas That You Can Start Today