The Warriors Made Some Bad Offensive Decisions Against The Timberwolves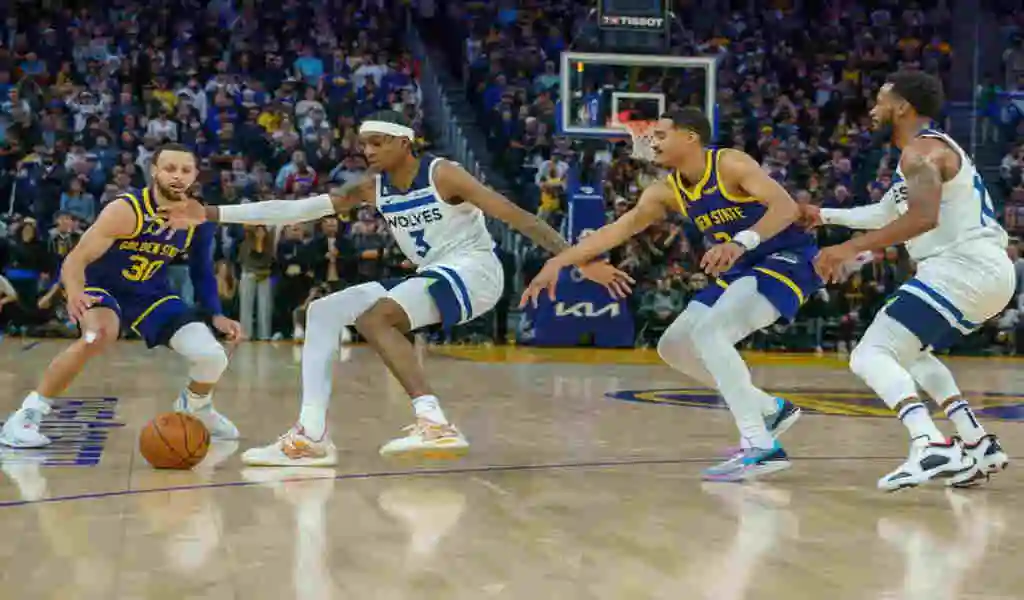 (CTN News) – Despite the Minnesota Timberwolves' stellar defensive effort – they held the Golden State Warriors to a 97.9 offensive rating – I felt the Warriors shot themselves in the foot.
It's always been a great thing for the Warriors to mix up their offense and give their opponents different looks. The motion offense is their thing, but with one of the best pick-and-roll ballhandlers in the league in Steph Curry, they can switch things up and throw opponents off.
Warriors are more than willing to set up ballscreens for Curry if the situation calls for it – for instance, if there's a big juicy target for him to hunt down. One of two things must happen: either the defense gives up the easy switch, causing the mismatch, or they come up with a strategy to prevent it.
Wolves defense did a great job with the latter approach, but they also gave Warriors small opportunities. They gave the Warriors a chance to pick apart the cracks and bust them wide open.
However, for some reason – bad decisions, bad process, or fatigue settling – the Warriors just settled too much for my taste. Wolves shut down Warriors offense by chucking shots early in the shot clock, selecting bad shots, being indecisive, going too fast in situations where patience was prudent.
Against the Wolves, one possession stood out as a good representation of what ailed their offense:
You probably didn't expect me to point out this one (I'll get to the more glaring ones later). You've got to hear me out on this one.
Two ballscreens ("Dive Rolls") are used by the Warriors to switch Karl-Anthony Towns over to Curry. As usual, Curry takes this matchup all the way to the end, either by blowing by the defender and converting a layup, or by stepping back and shooting a three-point shot.
Instead of attacking Towns alone, Curry passes to Jordan Poole, who doesn't do anything at all against Taurean Prince. During the possession, Curry tried to force Towns to chase him in a low-post split action.
Towns does a good job on Curry, but I thought Curry could've broken Towns down more. He passes to Draymond Green instead of trying to score against the switch, and he takes a rushed shot with the clock winding down.
Let's look at some of the more glaring examples.
There's only one reason the Warriors lose when they shoot themselves in the foot: turnovers.
To not sound like a broken record, but the Warriors have lost several games due to turnovers. It's mainly because they move the ball a lot – they lead the league with 321.7 passes per game (by a wide margin over Indiana Pacers' 304.1).
Against the Wolves, they committed 16 turnovers, which led to 24 points. This would take all day if I pointed out every single one, so let's just focus on the worst ones.
The Warriors had the chance to score on the break after a huge defensive stop:
SEE ALSO:
LeBron James-Less Cavaliers Make Playoffs For First Time Since 1998