Thailand's Move Forward Party Shaking Up Politics as May 14 Elections Near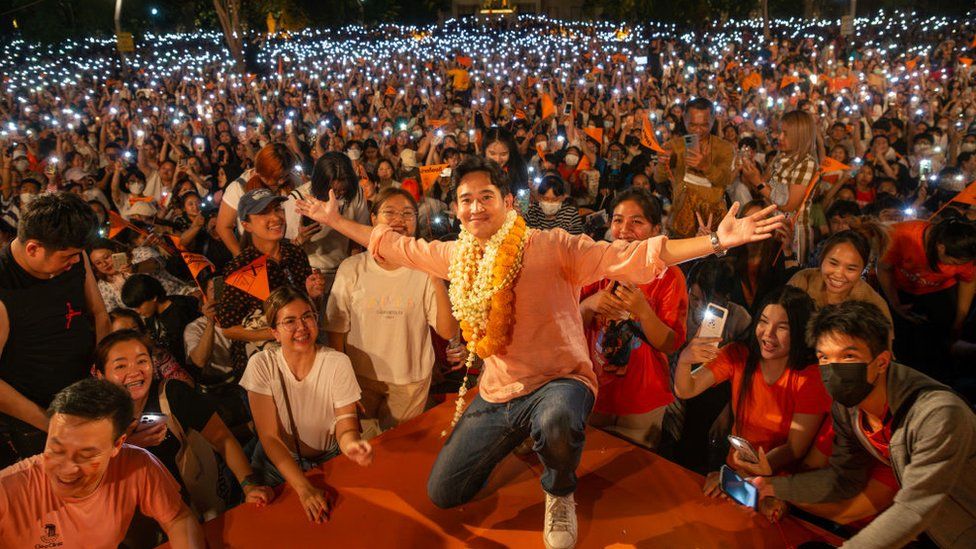 Hundreds of thousands of youth in Thailand who launched a historic protest movement in 2020 that smashed taboos and shook the foundations of authority will vote on May 14th, certain that their votes will contribute to "inevitable" democratic transformation.
Many young voters, still reeling from the effects of the 2014 coup, have decided to vote for change and against parties that symbolize military power in Thailand.
The reformist Move Forward, heir to the once-popular Future Forward, was disbanded by the Constitutional Court in February 2020, sparking the demonstrations.
According to polls, Move Forward could receive 20% of the vote in the general election on May 14, making it the second most powerful political force after fellow opposition party Pheu Thai.
This party is a favourite of demonstrators due to policies such as removing compulsory military service and being open to the possibility of altering strict rules that protect the royal household from criticism.
Changes to Thailand's political institutions
Move Forward is the successor party to Future Forward, which burst onto the Thai political scene five years ago. It ran in the first election allowed after a coup deposed the then-elected government in 2014.
Future Forward was novel, proposing major changes to Thailand's political institutions, such as restricting the influence of the armed forces and, more subtly, recommending changes to the monarchy, which was then a completely taboo subject.
According to Thitinan Pongsudhirak of Chulalongkorn University's Institute of Security and International Studies, their mission is essentially about reclaiming Thailand's future from the powers-that-be.
He feels that Thailand's youthful voters have had to live in a country that has been lost in an eternal loop – two coups, two new constitutions, and a succession of judicial party dissolution. The younger generation is sick and tired of it.
Future Forward capitalized on this feeling, surprising conservatives by capturing the third most seats in the 2019 election.
Thailand's royalist establishment, a network of military officers, senior officials, and judges, responded as it has in the past to similar threats: the Constitutional Court dissolved Future Forward and barred its leaders from politics.
The party lost around one-third of its MPs, and its replacement, Move Forward, became an isolated opposition voice in parliament.
However, the Move Forward party's popularity in opinion surveys has risen again in recent weeks, frightening opponents. Many polls show that its charismatic and outspoken leader, Pita Limjaroenrat, is the favoured choice for prime minister.
Thailand's Political Elite
Despite the excitement produced by Move Forward, few believe they will be able to secure enough seats to form a government. The new electoral system is less friendly to them than the previous one. And, because Thailand is an ageing nation, voters under the age of 26 – Move Forward's natural supporters – account for less than 15% of the electorate.
However, if the party's current increase in support continues until election day, they may do well enough to form part of a coalition government or be a major opposition voice. The inevitable issue then arises: would the establishment use its arsenal of extra-parliamentary projects to derail the reformists once more?
"The agenda of the Move Forward party is an existential challenge to the established centres of power – the military, monarchy, judiciary, the institutions and players that have run Thailand for decades," Thitinan Pongsudhirak argues.
They will most likely wait for the poll results right now. But then the conservative establishment will have to wonder what else they can accomplish. They dissolve parties, but they return stronger than ever.
They have military coups, but they must eventually return to a constitution. Even if they modify the electoral rules to their advantage, their parties lose the election.
Long Lines for Thailand's Advanced Polls
On Sunday, advance voters waited in the hot heat outside temples, shopping malls, and schools to cast their ballots ahead of the much-anticipated election on May 14.
The most voters – 52,771 – registered to vote early at Ramkhamhaeng University in Bangkok's Hua Mak district.
People who have registered for advance voting can vote at designated polling places across the country from 8 a.m. to 5 p.m.
More than two million Thais have registered to vote early ahead of the May 14 election, which is shaping up to be a showdown between army-backed establishment parties and rising opposition movements.
Prime Minister Prayut Chan-o-cha, who seized power in a 2014 coup before consolidating power in a contentious 2019 election, has been languishing in opinion polls, with voters choosing old-school opposition parties Pheu Thai and the more radical Move Forward parties.
However, with many seeing the electoral system as severely rigged in favour of army-backed parties, challengers must win by a landslide to have any chance of becoming the next administration.
"I hope this election will change the country for the better," shopping centre worker Srisuda Wongsa-ad, 28, said after voting.
She was one of hundreds of people queuing quietly in the city's affluent Ekkamai neighbourhood to vote at the Wat That Thong temple, which is guarded by golden standing Buddhas.
"I'm voting for a candidate and a party that I like and that can meet my needs," she explained, adding that she was voting early since it was more convenient for her.
Elsewhere in the city, the Royal Paragon Hall shopping complex was teeming with voters, albeit cooler ones who were taking use of the facility's air conditioning.
Despite the early hour, temperatures in the city were climbing, with a high of 39 degrees Celsius anticipated later Sunday.
However, throngs were still present, with gridlock and congestion near packed polling places.
"I am quite excited," said Pasawee Sriarunothai, 20, a first-time voter who will be out of Bangkok on May 14.
"I decided to cast my vote based on the party's policies, and I hope that this election will bring the country a better future," Ms Pasawee added.
An additional 100,000 Thais living abroad will vote early, with some already doing so.
This election is open to more than 52 million citizens.
The Royal Thai Police Office has established an election security and peacekeeping centre under the command of Deputy National Police Chief Pol Gen Roy Ingkapairote.
The centre's spokeswoman, Pol Lt Gen Nithithorn Jintakanon, said all police stations where advance voting is taking place have been directed to assist traffic in their regions of responsibility, and voters should plan their travel ahead of time.
Until 6 p.m., alcohol sales are prohibited everywhere.
More than 20,000 voters have registered to vote at 26 polling sites across the country, with 11 in Bangkok and 15 in other provinces.