Why Should I Get a Pergola?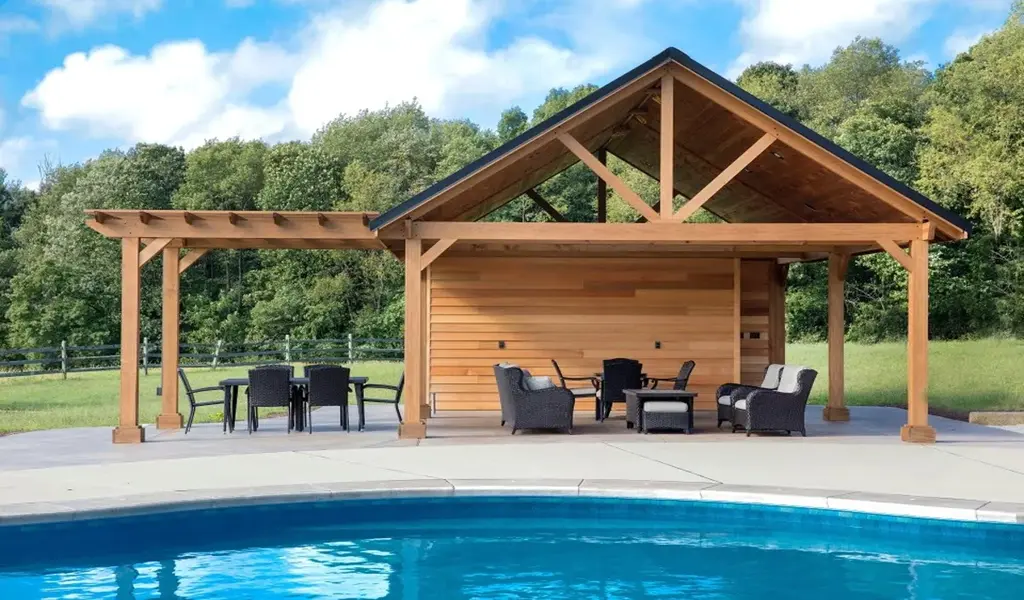 Have you ever walked through your neighbourhood and been envious of the picturesque pergolas you see in some yards? Or maybe you've been scrolling through home décor magazines and noticed a soaring pergola gracing someone's patio.
It's easy to understand why people are drawn to the beauty of quatrefoil or lattice pergolas.
But what about the practical reasons for getting a pergola? Is it just an ornamental accent for your garden, or is there more to it than meets the eye?
This post will discuss the benefits of having a pergola in your yard and answer the looming question of why you need a pergola. Read on to learn all the answers.
Benefits of Installing a Pergola
Are you thinking about adding a sophisticated style to your outdoor living space? A pergola may be the perfect solution! Pergolas are a great way to make the most of your outdoor area, providing you with a unique and stylish structure that adds a new dimension of comfort and enjoyment.
A pergola is an open-air structure composed of trellis beams, usually attached to posts or walls, that can serve various purposes. Below are just some of the benefits of adding a pergola to your home:
Shade: Having your built-in shade lets you enjoy your outdoor area more comfortably during the hot summer.
Privacy: Not only will it provide an extra layer of privacy from passersby, but it also adds charm and style to your outdoor space.
Decoration: Add some evergreen vines or flowering plants to create a cosy, visually appealing atmosphere – perfect for entertaining guests!
Added Value: A well-built pergola can add significant value to your home.
Different Types of Pergolas Available
When considering installing a pergola in your backyard, you must consider the various pergolas available that suit your needs. You can choose a free-standing or attached pergola, depending on the size of your yard.
Everything comes down to how much you are willing to spend. A pergola that fits your lifestyle is a plus, regardless of the budget.
Different Ways to Decorate Your Pergola
There are many different ways to decorate your pergola and give it a unique look.
From adding string lights to hanging planters, the possibilities are endless. You can always change it up as often as you'd like!
You can hire a professional designer to give it an elegant look or do it yourself.
Maintaining Your Pergola
Now that you know all the great reasons you should get a pergola, let's discuss how to ensure it lasts for years.
Here are a few maintenance tips to keep your pergola looking as good as new:
Regularly clean your pergola. This means brushing off dirt and debris from the posts, beams, and other parts of the structure every few weeks. Use a power washer for more effective cleaning.
Inspect for any signs of wear and tear, such as rusting or rotting of posts or beams. If you find any defects, contact a professional immediately to repair them.
Make sure to paint or stain your pergola every few years to protect it from the elements. This will help keep your pergola looking good while preventing premature rotting or rusting.
Prune back any surrounding vegetation that may be encroaching on your pergola and taking away from its appearance.
Following these easy maintenance tips can help ensure that your pergola stays looking tremendous and stands strong against the elements.
Conclusion
From providing a comfortable space to entertain guests to protecting yourself from the sun and rain, a pergola offers many advantages.
A pergola may be the perfect addition if you're looking for an outdoor structure to enhance your outdoor living experience.
You'll get the beauty, style and convenience of outdoor space without sacrificing much of your outdoor space. Planning and maintenance can make your pergola your favourite outdoor feature.
Related CTN News:
10 Ways You Hold The Steering Wheel Tell Your Personality
Why Should we be able to Carry Guns in New Jersey?
Remarriage in Canada When Divorce Occurs in Other Countries