WOW Vegas: Login and Get Free Coins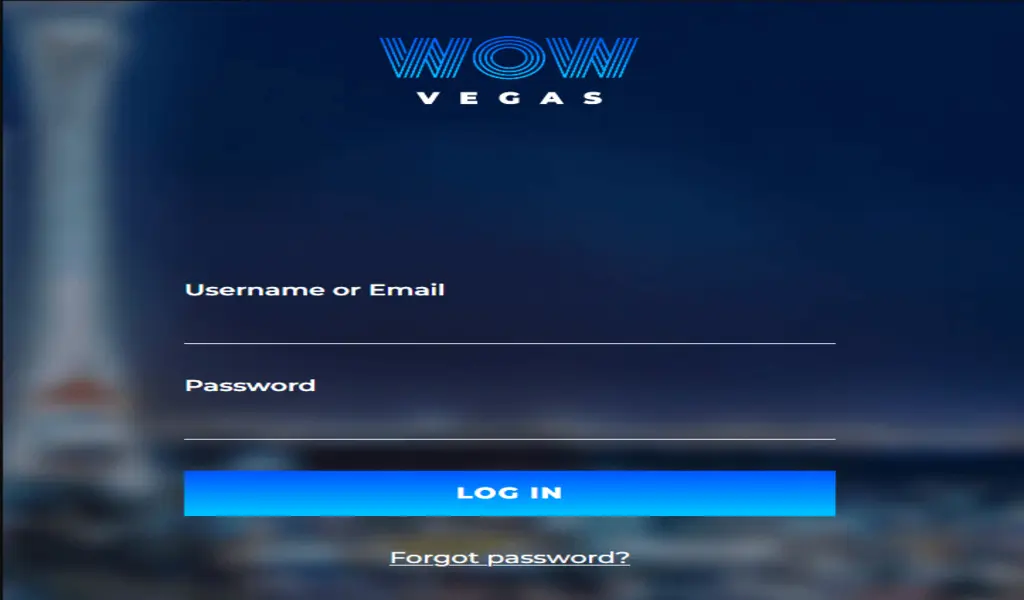 WOW Vegas has undoubtedly become a popular name on the internet, with a multitude of reasons contributing to its reputation as a top sweepstakes casino, particularly in the US. The stringent regulations governing gambling within the country have left many casino aficionados feeling disheartened.
However, sweepstakes casinos have emerged as a viable alternative over the past few years, enabling access to casino-style games and the possibility of claiming significant real-world rewards right from the comfort of one's home.
This article seeks to guide you through the process of getting started with WOW Vegas Casino. Before you dive into the world of gaming, signing up is the crucial first step.
Furthermore, this article will provide details about WOW Vegas bonuses, promotional offers, its game library, and additional insights to give you a competitive edge in the WOW Casino.
How to Login to WOW Vegas Casino
Logging in to WOW Vegas is a straightforward task, but before getting to that, a brief sign-up process needs to be completed. This includes filling out a simple form that asks for your username, email, password, and date of birth.
You must confirm that you are at least 18 years old by checking the designated checkbox. There's also an optional checkbox if you'd like to receive promotional emails.
Upon completing the registration, you'll receive an email to confirm your account, concluding the registration process. However, there's one additional step – players are required to undergo a standard Know Your Customer (KYC) check to redeem Sweepstakes Coins.
Typically, KYC involves providing proof of identification, such as a driver's license, and proof of residence, such as a utility bill or telephone bill.
Users often inquire about how and where to log in to WOW Vegas, as the sign-up button on the landing page can be quite dominant, overshadowing the small link at the bottom that reads "Already have an account? Log in".
While this could potentially be a marketing strategy, it does highlight the fact that users are in search of a quick and convenient login process.
Is WOW Vegas a Free Sweepstakes Casino
While WOW Vegas fosters a supportive environment for free players, this social platform also offers in-app purchases like coin packages. Specifically, the casino offers two types of virtual currency, WOW Coins, which practically represent Gold Coins, and Sweepstakes Coins, the latter being redeemable for real prizes.
Today, we're focusing on the free aspect of this Social Casino. Let's delve into the bonuses they offer and how you can utilize these entertaining coins within the gameplay.
WOW Vegas Welcome No-Deposit Bonus
Although the term "deposit" is typically used in traditional casinos, in the context of sweepstakes casinos, it's more accurate to refer to "purchases". However, as players continue to seek out bonuses similar to the no-deposit bonuses of traditional casinos, the term is still widely used.
WOW Vegas provides a generous welcome package for its new members, not just once, but three days consecutively. Users can acquire up to 4.5 SC and a total of 10,000 Gold Coins, which they can use to play any game, without exceptions.
Compared to other casinos, we consider this bonus fair, and it is a good start for a casual player that isn't interested in making purchases.
Email Bonus
The email bonus is easy to claim, and a daily offer, making your free experience at the casino even more enjoyable. Simply navigate to the promotions window, search for the email promotion, and click the corresponding button. You'll then need to respond to the message you'll find in your mailbox.
Keep in mind that this is not a guaranteed prize. However, the odds are favorable as 100 users will be randomly selected to receive 3 Sweepstakes Coins each.
Given that this offer is available daily, it's a great opportunity to benefit from the fact that 1 Sweepstakes Coin at WOW Vegas Casino can be redeemed for 1 USD.
Refer a Friend
The 'Refer a Friend' bonus is quite enticing as it awards you 20 SC and 5,000 GC for up to 30 referred friends. This is a wonderful opportunity for both free players and those who are open to making purchases.
If you excel at the referral program, you stand a chance to win an additional prize—a pool of 5,000 Sweepstakes Coins awarded to the top referrers on WOW Vegas.
The Social Gaming Platform also offers exciting free contests on their social media profiles, with a chance to win real prizes and coins.
Which Games are Free on WOW Vegas
In brief, all games on WOW Vegas are free to play, though they require coins for participation. As we've explained, these coins can be obtained in various ways and can be used in two distinct modes on WOW Vegas: SC (Sweepstakes Coins) and GC (Gold Coins) Mode.
It's worth noting that slots cannot be played without coins, so you'll need to either wait for your daily bonus or purchase Gold Coins. Each Gold Coin purchase also comes with a pack of SC coins.
WOW Vegas currently places a heavy emphasis on slots, boasting a rich collection from some of the industry's top providers, such as Pragmatic Play, Betsoft, and more. The array of slots ranges from classic versions to Hold & Win and Megaways styles, among many other popular mechanics and themes.
Bottom Line
WOW Vegas' commitment to creating an environment conducive for both free players and those who are open to making purchases is commendable. It offers a range of bonuses and promotional offers, which, combined with the exciting array of games, make it a preferred destination for many gaming aficionados.
As you embark on your journey with WOW Vegas, remember that each step, from signing up to successfully logging in and participating in games, will bring you closer to the potential of claiming impressive rewards. The world of WOW Vegas awaits, offering you the thrill of casino gaming right from the comfort of your home.
SEE ALSO: Call Of Duty Warzone Season 4 Release Date: What's Coming In Warzone Season 4?