Resident Evil 4 Remake Receives Negative Reviews, Scores Drop
(CTN NEWS) – While many critics and players continue to laud Capcom's remake of the survival horror classic Resident Evil 4, some disgruntled players are rating the game poorly on review sites.
Despite the long-standing demand from fans for a Resident Evil 4 remake, several alleged problems with the game's long-awaited release have apparently incensed some players.
Capcom's Resident Evil 4 remake of the lauded 2005 GameCube original is the most recent game in the long-running series to be updated for contemporary hardware.
After the success of the remakes of Resident Evil 2 and 3, many gamers had anticipated that the fan-favorite game would be the next in line for an upgrade.
However, the Resident Evil 4 remake was not formally revealed until June 2022.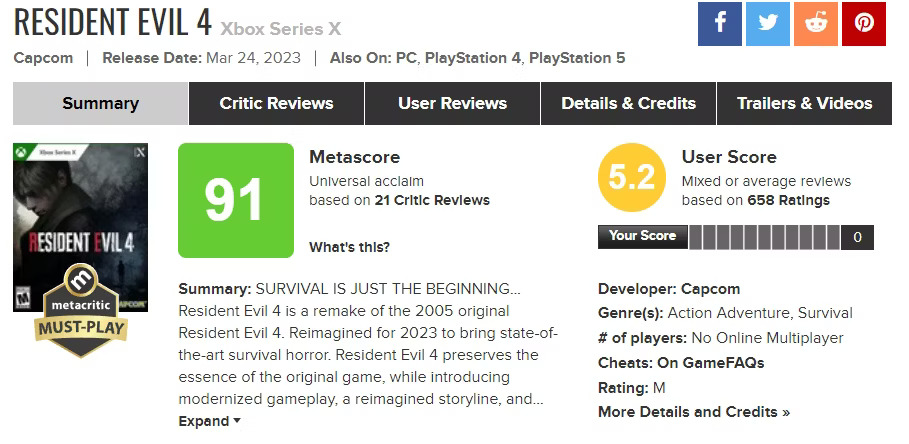 Resident Evil 4 Remake Poor Performsnce
Nearly all reviewers have praised Capcom's remake of the classic survival horror film, and imaginative players have already created a variety of frequently hilarious mods for Resident Evil 4's PC release.
The user score for each release of the Resident Evil 4 remake tells a very different tale, even though each version has a Metascore of over 90 as of the time of this writing on the PS5, PC, and Xbox Series X.
On Metacritic, all three of the game's releases presently have low user scores, with the PS5 just barely beating out the user scores for the other two releases.
While there has been some critique of Resident Evil 4's PS4 performance issues, player complaints range from gameplay adjustments to poor controls.
Users frequently voiced complaints about alterations made since the product's initial release. Capcom reorganized some portions of the game for the remake, adding new material in some spots while removing it in others.
Although many critics praised this decision for streamlining the game, which is now almost 20 years old.
It is understandable that some fans of the first title would be disappointed to discover a beloved narrative beat or gameplay mode removed from Resident Evil 4.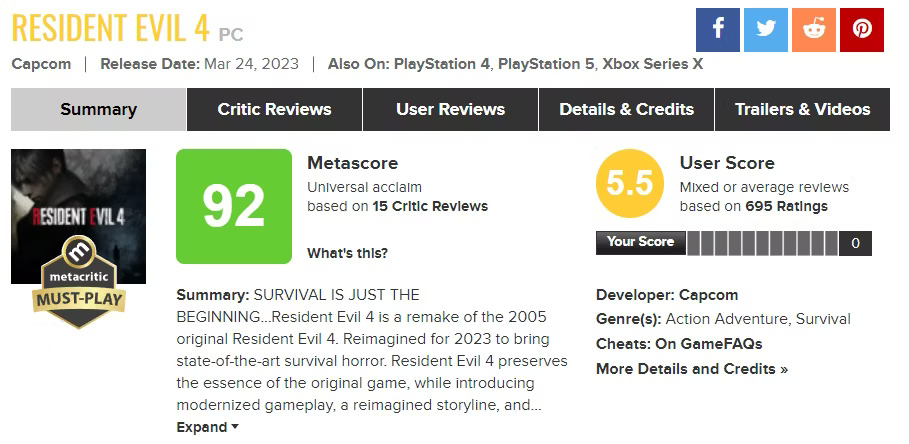 Resident Evil 4 Remake Similar To The Original
Contrarily, other gamers expressed disapproval, claiming that despite the stunning graphical upgrade, the Resident Evil 4 remake was too identical to the original.
It is not shocking that gamers have differing views on Capcom's Resident Evil 4 remake given its special place in many fans' hearts.
Some players preferred the game just the way it was, while others were happy to see adjustments made to bring it into step with more recent releases.
It might not be long before another Capcom favorite has to deal with one of the most devoted and demanding fandoms in gaming, especially with the next Resident Evil remake possibly in the works.
Resident Evil 4 remake is available for PC, PS4, PS5, and Xbox Series X/S.
RELATED CTN NEWS:
5 Best Games To Play Together With Your Family On This Songkran Festival
Steam Announces To Discontinue Support For Windows 7, 8, 8.1 From 2024
How To Acquire The Chicago Typewriter Gun In Resident Evil 4 Remake?