Elden Ring Statistics Reveals Which Boss Kills The Most Players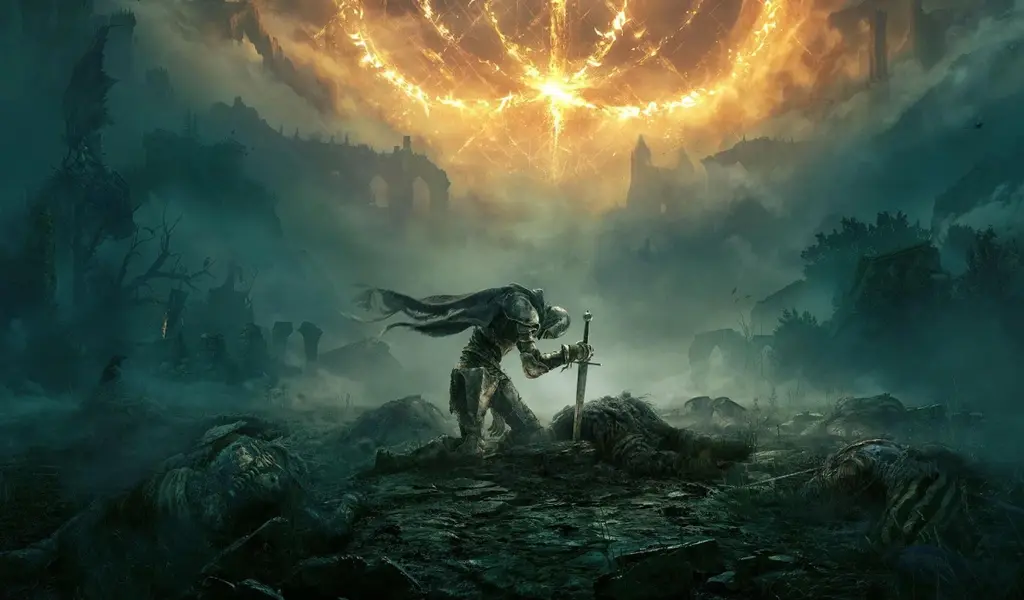 (CTN NEWS) – Almost 20 million individuals have played Elden Ring. Now that open-world Soulsborne by FromSoftware has been out for a year, we finally know what aspect of the game killed gamers the most.
On its website, the publisher most recently published an article titled "ELDEN RING War Scars Infographic."
It includes a lengthy vertical picture that elaborates several intriguing gaming stats to commemorate the game's first anniversary.
It was, of course, Malenia. It's impossible to determine how many of the 329 million fight attempts she received were only from the Elden Ring classic "Let Me Solo Her."
The 2022 GOTY's publisher Bandai Namco shared the statistic along with several other brand-new ones to commemorate the event's first birthday.
Malenia was the most frequently tried boss, therefore even if the infographics don't specifically state how many times she killed players, it's a safe assumption that she was also in charge of most failed efforts.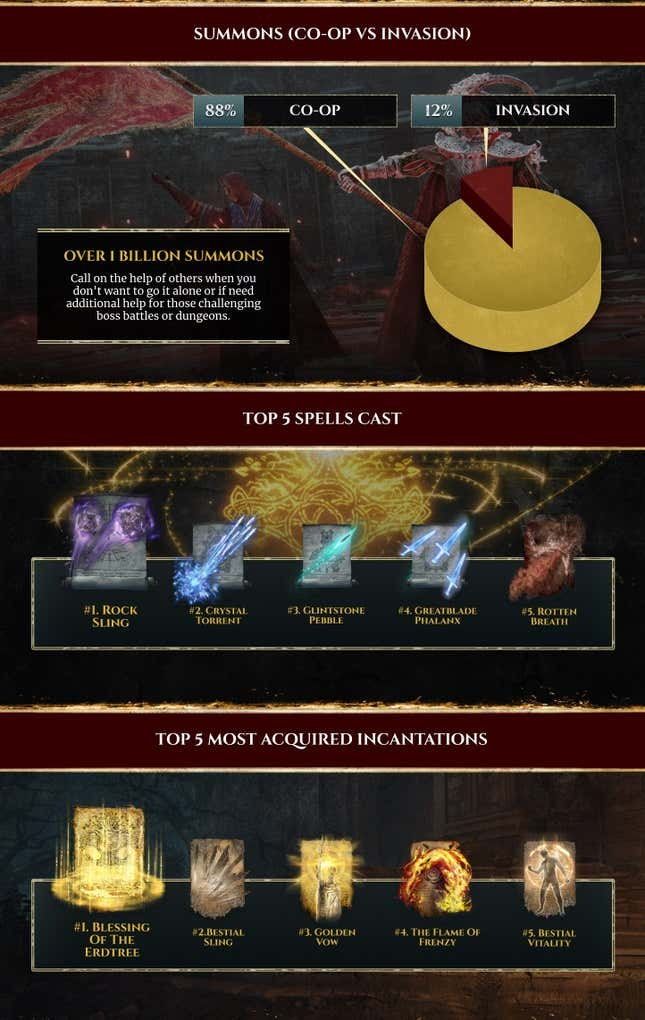 Malenia Ranked No.1 In Most Bosses Kills
After all, getting to her can be difficult, and navigating the tricky terrain and powerful foes that stand in your way is not for the faint of heart.
Margit, the Fallen Omen, was the second-most frequently tried boss, which is ironic because he is merely the game's first significant battle.
It's difficult, especially for new players developing more powerful character builds, but it's also probably a testament to how early he appears.
It is impressive that Malenia is ranked number one, considering that I would be shocked if many of the 20 million gamers who purchased Elden Ring quit before meeting her.
Enemies and NPCs were the main causes of death, however. That is how 69% of gamers lost their lives (nice). Player-vs-player kills made up a pitiful 2% of all deaths.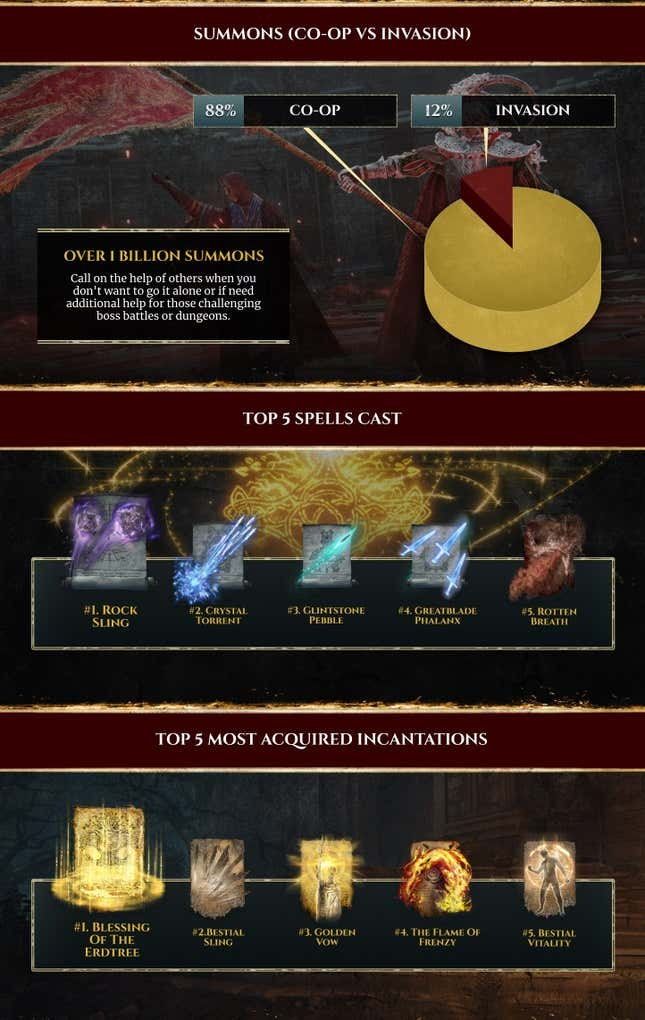 Most summons were also for cooperative play. Players attacking one another made up only 12% of online play, serving as a reminder that PVP is a passionate but insignificant portion of Elden Ring's overall experience.
Without question, FromSoftware was on the money when it balanced the PVE and PVP components of the game independently.
The most notable statistic from these most recent statistics is that Blessing of the Erdtree was the most frequently acquired incantation, while Rock Sling was the most frequently performed spell.
This indicates that many players were ostensibly using the same fundamental builds. While Rock Sling does exactly what it says on the tin, it also stuns enemies and deals significant damage.
Blessing is a straightforward heal. Mages have been saying "Sling is King" since the game launched. These were confirmed to be accurate one year later.
We'll compare all of that to what players do in the upcoming paid DLC for Elden Ring, Shadow of the Erdtree.
Players have already spent a lifetime looking through concept images for hints about what the expansion will offer and creating fresh fan theories about what new mysteries will be revealed, even if there isn't an official release date yet.
RELATED CTN NEWS:
Netflix Plans To Release Nearly 90 New Games In 2023