Antonello Ferraiuolo Won The WSOP Europe 2021's First Bracelet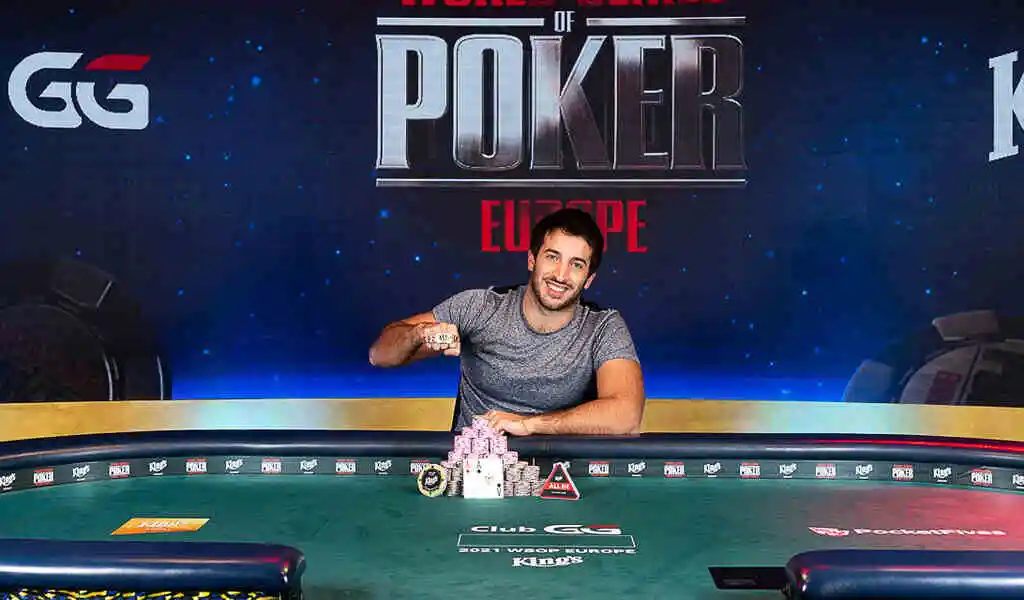 Poker sensation Antonello Ferraiuolo has won his first bracelet and scooped over €77,000 in a major tournament.
The Italian won the first bracelet – and the first for himself – at the World Series of Poker (WSOP) Europe Event #1 Opener.
Antonello Ferraiuolo topped the board of some of poker's most talented players after his aces held against ten-nine suited.
The first-time bracelet winner's triumph saw him walk away with a payout of €77,570 out of a prize pool of €535,358. He knocked Israel's Levent Efe into second place, despite the latter entering the final table with a chip lead. The chip lead swung back and forth throughout a tense few opening exchanges until a perfectly-timed shove pushed Ferrariuolo ahead.
Ion Tabacuru of Romania took up the third position after blowing up his stack with four players remaining. Efe's second-place ranking saw him walk away with almost €50,00, while Tabacuru saw more than €35,000 in winnings. All players in the top three also won a seat at the WSOPE Mian Event worth over €10,000.
The fourth position went to Narcis Nedelcu, also from Romania, who won €26,157, with Iceland's Logi Laxdal coming in behind him and scooping almost €20,000 in prize money.
Lucky victory against the odds
Antonello Ferraiuolo's victory is extra impressive as the lucky pro claims to have not played live poker for several years and seems to have put his incredible win down to luck.
He told Poker News after his achievement: "I haven't been playing live for three years. At the final table I was all-in maybe four or five times and got lucky."
Antonello Ferraiuolo added that he thought he'd started well in the event being high in the chip counts, but right before his final victory, he only had 20 left and was "hovering around 20-25 big blinds and just trying to make a move".
The bracelet
Antonello Ferraiuolo's unlikely, but no less commendable, victory has made him the first live Italian WSOP bracelet winner since 2015 when Max Pexcatori won two. But just how significant is the WSOP bracelet?
There is a well-known saying among gamers that there are two types of poker players – those who have won a bracelet and those who have not. The players who have been fortunate enough to earn a WSOP bracelet are considered to be part of an exclusive club.
Awarded to every WSOP winner since 1976, the bracelet is considered to be the most prestigious and desired non-cash prize in the poker world. It's made from diamonds and other precious materials, such as white gold or platinum, and is as important in the world of poker as the World Cup is in football.
The WSOP bracelet is considered to be worth as much as $500,000, though one reached a whopping $147,500 at a charity auction in 2010. To most poker players, however, the WSOP bracelet is priceless; a precious trophy that many dream of owning but only a lucky few have actually managed to win. It has become the standard of excellence by which all poker achievements are measured against.
American poker pro Phil Hellmuth holds the record for the most bracelets, having won an impressive 16 over the years.
But you don't have to be a professional world poker player or a millionaire to enjoy the thrill of owning a WSOP bracelet. Top-rated gaming sites, such as https://ggpoker.com, offer bracelet games where you can win one of the highly-coveted wrist embellishments. The tournaments are often held in aid of charity.
The WSOP event
The World Series of Poker Europe, now in its fourth year, is part of the larger annual WSOP tournament, which is hosted in Las Vegas. The massive event, the biggest yearly European poker tournament festival, recently took place at the King's Resort Casino in Rozvadov in the Czech Republic and saw a record number of 1789 entrants. It draws the most talented and top quality stars from the poker world to take to the tables across a schedule of 88 game events.
Also Check:
Dying Light 2 Release Date, Check Early Access & Pre-order Rewards
4 Reasons Why Modern People Still Love Casino Games
Is Online Gaming Now More Popular Than Ever?
1xBet App For iOS & Android – Download New version 2022
Online Betting on Fights, UFC, Boxing at Betway Sportsbook