Tens of Thousands Flee Wildfires in Alberta, Canada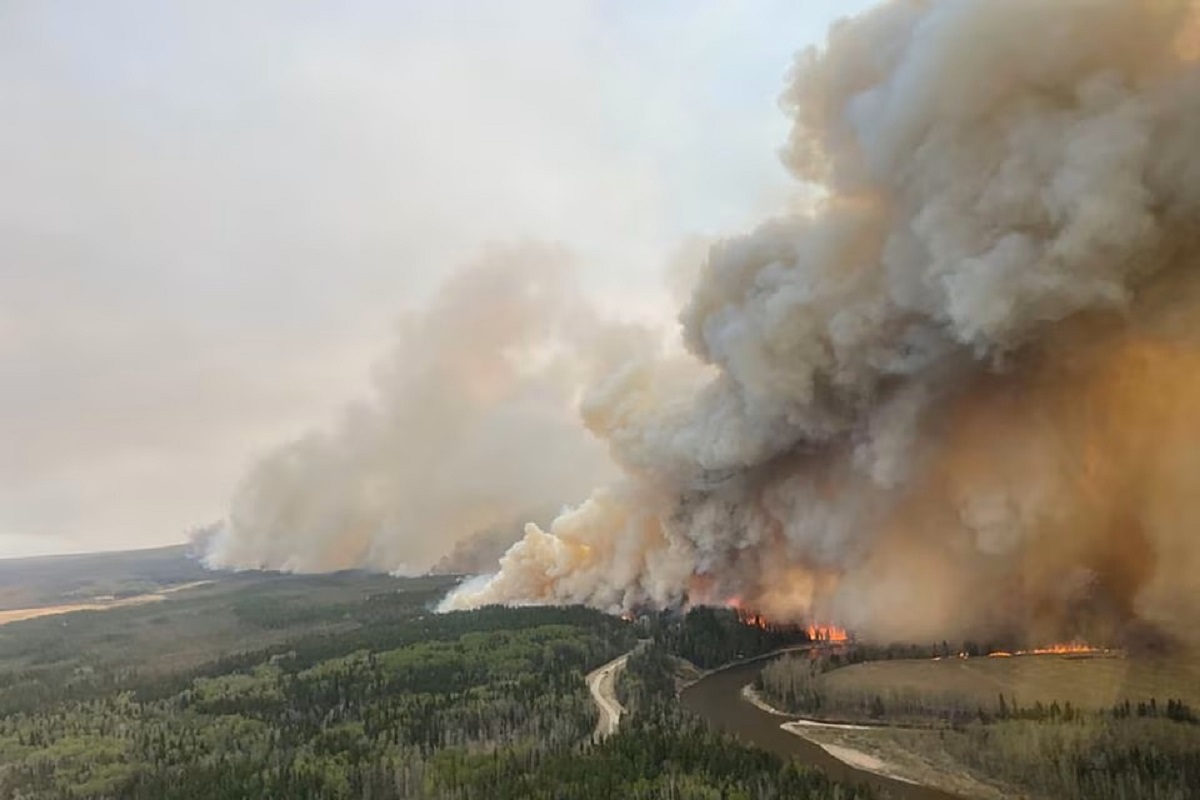 Tens of thousands of people in Alberta, Canada have been forced to flee their homes as "unprecedented" wildfires blaze in the province, Premier Danielle Smith, told Reuters a press conference on Saturday.
As of Saturday at 9:30 a.m. Mountain Time (11:30 a.m. ET), 24,511 Albertans have been evacuated from their homes, with 103 active wildfires burning 121,909 hectares across the province.
"Much of Alberta has been experiencing a hot, dry spring, and with so much kindling, all it takes is a few sparks to ignite some truly frightening wildfires," Smith explained. "These conditions have resulted in the unprecedented situation that our province is facing today."
Since 11 a.m. Mountain Time on Friday, 45 additional fires have been ignited, and 5,200 Albertans have been ordered to evacuate.
Alberta's Brazeau County was evacuated, as were all 7,000 residents of Drayton Valley, 140 kilometres (87 miles) west of the province's capital Edmonton. The whole Fox Lake town was evacuated after the 1,458-hectare (3609-acre) Fox Lake fire destroyed 20 residences and the police station.
"I don't recall ever seeing multiple communities evacuated all at once during fire season," Smith added.
She stated that $1.12 billion has been set aside as a contingency because they anticipate that large funds will be required for emergency management. Smith stated that the government will decide whether to establish a provincial state of emergency later on Saturday.
Whitecap Resources (WCP.TO), an oil producer with operations in northwestern and central Alberta, said it has been working hard to ensure that its employees are safe during the evacuation and that its assets are unaffected.
"(We are) closely monitoring and praying for rain," Whitecap CEO Grant Fagerheim said on Saturday.

Alberta Canada Wildfires
Wildfires are a common occurrence in Alberta, Canada, especially during the dry and hot summer months. Wildfires may wreak havoc on the environment, wildlife, property, and even human lives.
Wildfires in Alberta have become more powerful and devastating in recent years as a result of variables such as climate change, drought conditions, and human activity. The Fort McMurray wildfire broke out in the Regional Municipality of Wood Buffalo in northeastern Alberta in May 2016. The fire damaged about 2,400 homes and buildings and forced over 88,000 people to flee.
The Alberta government has implemented a number of measures to prevent and manage wildfires, including fire bans and limits, controlled burns, and investments in fire prevention and suppression technologies. The public is also asked to be vigilant and to immediately report any evidence of wildfires to authorities.
While wildfires pose a severe concern in Alberta, the government and the people are working to reduce the risks and damage caused by these natural disasters.