Walkthrough to The Popular Diamond Engagement Ring Styles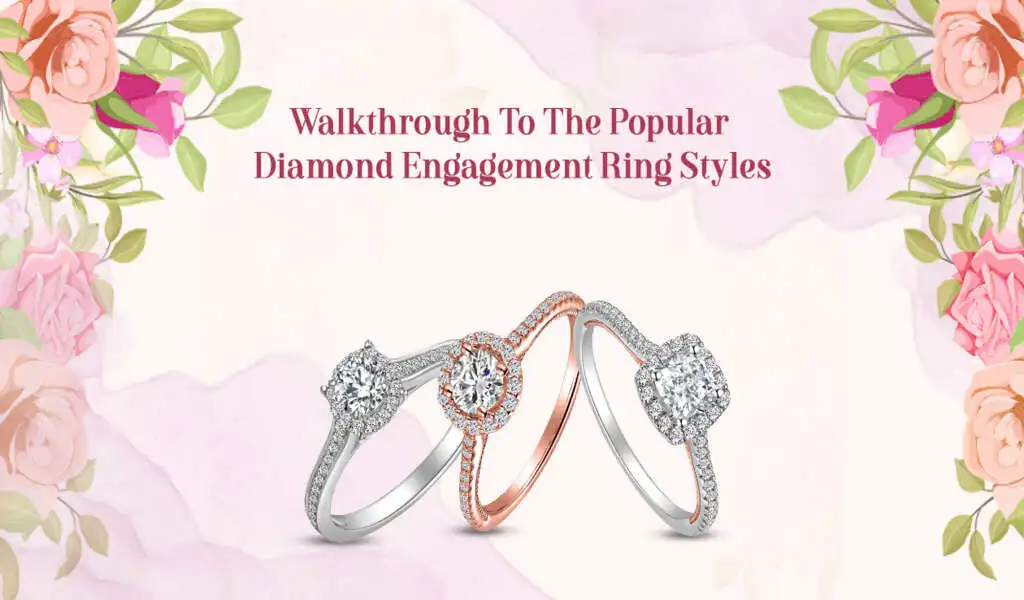 You might be slightly overwhelmed while shopping for engagement rings as many options are available at your disposal. Embark on your journey to shortlist, purchase, and get the perfect diamond engagement ring with us.
Please go through our guide to know the best diamond engagement ring styles and patterns and kick off your discovering time. There are some things to consider while shopping for perfect diamond rings; some prioritize diamond's cut and metal, while others go for the ring's style and pattern. Not only are the available options, but you can also get to customize the ring as you wish it to be.
Mesmerizing Diamond Engagement Ring Styles That'll Leave You Stunned
Choosing the perfect ring that owns all the qualities is not that easy. You have to look into every style and find the vibing one that fits all your requirements. Let's explore the popular ring styles that you can choose:
Solitaire
If you want to get a piece that highlights the center diamond, it is your perfect pick. It features a big center diamond of your choice in a classic setting. You have to consider the four C's of diamond here as it plays the protagonist in the ring. Choose diamond from available shapes: round, princess, radiant, Asscher, pear, marquise, oval, and heart to make your forever promise.
Pave
Pave is the right fit if you want to get it extra glittery and bright. Tiny diamonds on the shank will make it look more glamorous and pretty. Pave set features small diamonds embellished on either side of the ring that reflects more shine from every angle. Impress your loved ones with this stunning beauty if they like it with more shine.
Halo
If you are looking for a ring where the center diamond plays the king and looks more prominent than usual, then halo is the perfect pick for you. Tiny diamonds surround the center diamond from either side, making it the most appealing piece. Get the proposal a bit cheesy with this alluring set.
Vintage
If you are looking to get a sophisticated modern beauty, then vintage is a perfect choice. It smartly combines the contemporary touch along with a hint of ancient designs. Get eye-pleasing vintage pieces featuring various diamond shapes. Make a pick according to your choice and enjoy the big day.
Side Stone
If you want to get more than one diamond on the ring, you should consider a side stone set. It features complimentary diamonds on each side of the center diamond and makes it look stunning. For instance, with marquise as your center diamond, you can choose pear diamonds to play the side role as it looks nice in the set. Make brilliant combinations and pop up the big question.
Three Stone
Three Stone is another good setting that you can consider featuring more than one diamond. It comes with three big diamonds getting equal importance to the ring. Amaze your partner with the brilliant three-stone set and make them cherish it for a lifetime.
Appealing Diamond Shapes To Consider While Buying Diamond Engagement Rings
The best part of getting the diamond engagement ring is that you'll be getting many options to choose from from our collections. Apart from the readily available pieces, you can customize the dream ring for you. You can get to select the diamond shape of your choice featuring cuts, namely:
Brilliant Round
Appealing Princess
Sophisticated Marquise
Lovely Heart
Alluring Asscher
Elegant Radiant
Beautiful Pear
Choose from the shape that best fits your choice and customize your ring accordingly. If you are shopping for diamond engagement rings online, you have to select the diamond shape of your choice and the ring setting you wish to have. Other things may feature asking the diamond carat, color, and some other specifications affecting the beauty and price of a diamond.
Rauschmayer is the go-to option for you. They are offering enormous opportunities at customers' disposal that they can choose from and get their perfect diamond engagement ring that for sure is going to win your partner's heart. Make the big day a wonderful one with our mesmerizing collections of engagement rings, wedding bands, fine diamond jewelry pieces featuring diamond bracelets, diamond rings, diamond earrings, diamond pendants, and diamond studs. Hurry! Explore the collections and get your favorites today.
Also Check: 
7 Most Famous Entrepreneurs of All Time
Shop Moss for Sale Bulk for Gardening with Moss
Russia's Role in the Shifting Power Dynamics of Kazakhstan