Vietnam's President to Attend 29th APEC Summit in Bangkok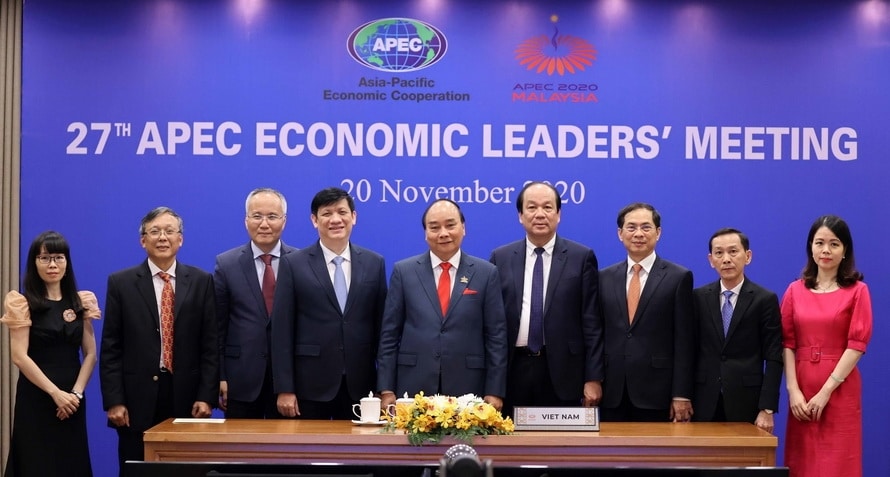 The visit to Thailand by Vietnamese President Nguyn Xuân Phc comes as the two countries' enhanced strategic partnership continues to flourish, despite the effects of the COVID-19 pandemic.
From November 16 to 19, President Phc, his wife, and a Vietnamese delegation will attend the 29th APEC Asia-Pacific Economic Cooperation Economic Leaders' Meeting in Bangkok.
Asia-Pacific and APEC continue to be important priorities in Vietnam's foreign policy and advocacy for fostering and advancing multilateral diplomacy, as well as contributing to APEC's security interests.
The enhanced strategic partnership has been evolving in the past, particularly during the pandemic.
Thailand values and wishes to continue to strengthen its excellent cooperation and friendship with Vietnam.
According to Vietnamese Ambassador to Thailand Mr. Phan Ch Thành, President Phc's upcoming official visit to Thailand strongly affirms Vietnam's commitment to taking the two countries' strategic partnership to new heights.
Visit with King and Queen
The Ambassador highlighted the significance of the meeting, saying it would be the first official visit of a Vietnamese State leader to Thailand in 24 years, since then President Trn c Lng in 1998, and nearly 10 years after Party General Secretary Nguyn Ph Trng's official visit in 2013.
"The visit marks a new turning point relations between the two friendly neighbouring countries, both of which are members of ASEAN the Association of Southeast Asian Nations .
During his visit, President Phc and his wife will meet with the Thai King and Queen, as well as Thai Prime Minister Prayut Chan-o-cha.
The president will attend signing ceremonies for a number of cooperative agreements between both countries, including an action plan to implement Viet Nam and Thailand's enhanced strategic partnership for 2022-2027.
He will also meet with Thailand's President of the National Assembly, Mr. Chuan Leekpai, and leaders of the Thailand's Senate and House of Representatives, as well as outstanding businesses from both countries.
In 2021, the year marking the 45th anniversary of bilateral diplomatic ties (August 6, 1976), the two countries will collaborate in organizing a variety of meaningful activities in politics, economy, and culture, as well as increasing communication efforts to raise public awareness of the relationship.
They also maintained high-level activities and mechanisms for cooperation among governments, ministries, and agencies.
Thailand has remained Vietnam's most important trade partner in the Association of Southeast Asian Nations (ASEAN), with two-way trade reaching a record US$18.8 billion last year, an increase of 18% year on year.
In the first nine months of this year, the figure was $16.1 billion, up 17.2% from the same period last year, with Vietnam exporting $5.6 billion worth of goods to Thailand, up 26.9%.
Vietnam Projects in Thailand
Thailand had 670 valid projects with a total registered capital of nearly $13.1 billion as of September 2022, ranking ninth among the 139 countries and territories investing in Vietnam and second in ASEAN, only after Singapore.
Thai projects are primarily concerned with manufacturing, production, power, gas, and water distribution, real estate, retail, and wholesale.
Meanwhile, Vietnam has 17 projects in Thailand worth $32.8 million, ranking 33rd out of 79 countries and territories that have invested in the country, primarily in processing-manufacturing, real estate, wholesale, and retail.
Cooperation in other areas, such as national defence and security, cross-border crime combat, and education and training, has also advanced.
Thailand presented Vietnam with 10,000 COVID-19 test kits as well as 300,000 doses of the AstraZeneca vaccine. Vietnam also provided $50,000 in medical equipment to Thailand.
Collaboration in labour, tourism, culture, and people-to-people exchanges has also advanced.
In the first half of this year, Vietnam welcomed 39,679 Thai visitors, while 130,000 Vietnamese tourists visited Thailand.
Vietnamese Working in Thailand
Eighteen Vietnamese cities and provinces have formed twinning or cooperative relationships with Thai communities. Around 100,000 Vietnamese people live, work, and study in Thailand.
The two countries have also worked closely together in regional and international forums. Concerning the East Sea issue, Thailand has expressed its support for ASEAN's common stance on peaceful dispute resolution, emphasizing the importance of restoring trust and confidence between regional countries.
Above all, to foster an environment of peace, stability, and sustainable development, and accelerating the implementation of the Declaration on the Conduct of Parties in the East Sea (DOC) and the development of an East Sea Code of Conduct (COC).
During the Vietnamese leader's visit, the two sides plan to sign a number of cooperation documents.
Vietnam's active participation and contributions to APEC
On November 15, 1998, Vietnam officially joined APEC at the 10th APEC Ministerial Meeting in Kuala Lumpur, Malaysia, bringing the forum's membership to 21.
Its admission has been regarded as a watershed moment in the implementation of Vietnam's foreign policy of openness, diversification, and multilateralism in relations, as well as international economic integration.
Contribute to APEC Cooperation
Over the past 24 years, Vietnam has actively and positively contributed to APEC in support of regional peace, stability, cooperation, and connectivity, as well as APEC's role as a leading connection mechanism in Asia-Pacific.
Vietnam is one of the few economies that has successfully taken on the role of APEC host (in 2006 and 2017).
With over 100 projects in various fields, the country is also one of the most active members of APEC in proposing initiatives and projects, many of which have been highly valued for their pragmatism.
Particularly those in sustainable, inclusive development, personnel development in the digital era, digital economy, food security, climate change response, women's empowerment, and urban and rural area development, among others.
In 2016-2018, Vietnam served as Chair and Vice Chair of 18 APEC committees and working groups, as well as the APEC Business Advisory Council (ABAC).
Since hosting APEC 2017, Vietnam has continued to engage and contribute to APEC cooperation, and has worked to accelerate the implementation of key outcomes from APEC 2017, particularly its initiative to build the APEC Vision 2040.
In 2022, Vietnam has made additional contributions to APEC activities and common concerns, played an active role in implementing the Aotearoa Plan of Action, which brings the APEC Vision 2040 to life, and carried forward major outcomes from APEC 2017.
President Phc is scheduled to attend the APEC CEO Summit and deliver a speech, as well as attend a number of meetings during the APEC Economic Leaders' Week in Thailand.