Thailand Scrambles to Stop Oil Spill from Destroying Beaches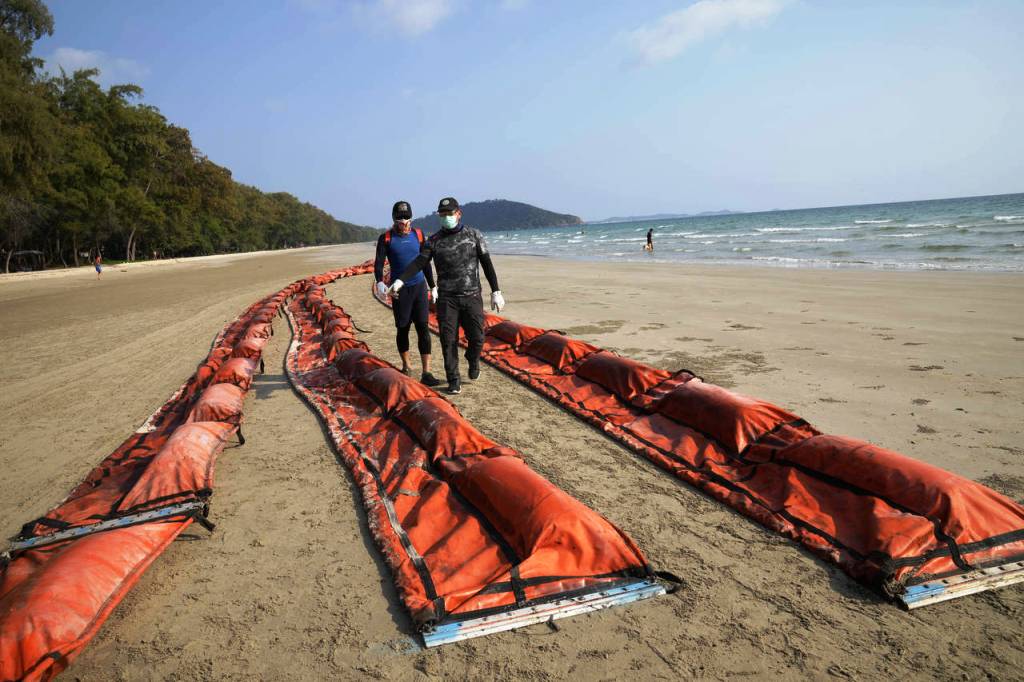 As the Royal Thai Navy continues struggling to contain a crude oil spill in the Gulf of Thailand hundreds of workers are setting up oil barriers along the coastline of Rayong.
On Friday authorities in Rayong, Thailand raced to limit the environmental damage from crude oil that leaked from an underwater pipeline earlier in the week.
After an estimated 13,209 gallons (50,000 litres) of crude oil oozed into the Gulf of Thailand, approximately 20 kilometres off the coast of Rayong, SPRC (Star Petroleum Refining Plc) brought the leak under control the following day.
Geo-Informatics and Space Technology Development Agency (GISTDA) satellite images on Friday showed 47 square kilometre oil slick drifting close to the coastline of Rayong.
In a statement, the navy, which is working to contain the spill at sea, said it may take over a month to restore the impacted areas of the beaches. Initial estimates suggested the cleanup could take five days.
On Friday, SPRC workers erected long inflatable oil boom barriers near the tide line, in an attempt to keep the oil slick from destroying the beach. Khao Lam Ya National Park contains coral reefs and a variety of sea life that have caused authorities to warn of potential impacts of the spill.
Atirat Ratanasate, Deputy Transport Minister, told reporters that the government has filed an official complaint seeking compensation for the damage caused by the oil spill.
The sandy beaches of Rayong were blackened by an oil spill from another undersea pipeline leak in 2013. The leak caused massive environmental damage which took months to restore and caused economic hardship in the area.
Trending CTN News: