Thailand Sentences Poachers to Prison for Killing Endangered Tigers in National Park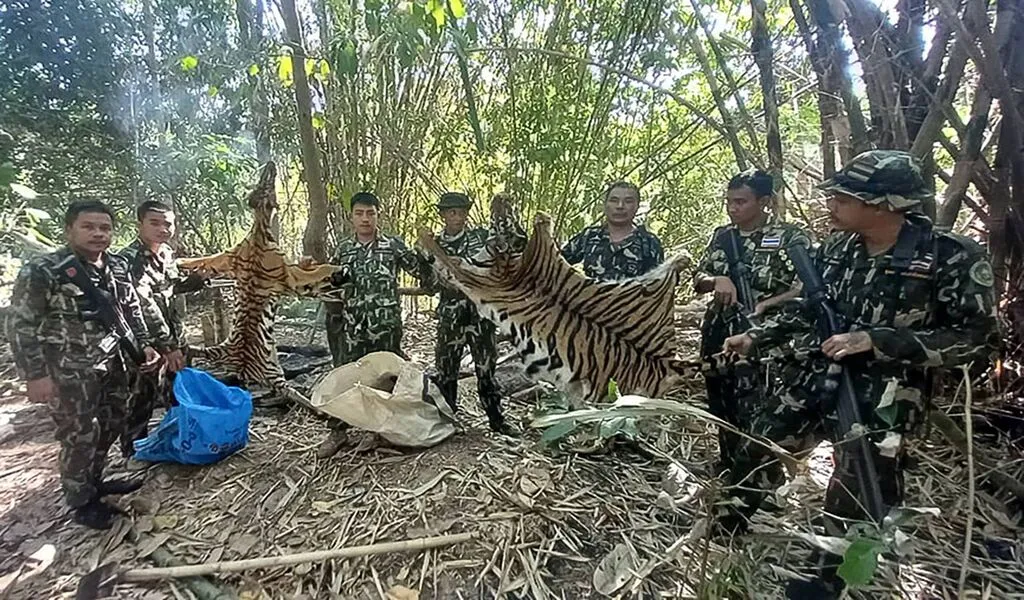 (CTN News) – On Monday, a court in western Thailand handed out five five-year sentences to poachers who killed a mother tiger and her cub in a national park the previous year.
The provincial court in Kanchanaburi found that the five men had broken conservation rules by murdering the animals, skinning the carcasses, and smoking the bones to sell them on the black market.
Endangered Tigers Killed by Poachers in Thailand's Thong Pha Phum National Park
Last year in January, park officers made the find and confiscated the tiger parts. Photographs obtained in the woods and released by authorities depicted the skins of two freshly flayed tigers. Pictures shot close also showed bones and other elements of the carcass.
The men claimed they killed the tigers in self-defense after they were responsible for cattle assaults, but the court ruled that they "should have felt protective of nature," considering that they lived near a forest.
According to the World Wide Fund for Nature, about 4,500 wild tigers are left (WWF). Despite a recent uptick in numbers, WWF estimates that just 200 big cats exist in Thailand's national parks and wildlife sanctuaries.
Thai National Park Chief Welcomes Court Ruling Against Tiger Poachers
One of the greatest dangers to tigers is poaching, fueled by the demand in China and Vietnam for their bones, skins, and other body parts used in traditional medicine.
There are both believers and skeptics in China regarding the efficacy and safety of traditional Chinese medicine.
Even though many TCM treatments have been around for centuries, their detractors claim they are not supported by sufficient evidence.
Charoen Jaichon, head of Thong Pha Phum National Park, expressed his approval of the verdict.
I'm glad that justice has been done," he told CNN on Tuesday. This is a dire warning to poachers operating within Thailand's protected areas.
Related CTN News:
Thailand Recorded 2.14 Million Foreign Tourists Last Month